Arsenal look to get back to winning ways against Newcastle - Preview, brought to you by Dashing Elite

'The Face-off at Ashburton Grove'
This isn't the title of a 1960's spaghetti western, nor is it a chronologically famous fisticuff fought on British soil. It is however, the opportunity for two great monoliths to gain momentum back under their wings as the Premier League campaign races to its dimidium.
When Arsenal face Newcastle United at the Emirates, pressure and passion will tip over on either side as the teams look to invoke some fight and climb up over the hovel they currently find themselves in. 
Arsenal's gained just two wins in five league games which is abysmal for a team with top four ambitions. In their last three games, Arsenal have scored two and conceded four. Little wonder they find themselves marooned in 7th place a point off the gallop.
In their lacklustre draw with West Ham United, the Gunners had chinks in their armour that Wenger will certainly need to iron out. Firstly, the attack failed to sparkle again despite the ilk of Alexis Sanchez and Mesut Ozil at the helm of proceedings. The team recorded a poor conversion of just three shots on target from 22 on Tuesday night, which ultimately was rued by Arsene Wenger.  
Expect Alexandre Lacazette to start alongside the other two attackers as the Reds go for the jugular. Granit Xhaka will anchor the Gunners midfield, as Jack Wilshere should be given another run-out in his second start of the year as Aaron Ramsey and Shkodran Mustafi sit the tie out with niggles.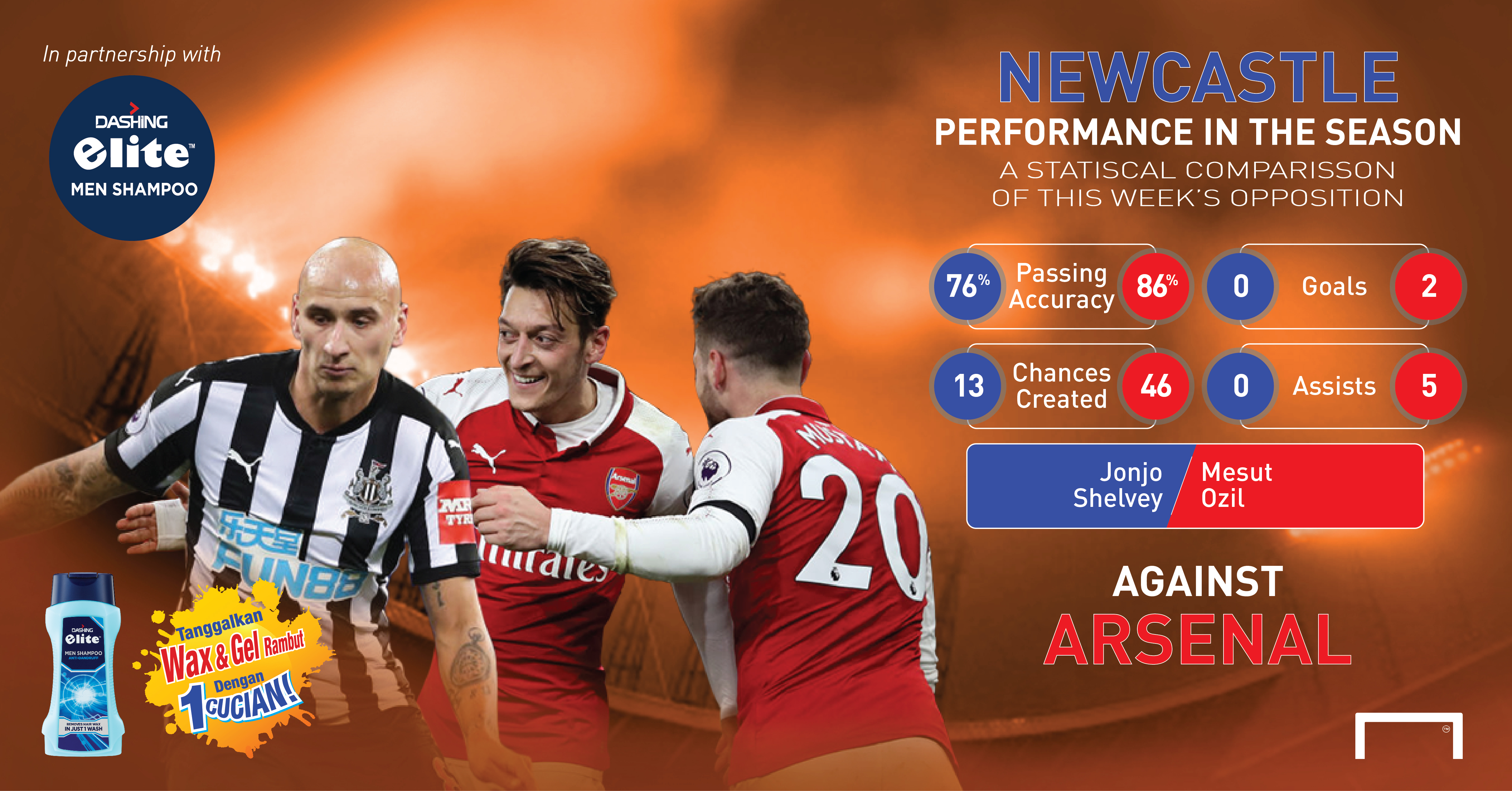 A surprise edition was Matland-Niles into the rear-guard for the 131 year-old club, but he is  also set to make way for Sead Kolisinac, with Nacho Monreal and Laurent Koscielny and Hector Bellerin reprising their respective roles.  Expect a 4-2-3-1 from the Stan Kronke-owned team. 
Newcastle United row into this tie with good form all but a distant memory. With a takeover looming on the horizon, the Magpies need a burst of form to buttress their soon-to-be new owners' faith in them. 
Rafa Benitez more than steering his ship, need to first balance his boat, after a harrowing run in which the North-Easterners have picked up just a solitary point in EIGHT games – which translates to  23 out of 24 points being lost.   The Tyneside's Premier League representatives currently sit 15th in the table and look marooned. 
Jonjo Shelvey is suspended for the tie, after getting himself suspended for another red card last week, in the loss to Everton.  Ayoze Perez and Joselu are expected to return to the starting XI, with Isaac Hayden accompanying Merino in the centre of the park. The St. James Park-stationed team may shift formations between a 4-5-1 or a 4-2-3-1 as and when the team has possession of the ball. Rob Darlow is also expected to begin as Newcastle's number one, protected by Jamal Lascelles and Florian Lejuene in central defense flanked by Jaview Manquillo and DeAnder Yedlin on either side. 
The signs aren't promising for the Black and Whites either – Arsenal have won their last NINE games against them in all competitions, while the Gunners have also kept five clean sheets in their last seven. 
Newcastle however, have taken the lead against Manchester United and Chelsea only for their momentum to drown away at the end, conceding four and three goals respectively. Come Saturday, they could summon the spirit of 2011, when the late Chiek Tiote inspired a fantastic comeback against Wenger's men or drown in their continuous poor form, as Arsenal drown out their own bad form with a dishing out to their visitors.