Opinion
Are the Super Eagles ready for the World Cup?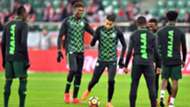 ---
COMMENT    By Solace Chukwu     

Follow on Twitter
---
The Super Eagles came into the March international window on a wave of popular optimism, some of which bordered slightly on the absurd.
In Russia, Nigeria were apparently going to shatter that quarter-final glass ceiling against which all African nations had bumped their heads; where Cameroon, Senegal and Ghana had come up short, this youthful side, under Gernot Rohr's guidance, would march on to the final eight...and maybe beyond.
The two friendlies against Poland and Serbia have naturally gone some way toward tempering those expectations. If, as the received wisdom states, friendlies are more useful for performance than results, then there has been little to reassure over the course of the window.
March, in a World Cup year, is a critical time.
While it offers one final chance to experiment and run the rule over certain personnel options, it is also a strong indicator as to how far along a team is in its preparation. That is why, for all that some feel Tuesday's loss to Serbia was a good thing, what the performance represents in the grander scheme is a tad more worrying.
Drill down to the particulars, and there are some undeniable inferences. The Super Eagles, impressive through qualifying they may have been, manifest up until now the same structural and tactical problems as they did when the last 'wake-up call' – a humbling 2-0 loss vs South Africa – happened.
That loss, incidentally, is a year old.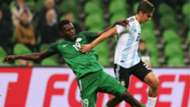 It follows then that Nigeria are no more ready for the World Cup now than they were a year ago.
One of the biggest concerns for the national team under Rohr has been the complete disregard for the utility of a deep passer. It was arguably the reason for that loss against Bafana, and has remained unaddressed since.
This is not a question of scarcity even.
Midfielder John Ogu has sat on the bench through most of the German's reign, and the superb Azubuike Okechukwu remains ignored. Had Ogu been used in that role, and failed, it would have been apparent there is an acknowledgement of the problem. Instead, he has been oddly cold-shouldered; even with the pressure of qualifying relieved, he was limited to a cumulative of less than 25 minutes over the two games.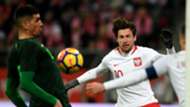 This team remains inordinately reliant on its spine of Leon Balogun, John Obi Mikel and Victor Moses. That, in itself, is not a bad thing. Every team has a spine to build upon. However, what is increasingly glaring is that the level of the side without them does not so much depreciate as it does disappear altogether.
It is one thing to go from a good side to a not-so-good side, and quite another to go from a good side to a turgid, bereft one.
Last thing you want while blooding a new goalkeeper is uncertainty in the defensive line. In that sense, probably a good idea keeping Ekong and Balogun for tonight, even though I'd have liked to see Awaziem.

— Solace Chukwu (@TheOddSolace) March 27, 2018
Without Balogun, the side cannot defend properly. Without Mikel, the team lacks tempo in the middle. Without Moses, there is no spark.
Even systematically, worries remain. With international football embracing pressing even more wholeheartedly now, it appears Rohr has made no move to prepare his side to cope. Neither has he, for that matter, divined a clear pattern for build-up that isn't simply holding it till Mikel comes to collect.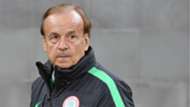 As an example, we saw Brazil specifically target certain opposition for specific ends during this window. Tite sought to test his side against a team with a deep defence; so selected hosts Russia, and made deliberate alterations, both tactical and in terms of personnel, to try and break them down.
That was an acknowledgement of the various styles against which his side could come up against in a bid to perform at the World Cup, and now he has something close to an ideal template for just such a challenge come the summer.
While obviously the talent levels of both teams should not be compared, they aren't: this is simply about recognizing what friendlies are for. Rohr has strayed from his preferred 4-2-3-1 in all three friendlies, but has maintained the same approach and style. Tite kept the shape, but altered the dynamics of his approach.
Appreciate the optimism of everyone saying Rohr has NOW seen what the problems are that need fixing.

This problem is not new. It's been there since qualifying. If there was any intention to fix it, we'd have seen some shoots already.

— Solace Chukwu (@TheOddSolace) March 27, 2018
As far as preparing goes, there is admittedly no one 'right' way. There is, though, a need for some clear process. These two friendlies, ostensibly avenues to either make clear progress or make a definitive judgement on new options, achieved neither.
There is still time, but only just.
In mid-May, Rohr will be required to hand in a preliminary list. Only after then, though, will he get another shot at preparation, with games against the Democratic Republic of Congo and England. It would appear that, aside for the purpose of bonding, this international window has not achieved much in concrete terms.