World Cup
Appiah denies habouring hatred towards Ayew family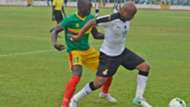 Ghana coach Kwesi Appiah has defended his decision to overlook Andre and Jordan Ayew ahead of the Fifa World Cup qualifier against Uganda next month.
The 56-year-old gaffer has announced a 26-man provisional squad to be whittled down to 23, with the Ayew brothers missing out, which has led to several discussions among Ghanaians.
Sola Ayew, brother of the players' father Abedi Pele Ayew, has launched a scathing attack at Appiah, insisting that the coach has been harbouring hatred against the family since 1992 after Abedi was made captain of Ghana ahead of him.
"This [overlook of the Ayew brothers] has nothing to do with that because there's no issue [between me and the family]," Appiah told GNA.
"We know the calibre of Andre and Jordan Ayew already and if we want to build a team for the future, then we need to give other players the chance to also prove themselves.
"They are playing well in the Premier League [so I didn't drop them for lack of form]," he added.
Ghana sit third in Group E with five points, four points behind leaders Egypt.