Premier League
Anang signs first professional contract with West Ham United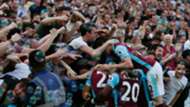 Ghanaian goalkeeper Joseph Anang has signed his first professional contract with Premier League side West Ham United in a three-year deal.
The youngster, who arrived at the London Stadium last season at age 17 through a scholarship program, has progressed to become a key figure in the club's youth setup.
"Today is a very proud day for me. It has been a long time coming for me but 100 per cent, everything I have worked for so far has been worth it for this day," Anang told the club's website.
"It hasn't been easy for me. From when I came to West Ham and every day since then, I have worked very hard. For me, I have just concentrated on doing that, working hard and doing my job and seeing what happens.
"So to sign today is a great day for me and I'm very proud," he added.
Anang also praised West Ham's first team goalkeepers Joe Hart and Adrian San Miguel following their roles in his development.
"Adrian and Joe Hart last season were both a big help for me, on and off the pitch," Anang said.
"I have learned a lot from them and although I still have a lot to learn, I am grateful to them both for their help," he added.
Anang is eligible to represent Ghana at youth level but reports suggest England U19 coach Keith Downing is keeping a close eye on the goalkeeper.