Brian Idowu
Amkar Perm's Brian Idowu reveals challenges before Nigeria debut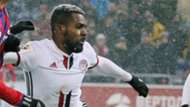 Amkar Perm's Brian Idowu has revealed the challenges he faced before his making his Nigeria debut.
The Russia-born defender scored a goal in his maiden appearance for the Super Eagles as Gernot Rohr's side handed a surprise 4-2 defeat to Argentina on November 14 in Krasnodar
And the wing-back has revealed his feeling of uncertainty and anxiety prior to the game.
"I wanted to check whether I can perform at a high international level [before heeding the Nigeria call]. A year ago, they [Nigeria] called," Idowu told club website.
"Everything is new, you do not know anybody, nobody knows me, it's unclear how they will meet, what will be the situation, how I will look in training.
"I watched - as a real football fan - John Obi Mikel, who at Chelsea took all the big titles. Ndidi and Iheanacho, who [both] play in Leicester City, and [Alex] Iwobi from London's Arsenal.
"A lot of good players, whose game I used to watch on TV. And then they greet me, we are partners in the team and now we train together."
Idowu who has played in 15 Russian Premier League encounters for 11th-placed Amkar Perm will hope to do enough to make Nigeria's squad to Russia 2018.