Bobby Wood
Americans Abroad: Concern for Bobby Wood while John Brooks shines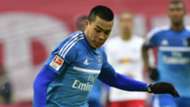 Followers of Americans in the Bundesliga may have been surprised to see Bobby Wood was not in the 18 for Hamburg's 2-2 draw with Freiburg on Saturday afternoon.
However, Wood had been named in the original starting XI, only to be scratched after warm-ups because of an injury sustained during the pregame workout. It appears to be a problem with his thigh muscle.
Which footballers belong in the NBA
Hamburg boss Markus Gisdol initially indicated Wood's absence was more of a precaution after the striker felt "a stab" during his warm up. But Wood status for Hamburg's Saturday contest against league-leader Bayern Munich is up in the air, as when he'll return to training is unknown.
Not only is it a blow for Hamburg, which is a point above the relegation playoff, but it could be an issue for the U.S. national team. With World Cup qualifying just a month away, the U.S. may find itself without a striker who is not only in midseason form, but also playing well for his side.
---
BROOKS PUTS IN GOOD SHIFT IN DRAW
---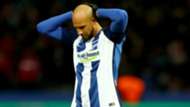 There's losing it at the last minute, and then there's what happened to Hertha Berlin on Saturday against Bayern Munich.
Hertha nursed a 1-0 advantage throughout the match, and still held the edge as the clock moved into the fifth minute of stoppage time, all that was supposed to be allotted. But the game continued and Bayern snatched an equalizer courtesy of Robert Lewandowski in the 96th minute of action, which was the final play of the contest.
The disappointing way it ended for Hertha should not take away from the performance of its players however, and John Brooks among them. The center back was aggressive and at times helped his side retain possession in Bayern's half by going up to win headers and, like his team, bounced back from a disappointing performance the week before against Schalke.
Hertha is next in action Saturday agaist Eintracht Frankfurt, which lost 2-0 to Ingolstadt this past weekend. Both Timmy Chandler for Eintracht and Alfredo Morales for Ingolstadt went the 90 for their respective sides in that contest.
---
KITCHEN PICKS UP ASSIST FOR HEARTS
---
Hearts would have liked to have done better this weekend, facing bottom-of-the-table Inverness in Scottish Premiership action. The hosts picked up just a 1-1 draw, days after a disappointing home draw in the Scottish Cup against Hibernian forced a replay that will take place this Wednesday.
However, Perry Kitchen was key on Hearts' leveler, as the midfielder slid outside to send in a dangerous cross into the area in the 64th minute. Arnaud Djoum was able to get to the end of it and deliver the finish to bring his side back on even terms.
The draw leaves Hearts fourth in the SPL, five points behind Emerson Hyndman and Rangers for third and just a point ahead of St. Johnstone in fifth.
---
GUZAN GETS SOME TIME FOR BORO
---
Brad Guzan's European spell is nearing an end as he prepares for a summer move to Atlanta United once the English Premier League season concludes.
The keeper remains a backup with Middlesbrough but did get some action this weekend in the FA Cup, a 3-2 victory over League One side Oxford United.
Middlesbrough went up 2-0 in the contest, but then fell back to level terms after Oxford hit for a quick-fire double. The wall and Guzan were beaten on a free kick just outside the area in the 64th minute and in the 65th, a Boro's breakdown saw Oxford equalize after Guzan made the initial stop.
But a late winner sent Boro through to the quarterfinals where they'll face Huddersfield Town or Manchester City. Guzan, who has started two of Middlesbrough's three cup contests this season, may well be between the sticks for that contest as well.
---
WAGNER AND HUDDERSFIELD GET REPLAY
---
German-American manager David Wagner has done well for himself this season in charge of English Championship side Huddersfield Town. This weekend his side continued its strong campaign as it hosted Pep Guardiola's Manchester City and managed to force a replay with a scoreless draw. That match will take place Feb. 28 at the Etihad Stadium with a spot in the quarterfinals on the line, though Huddersfield has two games in the Championship beforehand.
Wagner, who was capped eight times by the U.S. national team, has the Yorkshire club third in the league, five points behind Newcastle for one of the automatic promotion places, but well within the spots for the promotion playoffs.
Anything can happen in the playoffs, but it certainly is possible that after Bob Bradley's tenure as the first American head coach in the Premier League came to an abrupt end, a former U.S. national teamer could end up managing an EPL club in 2017-18 after all.