Argentina
'All that separates Messi & Maradona is height' - Suker cannot compare Argentina legends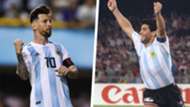 Croatia legend Davor Suker has insisted that Diego Maradona and Lionel Messi cannot be compared ahead of his country's World Cup clash with Argentina.
Messi missed from the penalty spot in Argentina's opening Group D game with Iceland, denying Jorge Sampaoli's side the chance to pick up maximum points.
Croatia are the next side to face Messi and Argentina, with Suker asked whether he believes their current talisman is better than the 1986 World Cup winner.
"The two of them can only be compared to the height; football is changing every 10 years," Suker told 24sata.
"In Diego's time the balls were different, the pitches were not so scorched.
"Look, Diego won the World Cup, Messi has not, but Diego liked me because I played with him."
Despite leading Group D thanks to a 2-0 win over Nigeria, Suker is refusing to get carried away with Croatia's chances of progressing to the knockout round.
An own goal and a penalty from Luka Modric sealed all three points, but Croatia were largely ineffective in attack and will need to improve in front of goal in their game against the South Americans.
"We have not done anything yet, we have to stay firm on the ground," he said. "There is no euphoria, Argentina is coming.
"Argentina is always a favourite, and we're going step by step. I've seen a lot of good in our game, but I can say that we are going to be world champions and then after five days, everything can change.
"Messi is a miracle, he can have a hat-trick in every game, but he's just a man, he can make a mistake.
"The dangers for us are now even bigger because the Argentinians are wounded. This will be a chess game, but if it's like Nigeria, I'm not afraid."