East Bengal
Keen football fan turned turned investor in East Bengal - Ajit Isaac shakes things up in Kolkata!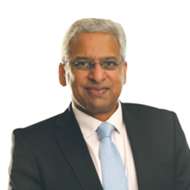 ---
BY SWAPNANEEL PARASAR  

 Follow @Swapyo on Twitter
---
In the summer of 1997,  when a young professional named Ajit Isaac was falling in love with the beautiful game while attending English Premier League matches, he was oblivious to the footballing storm that was sweeping across the city of Kolkata. Amal Dutta's 'diamond' system had seen 131000 people attend a Kolkata derby that East Bengal won 4-1 and for the last time before embarking on a downward spiral.
Since then, the derby attendance figures have only dwindled. 
Two decades later, their paths have crossed...

Sweeping up a 70 per cent stake in what will be now known as Quess East Bengal FC (QEBFC) Pvt. Ltd, Ajit Isaac, Chairman and Managing Director of its holding company, Quess Corp talks to Goal about his passion for football and his vision for the Red and Gold brigade. 

Though he grew up in Chennai, Isaac's family originated from Kerala which is one of the footballing hotbeds in the country. "Most kids growing up do kick the ball a bit and you grow up with football in your life. The sport has been a matter of great interest for me and I have been tracking it a bit off late", said Isaac.

"In my school and college days in Madras, I used to go and watch when East Bengal and Mohun Bagan came to play there. I remember in Calcutta, I had gone for a match once when I had gone to visit my cousins. Those are fond memories for me", he reminisced.

Upon completing his studies from Loyola College in Madras, Isaac trenched deep into the corporate world but it was a visit to England (as a Chevening Scholar from the University of Leeds) that re-ignited the football fan in him.

He recounts, "I had gone to watch some Premier League matches in the UK in 1997 and that is when my interest in the game solidified. Seeing the mood, the game and the emotion that it creates, it surely was something that you remember for a long time."

Twenty years on, Isaac has gone on to build a firm with a market cap of more than ₹15,000 Crores and is termed as an 'acquisition specialist', having made around two dozen additions to Quess Corp's portfolio in the last decade with companies including Monster India, HCL's Care Business and Tata Business Support Services (now Conneqt Business Solutions).

Having made their first investment in the world of sports, Isaac now looks forward to making a direct impact with consumers through their association with East Bengal.
 
"We have a majority investment in the company that manages the footballing activities of the club. We will participate actively with the club in developing the game in three avenues - footballing activities, the infrastructure and engagement with the fans," Isaac explains the exact nature of the transaction between Quess and East Bengal.
When Quess made the announcement of investing in East Bengal, their share prices shot up understandably. "The shareholders of Quess Corp can hopefully get a terrific increase in the brand value of Quess as we are able to undertake this initiative right across many segments of our market," Isaac shared. 

"Second, an increase in the branding activities of the company should lead to reaching our products to more number of consumers and hopefully increase the exposure for the product. We will use our brands directly with the club. It adds tremendous synergy in that way. It shall be said that we are a long-term player.

"We've always made decisions different from what the market has seen from other examples in the past. We've built a business model that is very different as a business services company, such a platform never existed and we've built out one. As our business becomes larger and moves from the B2B (Business to Business) and B2C (Business to Consumer) space, such a marketing initiative through a sports asset is a super opportunity for us.
He did not reveal whether Quess will be looking to invest in other sporting ventures.

"They (further sporting investments) are not in the pipeline so to say or we are not looking at anymore right now but I think it will be prudent to think that we will build on this initiative in the future."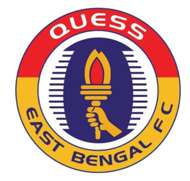 With East Bengal now injected with a dose of financial might, Isaac foresees the Kolkata giants to function like any of Quess' other subsidiaries. He believes that the club will run professionally with decisions taken, keeping in mind their long and short-term goals.
"We are a very decentralised company. We have only ten people in our corporate office (in Bengaluru). We don't run any of our businesses ourselves. We have over 270,000 people and rake in more than a billion in sales per week. We leave it to all the presidents that run their businesses. We expect the club similarly to run out of Calcutta and with a lot of independence," he commented. 

Isaac shed further light on the what will incorporate QEBFC. "Quess East Bengal Football Club will be the company that runs the footballing activities of East Bengal club. It will be headed by a professional and the team is being put together right now.

"It's a bit premature to talk about it because we are just about a week or ten days since we signed up. We are looking at about another two weeks before we settle into a new office and put the team together. There won't be a third party. It will be our own management that will be involved," he stated.

Quess becomes one of many such private firms which have invested in Indian football in the last four to five years ever since the Indian Super League (ISL) sprang up. Isaac had various ideas of his own how the game could do with a holistic facelift in the country.

"Indian football should see a lot of grassroots-level changes. For example, the footballing activities at school, colleges should be promoted. There should be an infrastructure that supports this. It is unfair to expect all of this infrastructure will come from private funding. The government should aid with some of it," he opined.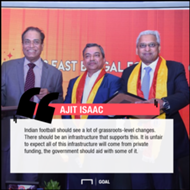 The 51-year-old further added, "The second thing is that we should reach out and to areas that produce talent - the North-East and parts of West Bengal, in the south in Kerala have traditionally have had a lot of footballing talents so we must talent scouting as a proper process.
"There should be a sports culture in the country, not just viewership but in terms of sports medicine, rehabilitation, training methods, sports psychology and the whole ecosystem that promotes winning athletes.
"At every club level, we must have a professional management and an ability to run a club like how well-oiled corporates work. So if it remains as a backyard system of few individuals, it is not going to develop a mass-based appeal."
East Bengal might not have had an indelible public image with various personnel within the club having criminal cases pending against them. Debabrata Sarkar, a current Executive Committee member of the club, was taken into custody by the CBI four years ago and Subhash Bhowmick, the current Technical Director of the senior side, was sentenced to three years in prison for bribery charges (although out on bail). 
That, however, did not deter Isaac from investng in East Bengal. "I have no comments about that really. We are investing in an institution and it has a lot of background and a lot of character and that is what we are buying into," concluded Isaac.
East Bengal have had a morbid fourteen years, without a national league title and its fair share of controversies. The Kolkata maidans have been abuzz again and one could hope this new relationship only lights the torch brighter for the 
Red and Golds
.