PSL
Ajax Cape Town's partnership with Ajax Amsterdam in jeopardy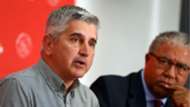 After deciding to accept their fate to campaign in the National First Division (NFD) next season, Ajax Cape Town could part ways with their parent club, Ajax Amsterdam.
The development comes after the Mother City side's CEO Ari Efstathiou admitted that the Dutch-based club could end their partnership with the Urban Warriors.
Efstathiou was speaking on Friday, a day after their decision to withdraw their bid to interdict the 2018/19 Premier Soccer League (PSL) start.
The Ajax boss did not reveal what prompted their decision to stop the fight against the PSL following their long drawn out case against the PSL for using their former striker Tendai Ndoro, but said they will play in the NFD next season.
The decision by the Ajax boss follows a protracted fight which involved arbitration hearings and numerous court cases after Ndoro's registration was put into question last season.
Three PSL clubs in Platinum Stars, SuperSport United and Polokwane argued against the striker's eligibility for playing in the PSL as he started the past term playing for Orlando Pirates, then joined Al Faisaly in Saudi Arabia before coming back to play for Ajax.
Although, the league's DRC granted the forward permission to play for the Urban Warriors, the PSL appealed the outcome and the case subsequently went through to the South African Football Association (Safa).
A decision by Safa saw Ajax docked points which automatically relegated them to the NFD.
However, in an effort to keep their topflight, Ajax approached the South Gauteng High Court where Judge Denise Fisher set aside Safa's initial ruling to dock the club points and reinstated the Mother City side to the 15th spot on the log.
But with the start of the new season on the horizon, Ajax shocked many when they dropped their bid to halt the start of the league season.
"The one thing that Ajax Amsterdam couldn't understand was the length of time this issue took," said Efstathiou according to the IOL.
"They couldn't believe the process could be delayed for so long. Think about it, they are on the outside looking in, and asking themselves why does a decision take so long?," he said.
"They are obviously disappointed in what has transpired. I can tell you that they are backing the club - but I also have to say that they are considering their options." he added.
"With regard to youth development, we have been the most productive club in the PSL, and that will continue," said Efstathiou.
"We were in the middle of the Ndoro saga when we launched the Lambda Institute (the club's new soccer school). We simply went ahead with it. There are obviously financial implications, so there will be changes," added the CEO.
"We will be forced to transfer some top players because we will have to balance the books. At the same time, though, we have to make sure that we reinforce the squad for the NFD," concluded Efstathiou.