MFM
African Youths honour MFM's Olukoya, Enakhena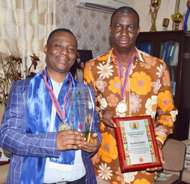 General Overseer of Mountain of Fire and Miracles Ministries' Daniel Olukoya and veteran sports journalist cum administrator Godwin Enakhena have been honoured by African Youth Global Network for their contributions to sports on Tuesday.
AYGN, a Non-Governmental Organisation and an umbrella body for youths from 27 countries on the continent, presented Olukoya, the General Overseer of MFM, with the Nelson Mandela Pan-African Life Time Achievers Hall Of Fame Honour and Icon of True Silent Mega Philanthropist In Africa Awards.
Speaking on the impact of the church's overseer, the organisation's Director of Programmes (Ghana), John Nelson said: "Your support and investment in the youths of Africa is unprecedented. No wonder you are highly respected across the continent and beyond.
"You're blazing the trail [and] it's not only restricted to education and human capacity development, the exploits of Mountain of Fire and Miracles Ministries Football club in the Nigeria Professional Football League and in the world of sports speaks for itself."
Responding to the kind gesture, Olukoya said: "I am pleasantly surprised by this award and very glad that youths of Africa found me worthy to be honoured. Be rest assured that we will do the much we can to support your group as long as it's for the good of the youths."
Also, for leading MFM to win the maiden edition of the Church World Cup in Goa, India and MFM FC's impressive forays in the Nigeria Professional Football League, Enakhena (Director of Sports) was awarded the 2016 Nelson Mandela Pan-African Exemplary Leadership Award
Enakhena described as 'a torch bearer and a beacon of hope for youths' was encouraged to continue his good works.