AFC Cup
AFC Cup 2017: Abahani Limited's Drago Mamic - At the moment, Bengaluru FC is a better team than us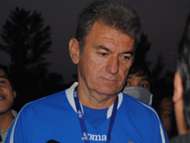 Bangladesh Premier League champions Abahani Limited are set to face JSW-owned outfit Bengaluru FC in their third fixture of the AFC Cup 2017. The Sky Blue Brigade sit at the bottom of their group with two successive defeats from as many matches while the defending I-League champions are on top with two wins against Kolkata heavyweights Mohun Bagan and Maldivian side Maziya S&RC.
The Dhaka side lost to the Mariners in their previous fixture which saw Jeje Lalpekhlua, Balwant Singh and Sony Norde score for the Maroon and Green brigade whereas Jonathan Brown netted the lone goal for his side in a 3-1 result at the Rabindra Sarobar Stadium, Kolkata. Head coach Drago Mamic aims to improve from their last performance and focus on battling the tough Blues.
FIFA U-17 World Cup 2017: SAI and AIFF rope in US-based NRI
''We will be playing against the defending champions of India and also finalists of the last AFC Cup. We know everything about this club (Bengaluru FC) but we must take care about our performance and be better than last time,'' he stated.
Adding further, the Crotian mentioned that his side put up a good show against Sanjoy Sen's team but emphasised that the players need to maintain consistency throughout the 90 minutes.
''We played very a good match against Mohun Bagan in the first half and that was an improvement. But, we must start thinking about how to prolong this performance to be very good for more than just one half,'' explained the 63-year-old.
AFC Cup 2017: Know Bengaluru FC's Rivals - Abahani Limited Dhaka
An 18-member Abahani squad has travelled with only two foreigners namely Emeka Darlington and Jonathan Brown. Their veteran Ghanaian defender Samad Yussif is yet to recieve the Indian visa which keeps him out of the fixture. ''Samad (Yussif) didn't get visa yet. He had to go to his own country first to get his passport. Now, we are again going to travel with only two foreign players while all the other teams are playing with four,'' disclosed Mamic on Saturday.
Midfielder Emon Mahmud Babu is also sidelined for the tie at the Kanteerava stadium due to an injury and the coach doesn't wish to risk by including him in the playing XI. ''Emon (Babu) is very injured. From last year, he has trained just thrice. This training pitch here (at Bengaluru) is killer for the player.  Any player is open to injury or fitness problems here,'' expressed Mamic.
I-League 2017: East Bengal's Trevor Morgan: Lost the game trying to win against DSK Shivajians
Mamic believes performing with just two foreign players, as compared to the four Bengaluru FC will field, makes his side the weaker contestant in the clash. However, the Abahani boss' target will be to showcase a defensive performance in the given situation.
''We can't go there like favourites and promise somebody that we are going there for win because it will be ridiculous in my opinion. I think everybody who is thinking rationally must know at the moment that Bengaluru is a better team than us. We must play something which can ensure defence,'' he signed off.