Malaysia
AFC chief throws his support behind TMJ's FAM presidency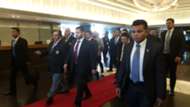 ---
BY        ZULHILMI ZAINAL       Follow on Twitter
---
Asian Football Confederation (AFC) president Shaikh Salman Ebrahim Al Khalifa has expressed his belief in the leadership of Malaysian FA (FAM) president Tunku Ismail Sultan Ibrahim.
The two met on Monday in Johor Bahru to discuss football matters in Malaysia as well as Southeast Asia.
"We, the AFC, are pleased to have our home in Malaysia and as such it is very important that FAM and the AFC are on the same page when it comes to our commitment towards football," said Shaikh Salman.
"The AFC is honoured to have a passionate football lover in HRH Prince Ismail as the President of FAM and I am confident that his progressive vision will lead Malaysian football towards a bright and promising future.
"We already feel the enthusiasm across the country and a string of strong performances recently in different age-category competitions have indicated those changes," said Shaikh Salman as quoted by the AFC website.
Tunku Ismail, who is also known as TMJ by fans in the country, wants to continue the cooperation between the two entities.
"We would like to thank the AFC President for managing his precious time to visit us here in Johor.
 "The FAM leadership is new, but we have a simple way of developing football in Malaysia: that is to educate the people who run the clubs.
"Apart from being a popular sport, football has this powerful capacity to unite people and that is what we are looking for here in Malaysia.
"We are creating a long-term plan, which will help us to professionalise the game and at the same time raise the standard of our national team," said the FAM President.