African All Stars
Achraf Hakimi's Atletico decimation whets the appetite for more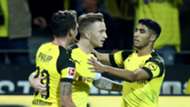 ---
COMMENT    By Solace Chukwu    

Follow on Twitter
---
For a brief moment, it was tempting to wonder if the jumping and cavorting of the famous Yellow Wall had somehow caused the scoreboard to malfunction at the Westfalenstadion.
Had Borussia Dortmund really pulverized Atletico Madrid 4-0 in the Champions League?
Sure, the Germans have been installed as the new kings of fun in Europe, but Diego Simeone's side was the rock against which all seafaring vessels, however rich with plunder, smashed and broke into bits. If there was a team guaranteed to stop all that swashbuckling momentum, it was Los Colchoneros.
More than most, Achraf Hakimi would have known this.
A product of the Real Madrid youth system and indeed on loan from Los Blancos, the 19-year-old is steeped in the traditions of the derby. Yet, it didn't matter. Or perhaps it did: the Morocco international has quietly and impressively gone about his development in Germany, but it was against Atletico that he elected to make his big splash.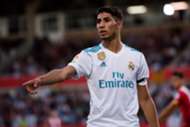 More than anyone else, the 4-0 was a result that had Hakimi's fingerprints all over it. There were three different scorers on the night, but he was the common denominator, accruing a hat-trick of assists in an unplayable performance.
More than the telling contributions was the quality and daring of his play overall.
Atletico's tendency to defend compactly and clog up the middle of the pitch should have caused him problems, as he was fielded at left-back here. It instead seemed to open up a new plethora of opportunities, providing Hakimi with the option of cutting in onto his stronger right foot and dribbling diagonally towards goal, as well as stretching play and going on the outside.
He was time and again the key player, overloading the visitors who seemed to have no answers at all. A strong run inside provided an opening for Christian Pulisic, who curled over. Then he held the width on the left, before finding Axel Witsel with a pass to the edge of the box, leading to the opener.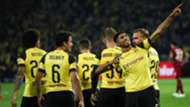 In the second period, he even took the ball of Marco Reus, the team's nominal centre-forward, after a flowing move which he had engineered, underlining his willingness to get into central attacking areas.
He then laid on the second, this time by getting around Atletico on the overlap, before playing a precise ball across the top of the six-yard box for Raphael Guerreiro to turn home. It was ironic that he should assist the Portuguese, who is a natural left-back but came on here in midfield.
His third assist saw his diagonal runs finally bear fruit, as his pace and movement completely put Atletico out of joint. With Reus out wide, there would be no duplication of functions this time—he ran in behind unchecked, and squared unselfishly for Jadon Sancho.
A stunning display of attacking from the youngster, whose promise saw him break into the Real Madrid first team last season. However, the signing of Alvaro Odriozola, as well as the versatility of Nacho Fernandez, meant there was unlikely to be much playing time available to him this season, and so a loan move was really the only way to go.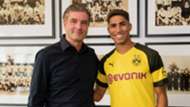 The choice of Borussia Dortmund and the Bundesliga, though, was less apparent. For that, Hakimi had help, both in advice and precedent: incumbent Real Madrid right-back Dani Carvajal similarly matured into a first-class player in a short spell in Germany, and is a fan of the Moroccan's talents.
It is looking the perfect fit, as manager Lucien Favre is keen to add to his game while taking nothing away from his attacking instincts.
"He's a coach who likes his teams to defend well and that's what he's asking me to do," Hakimi told Marca last month.
"In attack, I'm ready, but the coach wants me to improve tactically and defensively and I think I'm getting it."
And how! 
The balance was just right on the night against Atletico. Interestingly, this was his first Champions League start for Dortmund. To play with such confidence, and be so decisive, only whets the appetite for more.