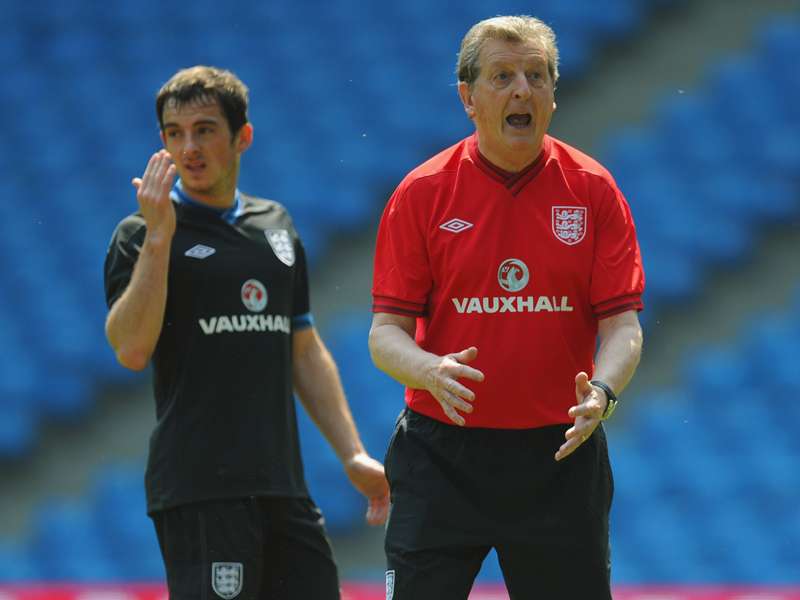 The
England
squad would be delighted to see manager
Roy Hodgson
's contract extended beyond
Euro 2016
, according to
Leighton Baines
.
Hodgson's present deal is set to take him through to the tournament in France, which his side are well positioned to reach after winning their first three qualifying matches.
The 67-year-old has responded well after overseeing a poor World Cup campaign in Brazil earlier this year, in which England were eliminated from the group stages without winning a match, and Baines says that all the players are keen for him to remain in charge.
"The players would all be delighted with that [Hodgson extending his contract]," the left-back told reporters. "We all enjoy working with him. He's a good guy, a good person to speak to.
"He's got a lot of knowledge about football, has had a lot of different jobs, worked in different countries. Us, as a bunch of players, would be really happy if he extended."
Baines also beleives that England captain Wayne Rooney is the ideal role model for his Everton club-mate, Ross Barkley.
Barkley has been compared by some to the Manchester United skipper, who started his career at Goodison Park, and the defender feels that Rooney - who is set to earn his 100th cap against Slovenia - can continue to be an example to follow.
"Wayne's always been someone that people have focused on and we've asked a lot of him over the years as well and he tended to produce," he observed. "He's now moved onto his role as captain and rightly so - he earned that right to be leading the team now, he's a leader among the squad.
"He's great for all the players but particularly for people like Ross and the other young players who he's often offering advice to so I think it was the natural fit once Steven [Gerrard] retired for Wayne to step up and fill that role."
addCustomPlayer('1u8xfyfbhx14u1qd5ihe9pcnri', '', '', 610, 544, 'perf1u8xfyfbhx14u1qd5ihe9pcnri', 'eplayer14', {age:1415192970643});