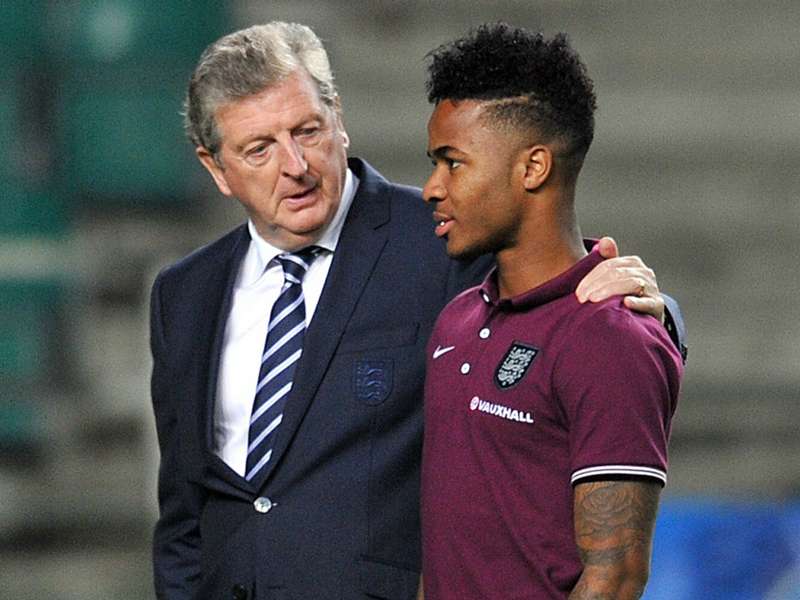 EXCLUSIVE
By Wayne Veysey
Roy Hodgson
has been branded a "dinosaur" by a football fitness expert for failing to understand the "overwhelming" evidence regarding
Raheem Sterling
and the need for a two-day recovery period after matches.
Sterling complained of tiredness prior to England's clash with Estonia, leading Hodgson to start the Liverpool star as a substitute in Tallinn.
Sterling's age, explosive playing style and increased workload in the last 12 months are compelling reasons for the England boss to follow Brendan Rodgers' lead and reduce the Liverpool player's training load.
Raymond Verheijen, the Dutch coach and fitness guru who runs the World Football Academy training the next generation of coaches, gave
Goal
a detailed perspective on the club vs country row that has engulfed the English game.
Verheijen said: "Sterling is totally right. He does need at least two days of recovery after every match. It is a given.
"For Roy to say there is no evidence for this is a joke. He makes himself look like a dinosaur. There is overwhelming evidence.
"In Sterling's case, there are three reasons for this. Firstly, young players develop more fatigue during a game than mature players. His body has not fully grown yet but he has the same matchday workload as everyone else, because the game determines what you do. The load ability of Sterling is less than the load ability of a 26-year-old, which means if Sterling does the same load his body will be more tired.
"Secondly, Sterling is an explosive player. He has a lot of fast muscle fibres, which are white because not a lot of blood flows through these fibres. Slow muscle fibres are red because they need a lot of blood. If there is a lot of blood, there is a lot of oxygen. Fast muscle fibres recover slower because there is less oxygen. Because Sterling has a lot of fast muscle fibres he will [recover] slower than somebody with slow muscle fibres.
"Thirdly, because of the factors of Sterling's age and explosiveness, he is more likely to accumulate fatigue and get injured. When players have accumulated fatigue, their nervous system slows down and the signal from the brain to the muscles arrives later. For instance, if the muscles that protect the knee fail to contract in time when you are turning - because the signal has arrived a millisecond too late - you can say goodbye to your ACL [Anterior Cruciate Ligament]."
Hodgson has been criticised for his team's training methods, with Daniel Sturridge rupturing his thigh muscle while on international duty in September, but insisted there is no proof players need two days to recover fully from the rigours of a match.
"I don't think there is a lot of medical evidence to support the two-day recovery so if you want to, you might want to research that one," said Hodgson on Monday. "Certainly, the Germans, who you admire so much, don't do it. That is for certain.
"I would expect players not to take it for granted that there will be two-day recoveries but on the other hand it could easily be like this [international break] when we did virtually nothing in terms of what I consider to be training the day after the [San Marino] game.
"We did 40 minutes including warm-up [two days after] and that was at a fairly low-level intensity. But that was my decision."
Liverpool declined to comment when contacted by Goal, but Anfield first-team coach Mike Marsh has defended the club's recovery programme.
"Our fitness programmes have been well documented," he told the club's official website. "We try to recover the players as best we can to prepare for the game. We have a couple of days' recovery after the game and we work with the group of players for the next game.
"We do quite a lot of analysis with the players so we break them up into smaller groups and feed back in different ways."
Verheijen, the former Wales and Armenia No.2 whose CV includes spells at Barcelona, Chelsea, Manchester City and with the Dutch FA, as well with the national teams of Netherlands, South Korea and Russia, says it is up to the managers to ensure players do not get injured.
"Gareth Bale is an explosive player like Sterling and Sturridge," Verheijen explained. "When I was with Wales and Bale played a Sunday match, he had a recovery session on the Monday and a day off on the Tuesday. The two days of recovery was common sense to ensure he did not get injured.
"In England the coach education is rubbish and that's why Sturridge got injured in training on international duty. They don't know about [the less is more] periodisation [approach] and tailoring players' training methods.
"I have a lot of respect for the way Brendan Rodgers handles this situation. He is very polite even though he knows England are not looking after Liverpool's players properly.
"At least they (England) tried to prevent Sterling getting injured but the player should not have to manage his own conditioning. Roy has clearly not learned from the Sturridge case."
addCustomPlayer('ya62229j6wwz1iqmxvf5gtb32', '', '', 610, 544, 'perfya62229j6wwz1iqmxvf5gtb32', 'eplayer14', {age:1402502791130});