It's their party and they will cry if they want to. There is no greater emotion for a
Brazil
match at the
FIFA World Cup
™ than during the national anthem.
As the instrumental introduction is played, Luiz Felipe Scolari's side stand straight, arms grasped around one another's shoulders in embrace. The more religious players close their eyes and turn their heads towards the heavens. Then there is a sharp intake of breath before the deafening sound: "Ouviram do Ipiranga as margens / plácidas De um povo heroico o brado retumbante..."
Scolari and his technical staff join in with the fans, as do the players. Some, like David Luiz belt it out, flexing every mimetic muscle in their faces in an effort to deliver each word at a volume befitting their passion. Others, like Hulk and Fred, are more reserved.
But, by the fourth stanza, even they are lost in the music. "Brasil, um sonho intenso, um raio vívido / De amor e de esperança à terra desce." Even after the anthem ends, the singing does not. Crowds regularly add an additional verse - and do so with the passion of a war cry. It is a remarkable spectacle.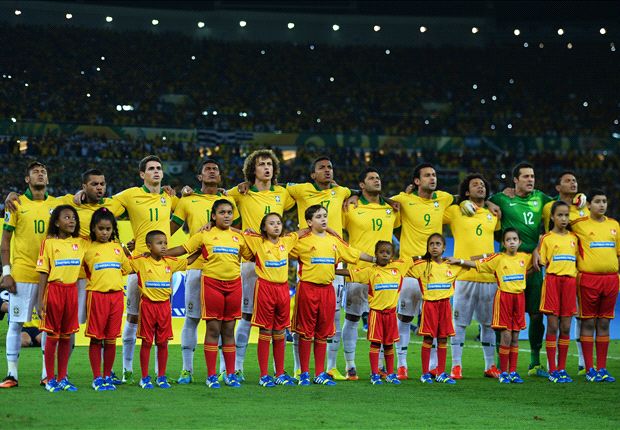 Pátria amada, Brasil | Brazil players link arms for their anthem

The power of the anthem in a football context first took hold during the Confederations Cup triumph of 2013 when the team surprisingly emerged as a force for unity in South America's largest country.
"Everyone came together: the team, the entire population," said David Luiz. "That was our power. I remember I spoke to the Spanish guys playing for Chelsea and they said that when they saw the people singing the national anthem like they did at the final, they all said, 'It's impossible to win today'."
A previously struggling Brazil side felt like their public had fallen back in love with them. From Dunga's class of 2010, whose limitations were exposed against the Dutch in Port Elizabeth, to Mano Menezes' disastrous Copa America and Olympic final catastrophe, the new-look Brazil had regained the fans' respect.
The team repaid the fans' faith by thrashing Spain 3-0 in the final to lift the Confederations Cup. The anthem was an essential part of the story, an expression of the solidarity which promises to escalate and lead them all the way to the 2014 World Cup™ final on July 13.
This is how Brazil supporters share their football experience. Now it's your turn to show your passion for 2014 FIFA World Cup Brazil™ with Hyundai's Pin Your Fan Park. Create your own Fan Park by sharing live footage of you enjoying the 2014 FIFA World Cup Brazil™. Post your supporting message, upload photos and videos and make football playlists at worldcup.hyundai.com
.