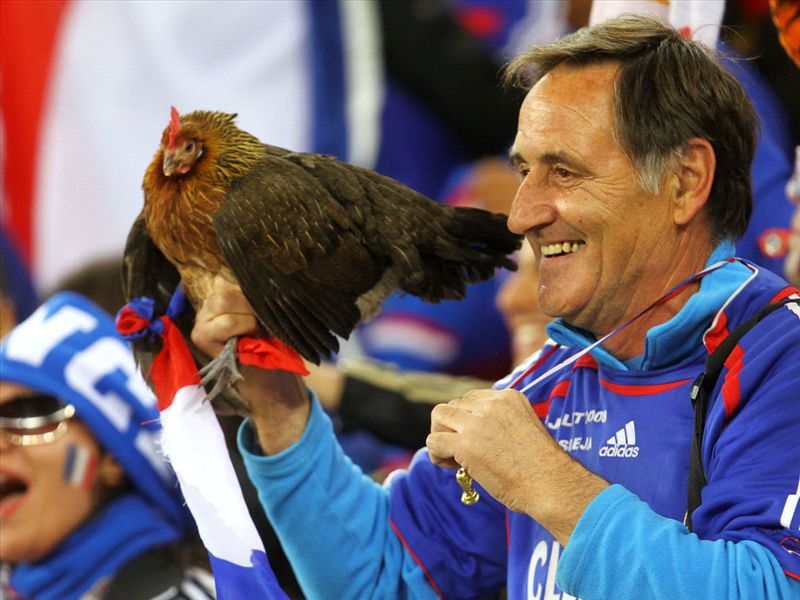 For over 100 years, the
France
national football team has proudly worn a shirt adorned by the Gallic rooster. Since making its first appearance on the famous blue strips when the national team went down 5-2 in Belgium in 1909, the cockerel has become ubiquitous and notably adorned the breasts of the
World Cup
-winning squad in 1998.
Of course, the form that the rooster has taken has changed dramatically over the years, with a traditional representation of the bird on the current France jersey. Previously there had been a more modern interpretation of a symbol that has been an unofficial emblem of the French state for centuries and can be found sculpted into many buildings all over the country.
The rooster recalls the Gallic origins of the nation, with the symbol initially adopted, linguists believe, owing to a pun on the Latin word for cockerel and the ancient state of Gaul. France's enemies made this joke because of the supposed stubbornness and brazen pride of the people, but it was to be turned on its head as the French took the bird to their hearts as an icon of their nation.
Regardless of the strange heritage, the rooster has great symbolic value as it signifies faith and light. The crowing of the cockerel each morning represents the triumph of light over darkness and good over evil.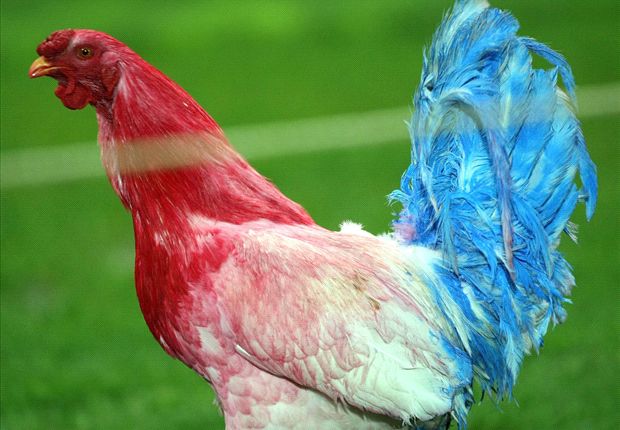 Feather figure
|
A rooster in the national colours of France
French sportsmen and women down the years have drawn inspiration from this emblem and as a result it is not only football that has claimed the symbol. The rugby team also displays the rooster on its badge, and when the National Olympic Committee of France withdrew the bird from use in its logo in 1997 they provoked outrage, with celebrated figures such as long-distance running great Alain Mimoum arguing that it was a change that attacked the values of the nation.
The 'coq', however, continues to be a proud symbol of Didier Deschamps' side, perhaps best displayed by super fan Clement d'Antibes (see main image), who carries his rooster Balthazar with him to matches.
Indeed, it is a common sight to see a cockerel invading the pitch during France international rugby matches, though the practice is not so frequent in football.
Regardless, the ubiquitous nature of the rooster and French football was maintained during the FIFA World Cup 1998
™
when the mascot for the competition was Footix, a giant cockerel bedecked in the national colours of red, white and blue.
Should France enjoy success in Brazil, expect to see far more of the famous rooster, which Les Bleus hope will have much to crow about in mid-July.
This is how French supporters share their football experience. Now it's your turn to show your passion for 2014 FIFA World Cup Brazil™ with Hyundai's Pin Your Fan Park. Create your own Fan Park by sharing live footage of you enjoying the 2014 FIFA World Cup Brazil™. Post your supporting message, upload photos and videos and make football playlists at worldcup.hyundai.com