When you go and watch a Netherlands game, there are two things that are almost impossible to escape your attention. The first is the tendency of most Holland fans to wear orange. The second is the Dutch affection for lions. Naturally, this leads to hundreds of supporters regularly dressing up as orange lions.

This rather odd appearance often leads to surprised looks from neutrals and opposing fans, yet there's a logical explanation.

The dominance of the colour orange is rather easily explained and dates back to the days of William of Orange, also widely known as William the Silent. He was one of the main leaders of the Dutch revolt during the Eighty Years' War against Spain in the 16th century, and the Geuzen (the rebels) changed the colour red in the unofficial national flag to orange to honour their chief.
Although the colours of the Dutch flag have since been reverted back to red, white and blue again, orange remains the colour of the royal house and various national sport teams.

The lion, meanwhile, is a historical symbol that has stood the test of time, too. Charles V, Holy Roman Emperor, first used the lion back in 1515 during his reign of the region that is now known as Netherlands and the animal has remained a prominent part of the coat of arms of Netherlands.

More relevant to Dutch football fans, however, is the fact that the lion has featured on the jersey of the national team for more than 100 years. The Dutch football association's (KNVB) logo has a Dutch Republic Lion in it and the animal first made its way onto an Oranje jersey in 1907 during the 3-1 win over Belgium.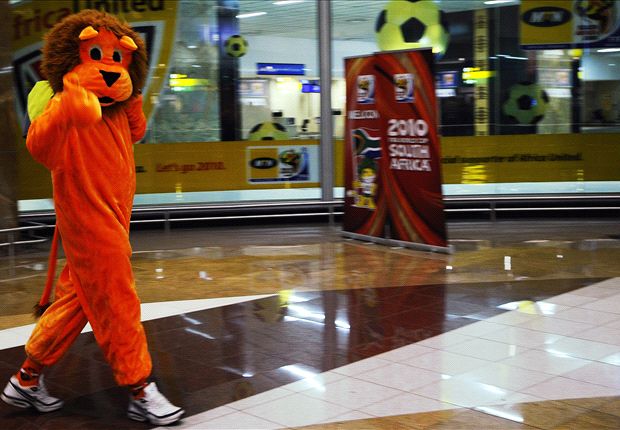 Thumbs up
| An orange lion at the 2010 World Cup in South Africa

The lion was quickly embraced as a symbol of the national team by Dutch football followers and has even been the subject of a number of chants, most notably in the hugely popular song "Hup Holland Hup", written in 1950.
The affection for the Dutch lion is so great that the KNVB gave away 500 tickets to supporters with the name "Leeuw" – Dutch for Lion – for last year's international friendly against Colombia.
"We are on our way to the World Cup together - players, technical staff and fans. We are one giant lion together, screaming the team to success. The match against Colombia is a good test and we could use some extra 'lions' during the game," a KNVB spokesman explained.
The support of the orange lions has helped the Dutch to one European title in 1988 and three World Cup finals over the years. They will be hoping their loud roars motivate the team to go one step further this time around in Brazil.
This is how Dutch supporters share their football experience. Now it's your turn to show your passion for 2014 FIFA World Cup Brazil™ with Hyundai's Pin Your Fan Park. Create your own Fan Park by sharing live footage of you enjoying the 2014 FIFA World Cup Brazil™. Post your supporting message, upload photos and videos and make football playlists at worldcup.hyundai.com