Franz Beckenbauer has announced he will be scouring the globe to select a team of the best footballers.
The former Germany captain and coach has taken charge of the GALAXY 11, a side consisting of the most outstanding players of the current generation.
The announcement follows Beckenbauer's surprise visit to Chelsea's home game with Manchester City on Sunday when he was pictured seated with a mysterious man in a robe in the executive area.
Similar characters were seen in the Shed End of Stamford Bridge and at Bayern Munich and Juventus. After the Chelsea match, the Kaiser released an extraordinary video raising the possibility of the GALAXY 11.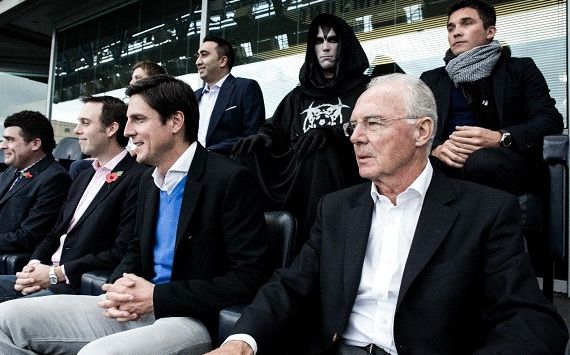 Watching the Kaiser | Beckenbauer pictured near a robed man at Stamford Bridge
Now Beckenbauer has granted a media interview in which he reveals more about his involvement in the GALAXY 11 and promises a further announcement on November 11.
"I am taking careful and calculated steps to determine and assemble this team," he said.
The new video also includes images of the mysterious symbols seen in Rio de Janeiro, London and New York recently and the hashtag: WINNERTAKESEARTH
Social media outlets are already buzzing over the potential make-up of the GALAXY 11. Have your say: #WINNERTAKESEARTH