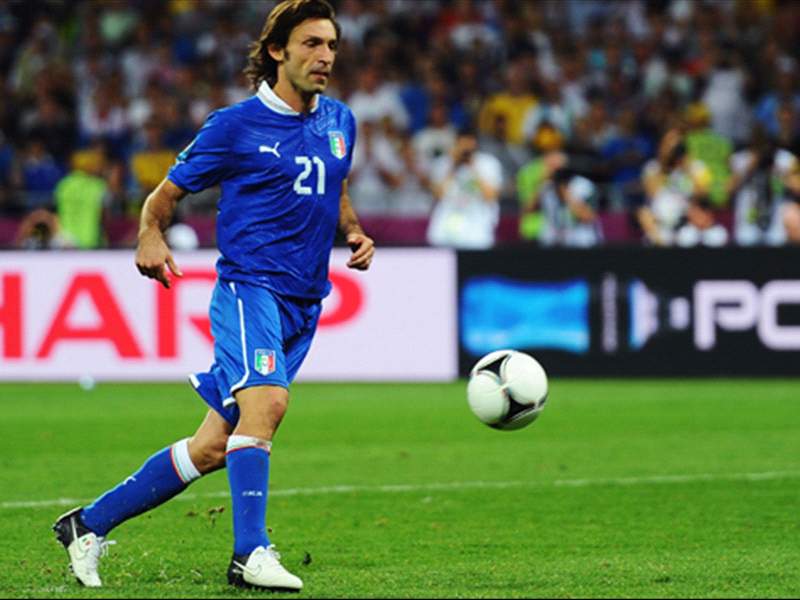 COMMENT
By Carlo Garganese
Tennis icon Roger Federer salutes the Centre Court crowd as he finally ends his Grand Slam final hoodoo against Rafa Nadal to win the Wimbledon Championships for an eighth time.
Not only does the elegant and graceful Federer overcome the faster, stronger and graphite-armed Nadal – biceps and thighs the size of the Swiss' trophy cabinet - he does so with a wooden racquet he borrowed from 1970s Wimbledon legend Bjorn Borg. It is a miraculous achievement that completely defies all technological and physical progress made in sport over the last 30 years.
This fictional story is not too far-removed from what footballing legend Andrea Pirlo has been accomplishing in reality over the course of his incomparable football career. Given the tools and attributes at his disposal, and considering today's trans-human environment, the Juventus veteran – who is set to earn his 100th Italy cap on Sunday in the Confederations Cup opener against Mexico in Rio de Janeiro – should not be excelling in this era.
100 CLUB | Italy's centurions

Player
Caps
Fabio Cannavaro (1997-2010)

136 (2)

Gianluigi Buffon (1997-present)
128 (0)
Paolo Maldini (1988-2002)
126 (7)
Dino Zoff (1968-1983)
112 (0)
Andrea Pirlo (2002-present)
99 (12)
An era where, in almost all cases, a technical player cannot succeed at the very highest level unless supplemented by athletic qualities such as stamina, strength, pace and pressing.
Pirlo possesses none of these characteristics. He doesn't boast the gym-toned body and six-pack of a Cristiano Ronaldo, the bull-like brawn of a Didier Drogba, the searing speed of a peak Thierry Henry or the closing down of a Barcelona or Bayern Munich midfielder. He can't tackle or head the ball, is easily brushed aside in shoulder-to-shoulder situations, and exhibits a work-rate that often puts Dimitar Berbatov to shame.
Yet despite all this Pirlo will go down, together with Spain's Xavi, as the best midfielder of his generation. Arguably the greatest
centrocampista
Italy has ever produced, a legend of the game. That he has achieved such a status when the climate and conditions are so designed against him is truly remarkable.
Pirlo's laid-back style is a throwback to some of the elegant, rhythm-setters from the 1960s, 70s and 80s. The names of Giancarlo Antognoni, Gunter Netzer, Socrates and Glenn Hoddle spring to mind – not necessarily positionally but in how they represent a brand of technician who cannot exist in today's gladiatorial arena.
The Argentine artist Juan Roman Riquelme, who, as early as 2002, was labelled "too slow for the modern game" by Marcelo Bielsa when being dropped from his country's World Cup squad, is often described as the last classic playmaker – an athletically-limited foot-on-the-ball individual who demands an entire team be built around him.
Pirlo, a year younger than Riquelme, is surely the last of this dying breed. His ability to dictate and influence proceedings through his intelligence, vision, passing and through balls are traits that the robotic masses just can't interpret. The way he creates space, the drop of the shoulder, the feints before crossing that defenders know are coming but are powerless to prevent, the trademark free-kicks – we must cherish these moves as Pirlo approaches the home straight of his playing days.
The 34-year-old has already announced that he will retire from international football after next year's World Cup and, although 2012 was arguably the best individual year of his career, purists must start preparing themselves for life after Pirlo.
Life will never be the same. Although there will always be intelligent, deep-lying midfielders to carry on the creative baton – Marco Verratti and Thiago Alcantara just two examples from the current European Under-21 Championship in Israel who are destined for great things – there will never be another Pirlo.
Changes in the game – both artificial and evolutionary – and advances in training and medicine have pushed geniuses of Pirlo's ilk out of football. Somehow, miraculously, the ex-Milan hero overcame the new order. He took his proverbial wooden racquet and defeated the graphite-armed generation.
Follow Carlo Garganese on