Hannover police have confirmed that there were no explosives found at the HDI Arena or surrounding areas after
Germany
's international friendly match with the
Netherlands
was cancelled.
Tuesday evening's game between the world champions and
Oranje
was called off less than two hours before the scheduled start over security fears, with German chancellor Angela Merkel due to attend the match.
"Since the cancellation of the match, there were several checks of suspicious items," read a statement from Hannover police late on Tuesday night.
"No explosives were found. In the central station, a suspicious item was demolished for security reasons. As matters stand, there were no explosives in this item as well."
Hannover chief of police Volker Kluwe had earlier told
NDR
: "There is a concrete situation of danger for all of Hannover. There were serious plans to bring about an explosion."
The #GERNED game has been cancelled. #DieMannschaft are under police protection and have been escorted to a safe place.

— Germany (@DFB_Team_EN) November 17, 2015
The German Football Association (DFB) announced on Sunday that the match would go ahead, despite the national team spending Friday night inside the Stade de France in the aftermath of the Paris terror attacks.
Ahead of kick-off on Tuesday, reports of a suspicious package inside the stadium prompted fresh security fears and police issued a statement instructing fans already in attendance to leave the stadium.
"The friendly match tonight has been cancelled," police said in an announcement shared across social media and over the public address system inside the ground. "Please leave quietly but quickly to the nearest exit and go home."
The German Interior Minister,
Thomas de Maiziere, later gave a press conference clarifying the situation, in conjunction with the Interior Minister for Lower Saxony, Boris Pistorius.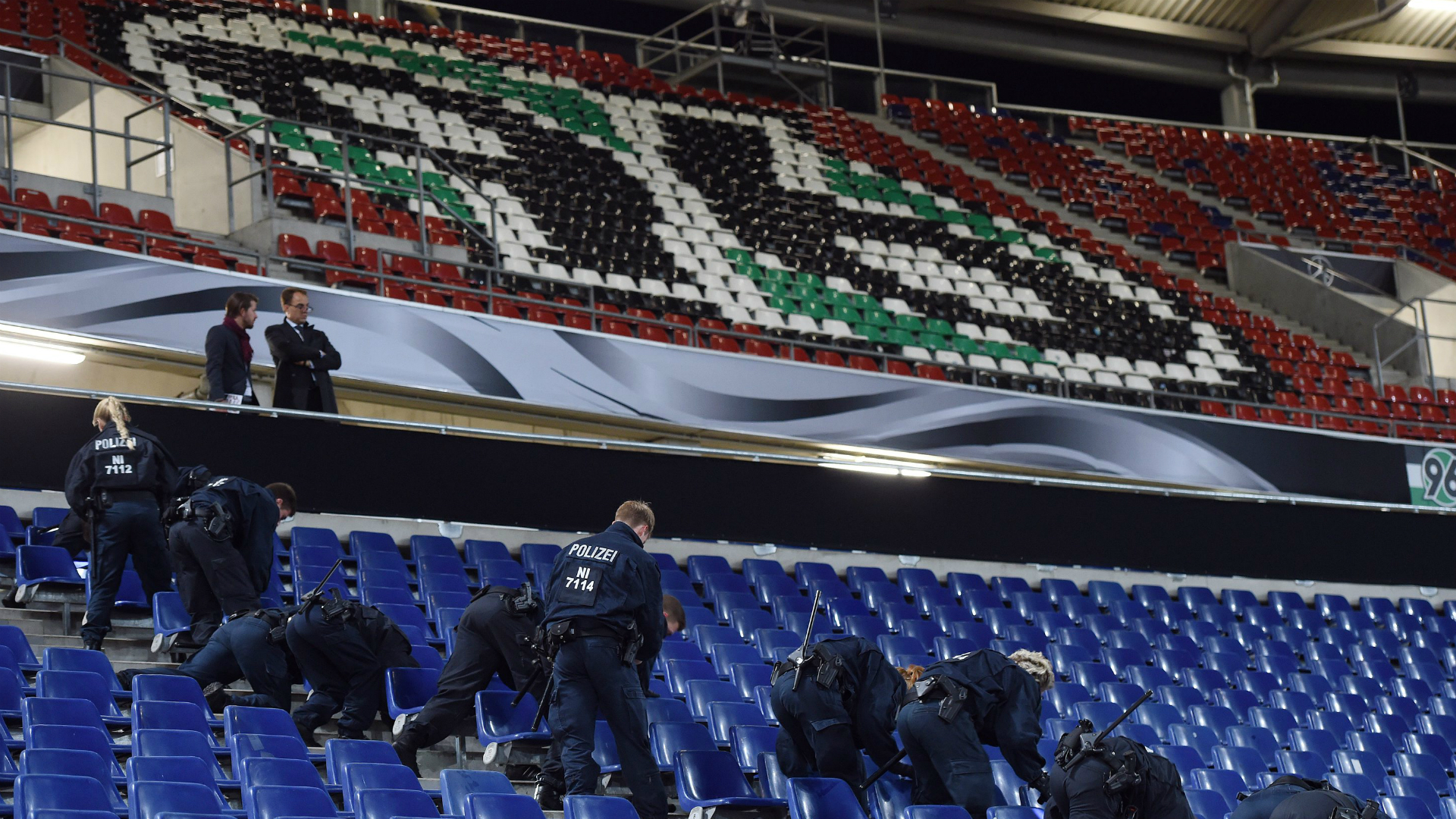 "It was an extremely tough decision to cancel the match which was made after many pieces of information indicated a concrete threat," De Maziere told reporters, also confirming that the parts of the central train station had been closed, as well as other types of public transport.

Pistorius, supporting De Maziere's statements, indicated that no arrests had been made and suggested he could not confirm reports that explosives had been found.

German Football Association (DFB) interim president Reinhard Rauball further admitted it had been a "sad day for German football and a sad day for Germany".

He added: "The Germany players are on their way back to their club teams and the Dutch are flying home."

Rauball also confirmed the DFB would be "thinking about" whether games in the Bundesliga would go ahead this weekend.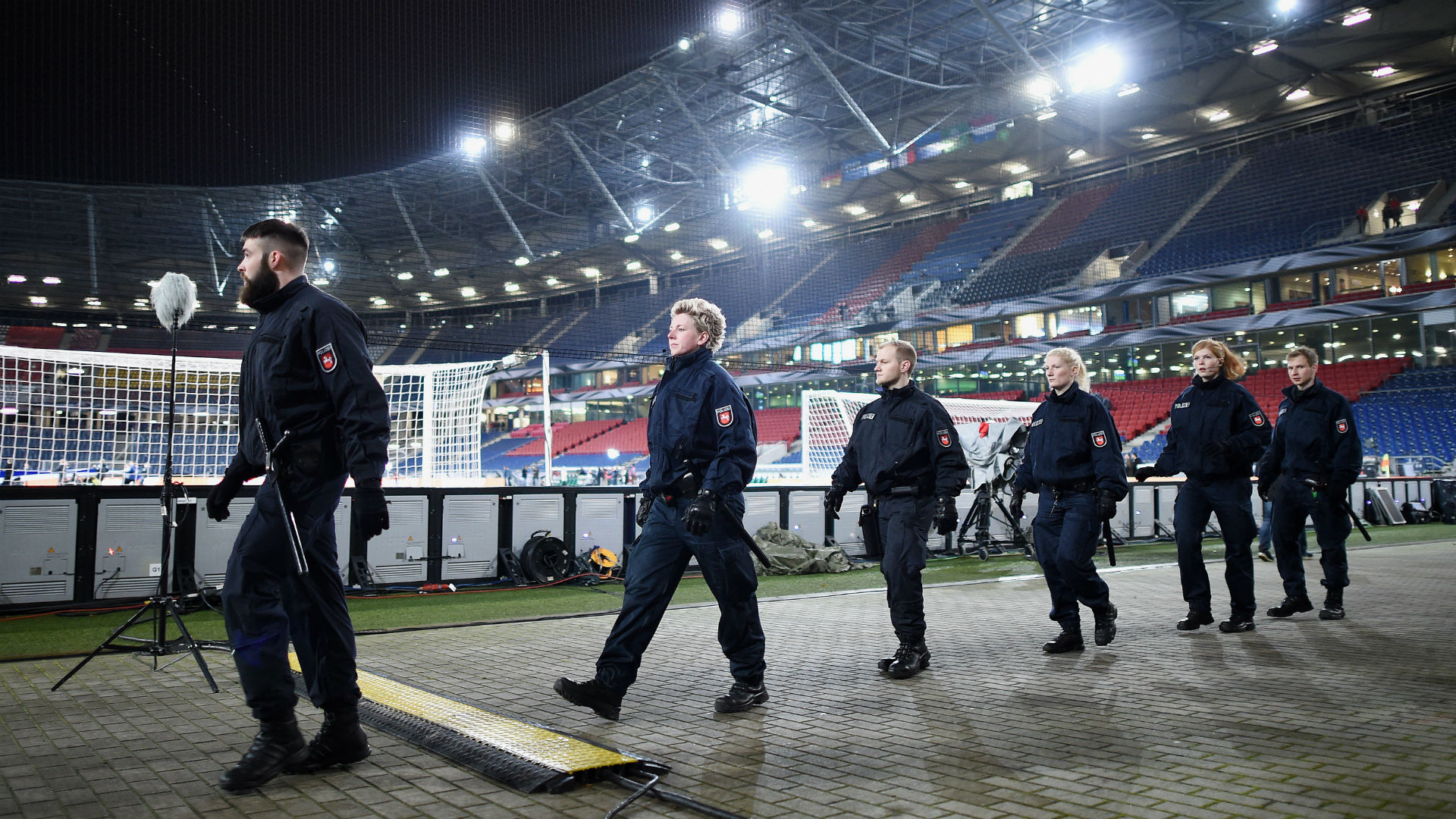 Jens Grittner, a spokesman for Die Mannschaft, tweeted: "We have been diverted on the way to the stadium and are in a safe place. We cannot say anymore at the moment."

Hannover's mayor Stefan Schostok told SID: "Security is always first. It is a fear you always have. I trust the police that they made the right decision. If there is a dangerous situation, those steps must be taken."

Earlier on Tuesday, Robert-Enke Strasse said that outside the stadium was closed but later re-opened after police confirmed a "suspicious object turned out to be harmless" – allowing fans to approach the venue.

Terrorist attacks across six locations in Paris killed 129 people on Friday night.

Three suicide bombers detonated explosive belts in the vicinity of the Stade de France, killing a further victim, during Germany's 2-0 loss to France.

French Secretary of State for Sport Thierry Braillard confirmed that bombers targeting the Saint-Denis venue tried to get inside the arena.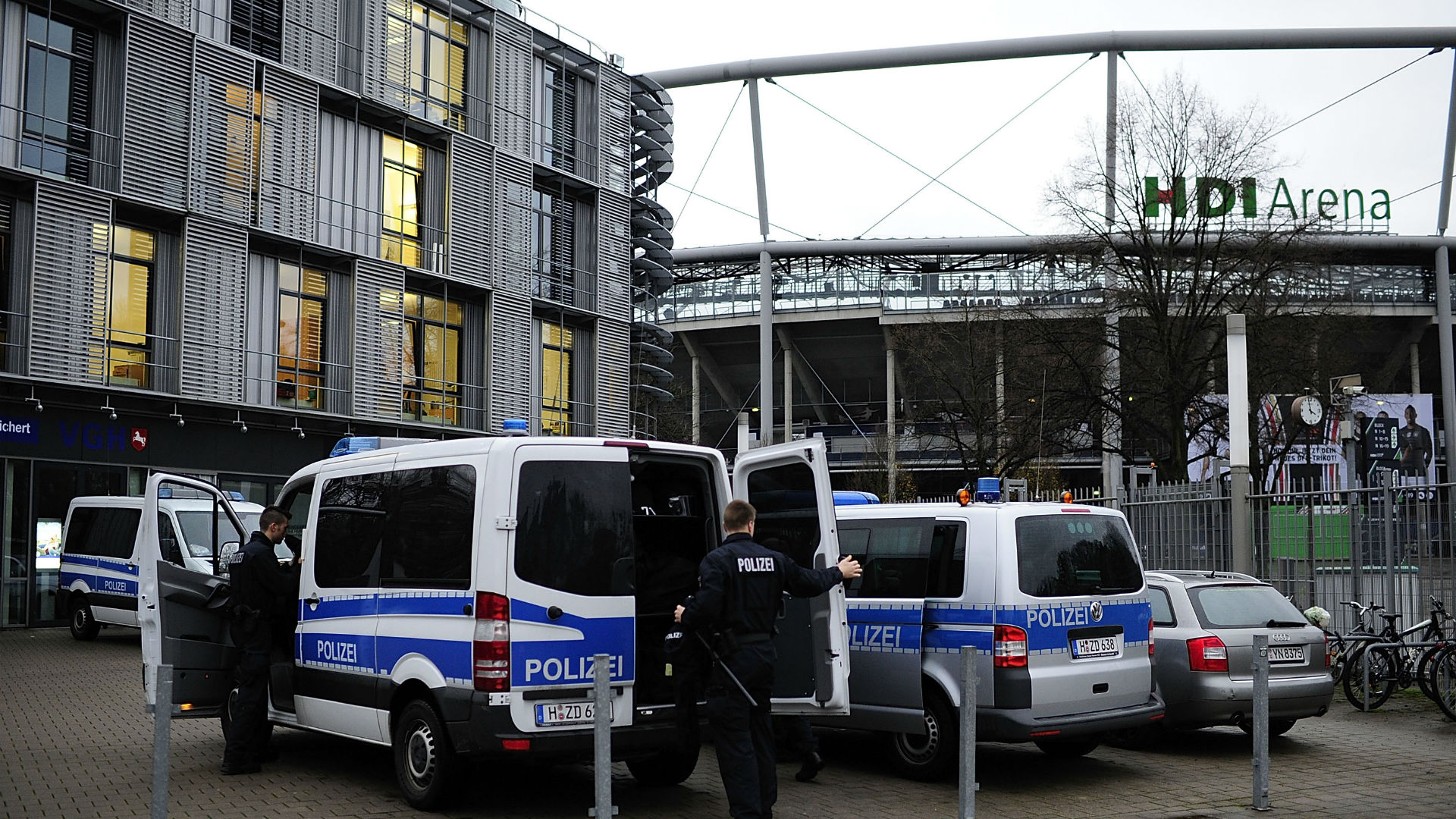 Following the Paris attacks, Joachim Low's team did not fly home to Frankfurt until the next morning having spent the night in the ground amid safety fears.

At his pre-match news conference, Low backed the original decision to proceed with the match against Netherlands.

"Upon our arrival in Frankfurt, I didn't think the game against the Netherlands could, or would, go ahead," he said.

"After sleeping on it, it was clear that the game must go ahead - also in solidarity with our French friends.

"We will think of the victims, the relatives and all of France tomorrow night in Hannover."

Belgium's game against Spain in Brussels, also scheduled for Tuesday night, was cancelled due to security fears but France's match against England will go ahead, with tributes to the victims of the Paris attacks set to take place before kick-off.