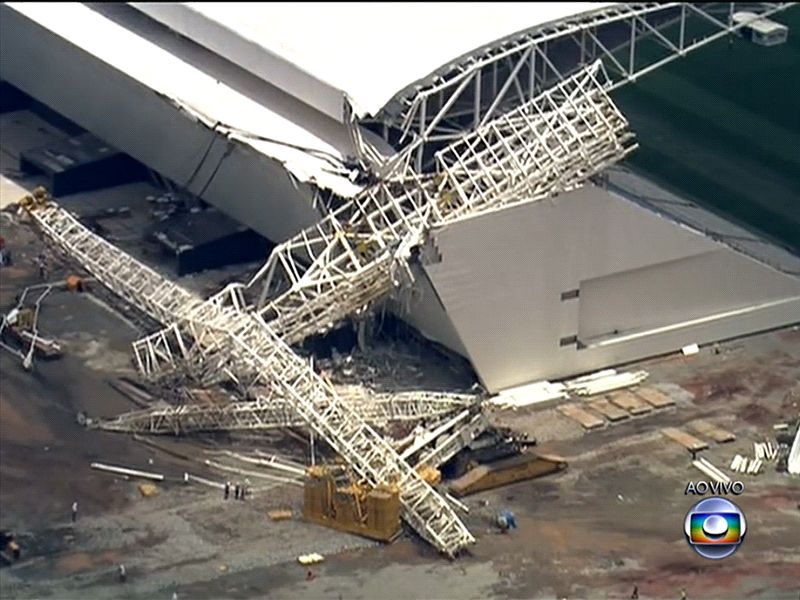 Two people have died after a crane collapsed on the construction site of the Arena Corinthians in Sao Paulo, one of the stadiums which will be used in next summer's World Cup.

The incident occurred on Thursday, damaging three huge metallic parts of the ground and destroying part of the stadium's structure.

A construction worker at the site who asked not to be identified told Goal: "I was a little far from the place of the accident, but what I know is that that would've been the last piece to be installed in the stadium structure. We were lucky that several workers weren't there at the moment, because it happened during our lunch break."

"The structure fell and initiated a cascade effect. We felt a strong tremor and that's worrisome. It could've affected other structures.

"I'm really sad. Some of the Corinthians' fans are also here, around the stadium, and they are crying with what happened. I'm a Corinthians fan and I know how passionate we are, but the most important thing is the lives of the people.

"I believe we could have more fatal victims in the next hours. What the guys around here are talking is that there are at least four people dead."

Corinthians, whose new ground was said to have been 94 per cent complete earlier in November, have expressed their sympathy over the incident in a club statement.

The Sao Paulo fire department are currently looking for survivors and wounded in the Itaquerao, with work suspended and Odebrecht, the company in charge of construction, yet to make a statement.

The stadium was intended to host the opening game of next summer's World Cup.

This is the third fatal incident in the building of World Cup 2014 stadia - the first at the Estadio Nacional Mane Garrincha in June 2012 and the second in March this year at the Arena Amazonia, which both involved a worker falling from a height.