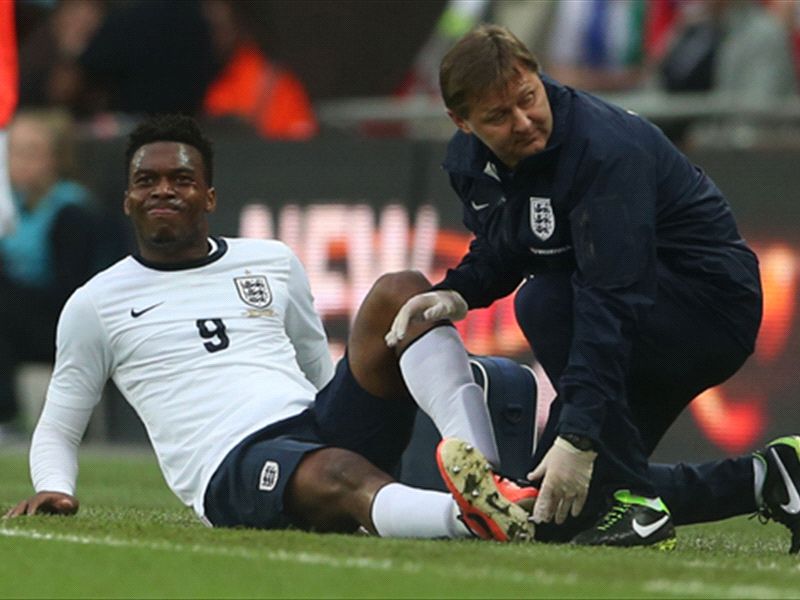 England
manager
Roy Hodgson
is confident that striker
Daniel Sturridge
will be fit to start Tuesday's friendly against
Germany
at Wembley, but says he will not play the full 90 minutes.
The Liverpool man missed Friday's 2-0 loss to Chile with a hip problem but has been
named in the Three Lions' intended line-up for the game
.
While the 66-year-old expects to be able to field his first-choice XI, Jermain Defoe and Rickie Lambert have been kept on standby should the in-form forward fail late tests.
"[The injury] has not been a great problem for Liverpool. The injury occurred two-and-a-half weeks ago and he played the full game [against Fulham] last week," Hodgson told reporters.
"He didn't play on Friday for us because he was complaining about the injury but I'm entitled to think and believe that the injury is no worse than it was when he last played for Liverpool against Fulham.
"The doctors tell me he's fit enough to play and I will expect him to play the amount I think I need to see him.
"It won't be 90 minutes – not because I don't think he's capable of playing 90 minutes but because I've got Rickie Lambert, who was injured and couldn't play on Friday, who I want to see on the field. Then I will have seen Defoe, Lambert and Sturridge [over the two games]."
Sturridge has been in emphatic form for Liverpool this season, scoring eight goals in 11 games for the Reds as he has struck up a formidable partnership with Luis Suarez.