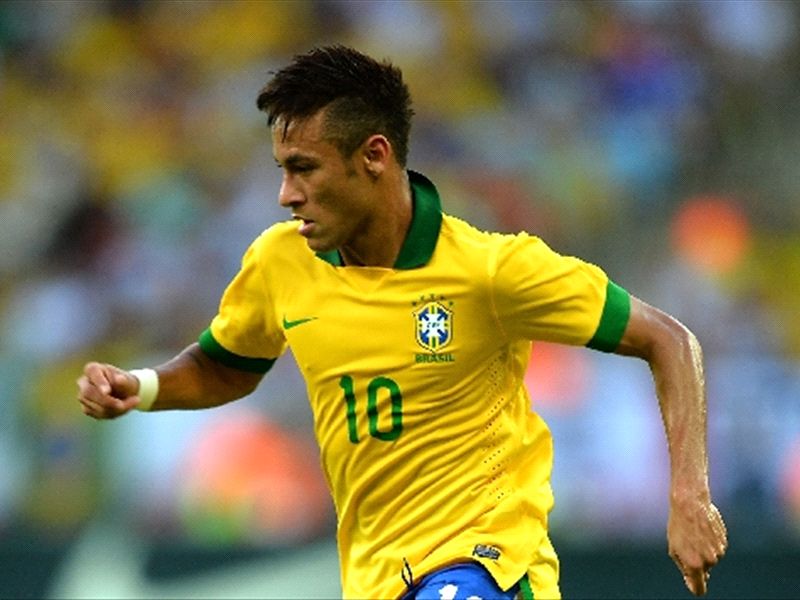 COMMENT
By Tom Webber
On May 27 the saga finally came to an end. After endless speculation, Barcelona announced the signing of Neymar from Santos. Along with a fee of €57 million (£48m) comes great expectations and Catalan giants' supporters still need convincing given the 21-year-old's recent form.
When Brazil hosted England last weekend, Luiz Felipe Scolari employed a tactical switch that saw him field Neymar in the position typically assigned to the shirt number he had requested to wear: the famous No.10. It is the most fabled digit in all of football and is looked to as a point of inspiration for the whole team, but in front of an expectant, newly-renovated Maracana, a hallowed arena which has played host to some of the nation's most iconic footballers, the youngster was far from his best as he operated in behind lone striker Fred.
Barca fans cannot be begrudged for having some concern as Neymar has made a habit of failing to produce when the global eye has fallen upon him. But this is not the role he will assume when he begins his La Liga journey in the coming months. For a start, it is not a position included in the
Blaugrana
's 4-3-3 tactics manual. Instead, it is expected that the he will feature, as he most regularly has for his country, from the left.
While Neymar may be expected to curb some of his characteristic individuality at Camp Nou, the brunt of the team's inventiveness will, of course, come courtesy of the likes of Xavi and Andres Iniesta. With his team-mates not relying on him so much to orchestrate their attacks, he will receive more freedom. However, the weight of expectant eyes from across the world will go some way to counteract this.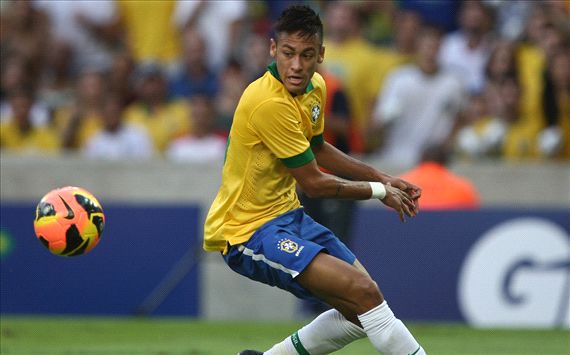 No.10
| Neymar asked to have the number once worn by national heroes Pele and Zico
The hope at Barca is that the Sao Paulo-born starlet can help alleviate the pressure that falls on their own No.10 - a certain Lionel Messi. Without the Argentine superstar at full fitness in the Champions League semi-final against Bayern, the Catalan giants were humbled by a 7-0 aggregate defeat to eventual winners Bayern Munich.
So when Neymar's blistering pace and dazzling dribbling ability make him well-suited for a role out on the left wing, why the change?
Against the Three Lions the 21-year-old was once more guilty of trying to do too much himself and Scolari has been particularly vocal on this issue recently: "He has to play for the team, as he has 10 team-mates. He knows that."
In order to get him more involved in the game, the
Selecao
boss placed him in the middle. This shifted the burden of creativity away from Oscar, who has rightfully earned the position with a string of consistently excellent displays, and onto Neymar. For a player whose best moments come from individual flamboyance, it had a stifling effect.
"[Whether Neymar starts as a No.10] depends on the analysis of the opponents. He will play in the function of a second striker on many occasions. Like he did when with Santos," Scolari stated after the 2-2 draw, but there is one key difference: for the
Peixe
, Neymar had someone else to shoulder the creative needs of the collective - first Ganso, and then Walter Montillo.
Having netted 20 goals in 33 appearances for the
Canarinha
, Neymar has made himself a key part of the international set-up. It is thus unsurprising that when he does not perform it gets noticed, especially when he has forced two of his team-mates into less familiar positions.
"He has to play for the team, as he has 10 team-mates. He knows that"





- Luiz Felipe Scolari

Last weekend Hulk was forced to play from the left, meaning he was unable to cut inside onto his lethal left foot and test the goalkeeper. And although Oscar still managed to impress with a combination of tenacity, energy and intelligence, his influence could only be felt on the right side of the pitch.
Fred too suffered as a result as he received less service than usual. Without a player in the middle able to engineer things for the team, Brazil did not look as threatening as they should have.
Yes, Neymar's form at club and international level has suffered a blow since the turn of the year, but playing him as a No.10 will not rectify it. The worst thing for a player feeling the weight of responsibility is to hand him more. While it affords him an increased level of freedom about the pitch, there are others in the Brazil squad who could handle such a pivotal role more effectively.
Oscar impressed during his maiden season in European football with high-quality displays in attacking midfield for Europa League winners Chelsea, while Lucas Moura is another squad member with experience on the other side of the Atlantic Ocean who can also play in behind the striker. Hernanes too, as his introduction against England showed, could offer the selfless ingenuity required for that position.
But as Brazil continue to move away from the 4-2-3-1 formation employed under Mano Menezes, Neymar may continue to find himself in a more central area.
"I think Neymar has the capabilities to play better than Messi," Pele said following the 21-year-old's transfer to Barca.
While the change to the 10 shirt will only serve to enhance comparisons to the Brazil World Cup winner, playing him in such a role may restrict his ability to leave the same kind of mark on the national team as
o Rei
, and also to reach his new team-mate Messi's level at the top of world football.
Follow Tom Webber on