TACTICAL ANALYSIS
By Ewan Roberts
After a humbling
FA Cup
exit at the hands of
Blackburn
, currently eighth in the
Championship
,
Arsenal
fans are understandably pessimistic ahead of their side's
Champions League
last-16 clash with German powerhouses
Bayern Munich
.
Die Roten
have lost just twice this season in all competitions, scoring 84 goals and conceding just 15, including only one away from home in the league. Jupp Heynckes's side have a 100 per cent win record in 2013, scoring 13 goals and conceding none. By comparison, Arsenal have won just 19 of their 39 matches in all competitions and have kept six league clean sheets in the process – 10 fewer than Bayern.
The Bundesliga leaders' defensive solidity is largely due to their enormous amount of possession, restricting the opposition's opportunities to build attacks. In the top five leagues in Europe, only Barcelona (69.6%) have averaged more possession than Bayern (63.9%), while only Juventus (33%) have spent more time in the opposition half than the Germans (32%).
HOW ARSENAL CAN HURT BAYERN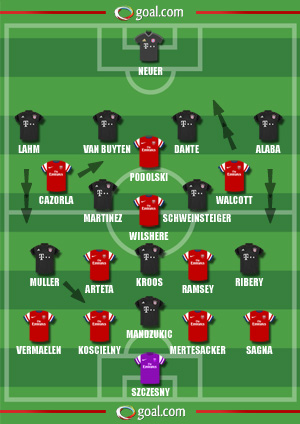 The Gunners must create space in the

Bayern

backline

for

Walcott

to exploit with his pace
The tie therefore brings together two of Europe's most prolific passing outfits, with Arsenal ranking fourth on 58.5% possession. But only one side will be able to play their natural game, only one side will be able to command possession – not both – and the battle to control the ball will be paramount.
History suggests that it will be Arsenal who buckle. In four matches against Barcelona (in 2010 and 2011), the north London club enjoyed in excess of 40% possession just once. In total, they averaged a pretty meagre 38.7% against the Catalan club.
Should the Gunners come off second best against Bayern, they must ensure that they convert what few chances come their way. Bayern did not concede a shot on target for over four hours until Manuel Neuer, donning three-fingered gloves, was forced to palm Wolfsburg midfielder Diego's effort away on Friday night.
In the top five leagues in Europe, no side have conceded fewer shots than Bayern (7.6 per match), while Arsenal have averaged a measly four shots on target per game in the Champions League – the 24th worst, behind the likes of Celtic and BATE Borisov.
In that context, the possibility of Arsene Wenger dropping Olivier Giroud –
as exclusively revealed by Goal.com on Tuesday
– would be a shrewd move. The French forward has scored just four of the 19 clear-cut chances that have fallen to him (21%) while Lukas Podolski, the man likely to replace him, has netted 50%.
It is imperative that Arsenal do not fall into the trap of playing more cavalier, attacking football should chances be at a premium. Bayern's form has been consistent both at home (72% win rate and +24 goal difference) and away (90% win rate and +26 goal difference) and they will pick the Gunners apart should they adopt a gung-ho approach. If Arsenal attack too much at home, they risk going to the Allianz Arena with nothing for which to play.
The fight for possession, another key battleground, will likely take place in central midfield where Bayern, though enormously gifted, are less indomitable than the Barca midfields against which Arsenal have struggled in the past. With Podolski playing through the middle, Santi Cazorla will be deployed nominally on the left wing and the Spaniard's natural tendency to drop deep, link play and move infield could help outnumber and overwhelm Bayern.
The former Malaga playmaker would give Arsenal an extra man's advantage in the middle of the pitch and force Toni Kroos deeper to assist Bastian Schweinsteiger and Javi Martinez, thereby isolating Mario Mandzukic.
THE MUNICH MACHINE


BAYERN SINCE THE WINTER BREAK

GAMES PLAYED
GAMES WON
GOALS SCORED
GOALS CONCEDED
SHOTS ON GOAL PER GAME
SHOTS CONCEDED PER GAME
AVERAGE POSSESSION

5
5
13
0
13.6
6.4
67%

A problem for Arsenal, however, is that they could become too narrow, which would allow Bayern's full-backs to push forward. Both Philipp Lahm and David Alaba contribute hugely to the possession football promoted by Heynckes and the former especially could find a lot of space down the right flank as Cazorla drifts infield. In seeking to control the midfield, Arsenal could in fact hand the initiative to Bayern.
Thomas Muller, Franck Ribery and Arjen Robben, who has found his playing time limited since Christmas, like to cut infield; on the one hand that suits the out-of-position Thomas Vermaelen, who is more used to defending central areas, but equally it will create an awful lot of room for Lahm to overlap into and Cazorla must track the Bayern captain's runs or risk leaving Arsenal's left flank exposed.
Such adventurous full-backs, coupled with a willingness to press high and aggressively (a tactic designed to deny Arsenal the time and space in which they thrive), will likely see Bayern play a very high line.
Somewhat ironically, conceding possession to the Germans and allowing the high line could be Arsenal's best chance for victory. The Gunners beat Barcelona 2-1 at home in 2011 by counterattacking and ripped apart Chelsea's Andre Villas-Boas-imposed high line at Stamford Bridge last season, scoring five times. With Podolski spearheading the attack rather than Giroud, the Gunners have an abundance of pace to break into the space behind the Bayern defence.
The main man to benefit would be Theo Walcott. The 23-year-old will be in direct combat with Alaba, who plays very high up the pitch and leaves a lot of room in behind, but both he and left-sided centre-back Dante are extremely quick and capable of dealing with Walcott's pace; veteran Belgian centre-back Daniel Van Buyten, however, is not.
The 35-year-old is the weakest link in the Bayern side and very vulnerable against pace and mobility, so expect Podolski and Walcott to play on that, with the latter drifting inside to split the centre-backs with well-timed inward runs. It is worth noting that no side in the Premier League have scored more goals on the break than Arsenal (five) this season.
Wenger will hope that Jack Wilshere can have as significant an impact as he did against Barcelona two years ago when the young Englishman played 46 passes with 93.5% accuracy, with the majority of his touches coming in the final third, and more than held his own against a team brimming with world and European champions.
Should Bayern dominate possession, expect Wilshere to launch Arsenal's fast breaks – just as he did for Andrey Arshavin's winner against Barcelona two years ago – and the Wilshere-Walcott combo could be a source of great joy for the Gunners.
Setting up to counterattack and expose Bayern's high line brings its own risks, though, namely that Arsenal will have to sit back and absorb considerable pressure without possessing the defensive intelligence, solidity or leadership shown, by, for example, the Chelsea side who frustrated Bayern in the Champions League final.
Arsenal have made 22 errors leading to opposition shots this season, with 13 of those resulting in goals – a Premier League high. Injury to Laurent Koscielny could mean that Bacary Sagna moves to centre-back with Carl Jenkinson at right-back; the potential duel between the 21-year-old and Ribery, who has been in exceptional form this year, could be a recipe for disaster.
So Arsenal are presented with a dilemma: counterattacking with the pace of Walcott and the fast transition-initiating ability of Wilshere represents their best chance of scoring but at the same time puts a huge amount of responsibility on a leaky and injury-hit defence.
Statistics taken from www.whoscored.com and www.eplindex.com
Follow Ewan Roberts on