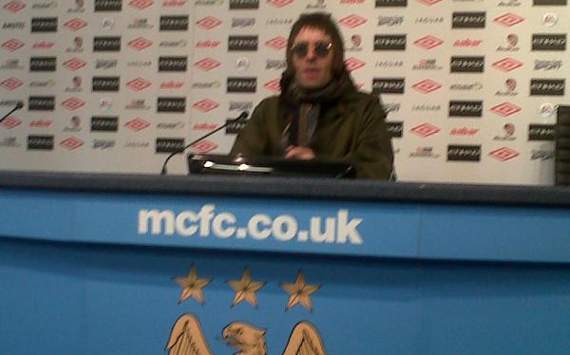 Notorious
Manchester City
fan Liam Gallagher must have felt like he was 'Standing on the Shoulder of Giants' as he watched his beloved side beat
Manchester United
1-0
in their crucial derby showdown.
The former Oasis star drew plenty of attention by striding triumphantly into the post-match press conference at the Etihad Stadium.
Perhaps fuelled by 'Cigarettes and Alcohol', Gallagher cast his Beady Eye over the assembled journalists (who seemed fine to 'Roll With It') before delivering his verdict on the temper-driven clash between managers Roberto Mancini and Sir Alex Ferguson as tensions rode high towards the end of the game.
"He [Ferguson] must have been blinded by the lights. He must have been on the whisky too much," he announced to the stunned media, adding of City boss Mancini: "I love him. He's almost as cool as me."
As match-winner Vincent Kompany entered the room, Gallagher was not afraid to 'Go Let It Out', declaring: "He [Kompany] invited me to his box. He scored a blinder, his family is mega and his sister is really cool. Nice one, bro. Vive le Belgium!"
Clearly not a man who understands 'the Importance of Being Idle', the musician was not only causing a stir in front of the press.
After the game, Gallagher tweeted a picture of himself alongside a special guest at the game – 'Some Might Say' the game's greatest ever player, Diego Maradona.
"Maradona shaking the hand of God," the 39-year-old captioned the image, with typical modesty, in the wake of a triumph that means that City will ... er, 'Definitely Maybe' go on to win the Premier League.