Fear not, readers! The Transfer Window may have just shut, but
WOTT
is still here!
And what's more,
Goal.com
can exclusively reveal that
WOTT
has signed a lucrative long-term contract in which its future with the site has been extended indefinitely. Terms have been agreed and agents have been made rich, so without further ado, let's get cracking!
Footballers across the land have been reacting to the melodrama that was the Peter Odemwingie saga - the West Brom striker doing all he could to force a move to QPR on deadline day, but in vain.
Elsewhere, Jermaine Jenas claims he is Happy as Harry to link up with Redknapp again, while Greg Halford has his eyes in the sky. All this and more in today's
Word on the Tweet
...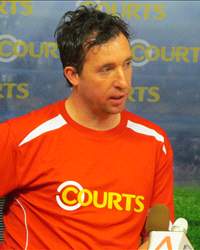 "Where does Peter Odemwengie go from here?"



Swansea winger Wayne Routledge asks the questions we all want to know the answer to.


"On odemwingie.. I can see laps for him tomorrow... Leave the boots,Get your spikes on son"

Robbie Fowler (pictured) more or less paraphrases Mr T in predicting 'Pain!' for the West Brom striker after his desperate late bid to join QPR.




"New song by Odemwingie "Sign Me Maybe"..."Hey, I just drove here. And this is crazy. I'm in your car park. So sign me maybe" hahaha class"



Everton midfielder Darron Gibson shares one of the better Odemwingie jokes on Twitter. Oh yes, WOTT approves.


"Delighted to have joined qpr and looking forward to getting started tomorrow at training and seeing all u fans on Saturday!"
Legitimate new
QPR
singing
Jermaine Jenas
announces his joy at making the short trip from White Hart Lane to Loftus Road. Will a fresh start provide a bright future for the 29-year-old midfielder?
"Looking forward to the game tomorrow. Hoping to get a few more minutes under my belt."

Andy Carroll
reveals his intentions to get stuck into the action when
West Ham
host
Swansea
this Saturday.
"Just finished training and got 15/20 minutes to spare... not done one of these in a while so #AskBale"
Ah, how kind. No, seriously,
WOTT
thinks it's great of
Tottenham
midfielder
Gareth Bale
to spare some time for his adoring fans. Here's one for you, Gareth - do you think Spurs will make the top four this season?
"Thinking out loud: Are the government doing enough for sports in schools in UK??"

Manchester United
defender
Rio Ferdinand
thinks out loud. That's a good question, Rio... a good question indeed.
"Window closed deadline day madness over and back to normality . Train to London now where FIFA champs will be decided tonight @Grantholt31"

Norwich
's
Robert Snodgrass
reveals that - unlike most - he is actually delighted that deadline day is over. But
WOTT
asks whether FIFA should really be the priority ahead of a weekend of Premier League action!
"Can't wait to start flying this and start spying on people."

Nottingham Forest
defender
Greg Halford
confirms his plans to terrorise the local neighbourhood with his new remote control helicopter. Looks like Halford has gone from defensive stopper... to aerial chopper, am I right?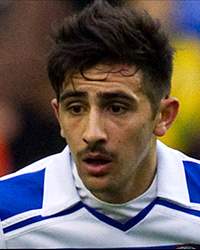 "Walking past my gaff when a little kid starts singing Karacan can can he's our local kebab man haha! Classic!"

Reading
's
Jem Karacan
(pictured) revels in a witty chant dedicated exclusively to him. Well in there, Jem.
"Was always 1 miserable old dude who wouldn't give you your ball back from his garden! Revenge=knock door run! (don't judge me or do this)LOL"

Sone Aluko
of
Hull City
reminisces to a simpler time in his life. Don't worry, Sone,
WOTT
won't judge you. But do the readers?
""@TheManayem: @Luke_shaw3 here is a question: Eminem or Kanye West?"Kayne"

Luke Shaw
makes a controversial revelation about what music might be played in the
Southampton
dressing room.
WOTT
remains completely impartial...and distinctly unimpressed.
"Once again thanks to listeners of @bbc606 we had best quarter for over a year, over 60,000 more of the real football fans listen !"
BBC pundit
Robbie Savage
revels in the news of high listening figures for BBC Radio Five Live. We real football fans certainly are tremendous, aren't we?
"'Pundit' is a blanket word, often with negative connotations. Excellent standards & poor should be acknowledged, like in any other industry"
In what is perhaps a less optimistic tweet about the football media world,
Stan Collymore
concludes a lengthy (trust us, readers, he had a lot to say) speech about his scientific approach towards punditry.