By Peter Staunton
No goalkeeper has won the Ballon d'Or since Lev Yashin claimed it in 1963. He remains, to this point, the only one ever to win it.
Yashin was a remarkable goalkeeper and a true innovator. His award demonstrated that, yes, even a goalkeeper who was able to transcend and redefine the position would be honoured as the best player in the world. It took somebody as revolutionary as Yashin to make everyone sit up and take notice. In that same tradition, Manuel Neuer is also a revolutionary.
He is the best goalkeeper since Yashin and it is very likely that he will go down as the best goalkeeper of all-time. He has redefined what it means to be simply a goalkeeper and his very presence on the list at the expense of more vaunted outfield rivals shows that the world is ready to acknowledge it too.
In 2014, he was brilliant individually and led his club and country to team glory. If he doesn't win it now, he never will.
"Neuer is by far the best goalkeeper I've played with and he is a big player for us out on the pitch," Xabi Alonso said in an interview with
Sport Bild
. "It would only be fair if he won the Ballon d'Or for this year, I've no doubt about it.
"When I arrived at Bayern I knew Neuer was a top player but he has surprised me even more."
Cristiano Ronaldo and Lionel Messi loom large over any current discussion about which player is the best. Those two dominate the football agenda so much that it leaves little space for examining the merits of others without direct comparison. When it comes to goalscoring numbers, then nobody else can keep up and so Ronaldo and Messi win the argument.
In 2013-14, Ronaldo won the Champions League with Real Madrid, the club's much cherished Decima. From a goalscoring point of view, only Luis Suarez matched him across Europe last season while he has 20 in the league alone so far this campaign. For his effect on Real Madrid and the success he almost guarantees then Ronaldo is a good choice as Ballon d'Or winner. He will probably win it by a landslide.
Messi may have broken two significant records in the past few weeks but those awards will count for nothing once the trophy is handed out on January 12.
The Argentine's overhauling of Telmo Zarra's long-standing La Liga goalscoring record and his surpassing of Raul in the Champions League all-time scorers list were both completed after the voting deadline. Messi was not the difference-maker he has been in previous years. Barcelona were poor, at times, and were beaten to the domestic and European prizes by the Madrid capital carve-up. His place on the list is more on reputation than merit.
The difficult part of being a goalkeeper in regard to individual awards is that there is only a limited scope to what a shot-stopper can do on the pitch. He prevents the ball going into the goal and he passes it to his team-mates. Do those two things and you will rise high in the profession. It is hard to excel to a significant extent. It is harder still to be considered the best player in the world.
Neuer will never be the type of goalkeeper to make 10 saves in a game. With Bayern, he might only have to make one. But he can comfortably be relied upon to do that. He has conceded one goal in 13 matches so far in this Bundesliga season and has had 28 clean sheets in 2014 as a whole.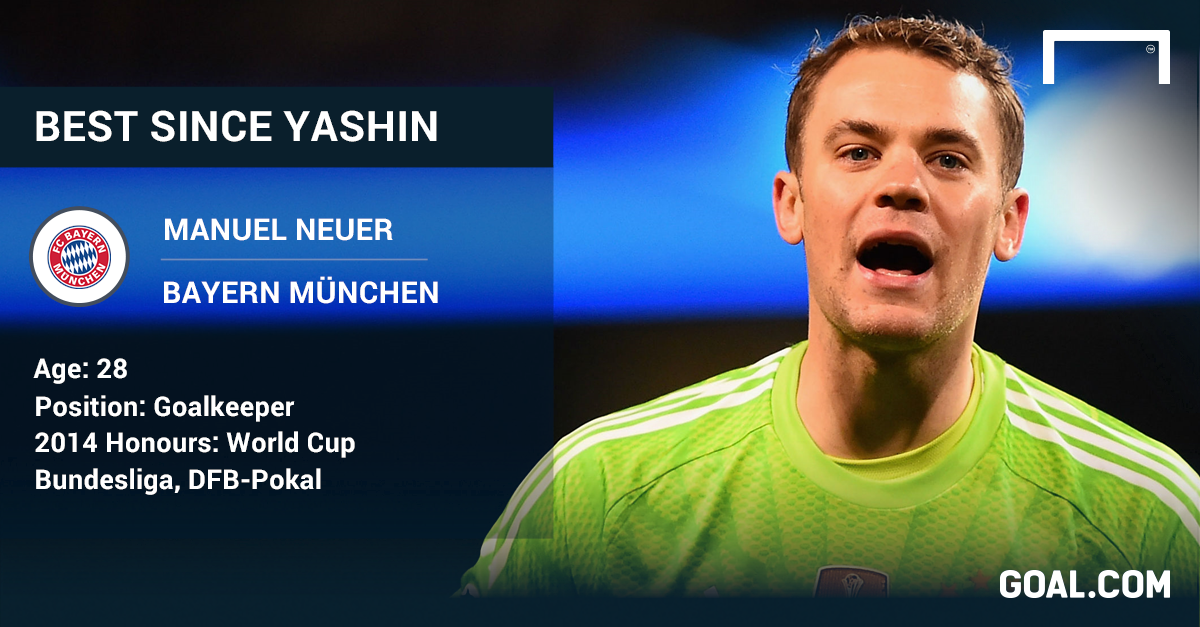 Opposition players are expecting to come off second best in a duel with the 28-year-old. His ability to reach low on either side is unmatched by any goalkeeper in the world, while his anticipatory instincts are so finely honed that it is a rare thing for him to be beaten one on one. And so, in the fundamental goalkeeping category, he comes out on top.
But it not just for his saves that Neuer should be commended. Bayern, and indeed Germany, now dominate the ball for so much of any given match that Neuer is expected to be a recipient for a pass first and a shot-stopper second. The famous Dutch coach Rinus Michels, the inventor of Total Football, was said to have toyed with the idea of using an outfield player in goal in the 1970s so as to improve Ajax's circulation of the ball. Well, with Neuer, that might just have come to fruition.
He springs from his line to sweep up chances before they materialise. Defenders routinely go back to him secure in the knowledge that he is no less competent as a passer than many of their outfield colleagues.
The recipient of the Ballon d'Or should be outstanding in his position and have huge success behind him. Ronaldo has that. By his own standards, the Portugal captain has had a fine year, but in terms of excellence, he was out-performed by Neuer.
The ex-Schalke man was the cornerstone of Bayern's wins in the league and the DFB-Pokal last season. He was the man to thank for Germany's 2014 World Cup win.
Neuer will play just as well in 2015 and continue his one-man revolution in the position of goalkeeper. He will, however, have to wait until at least 2018 for another World Cup win - that one significant victory to put him in the conversation again for individual trophies.
That team honour which went to the German team in 2014 ought to be enough for one of their party to earn the Ballon d'Or. As their sole nominee in the final three, Neuer deserves to be the first goalkeeper to win the award in more than 50 years.