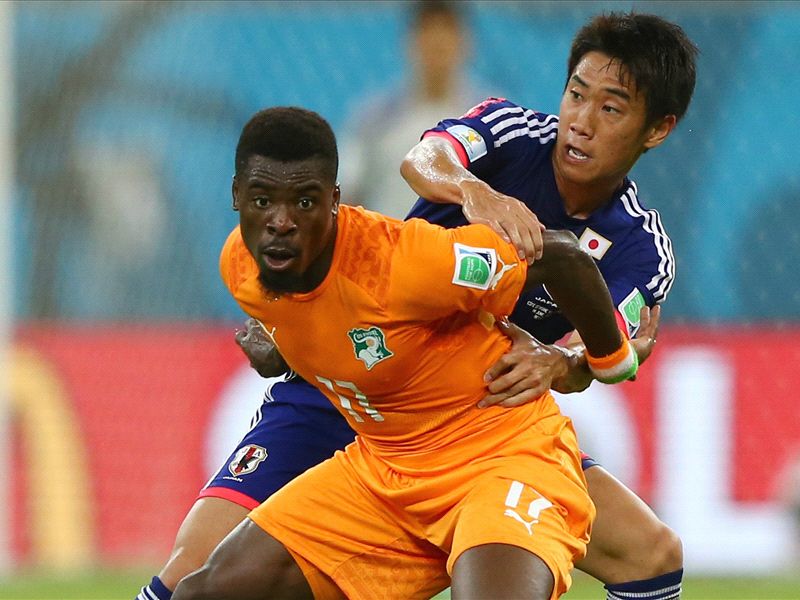 By Harry Sherlock
With
Arsene Wenger
on punditry duty for French television at the World Cup, the
Arsenal
boss will be well aware of the talents of
Serge Aurier
.
The Ivory Coast international performed well against Japan and Colombia, and the Emirates chief will have been keeping a close eye on the right-back during his country's clash with Greece, with Wenger needing to replace the departed Bacary Sagna.
Goal
casts its eye over one of the most promising defenders at the World Cup.
PERFORMANCE AGAINST GREECE
Despite this Ivory Coast squad carrying the tag of the "golden generation", the African side are not blessed with a great defence, as evidenced by the late rush of blood which saw Greece win a penalty to go through.
Nevertheless, Aurier was the standout performer of the back four, attacking at will whenever possible and remaining responsible in defence. With 90% pass completion, Aurier can be relied upon to keep it simple and recycle the ball if needed, while he also made two vital clearances and one interception.
His game, however, is built around attacking and he did that well throughout the 90 minutes, despite the final scoreline.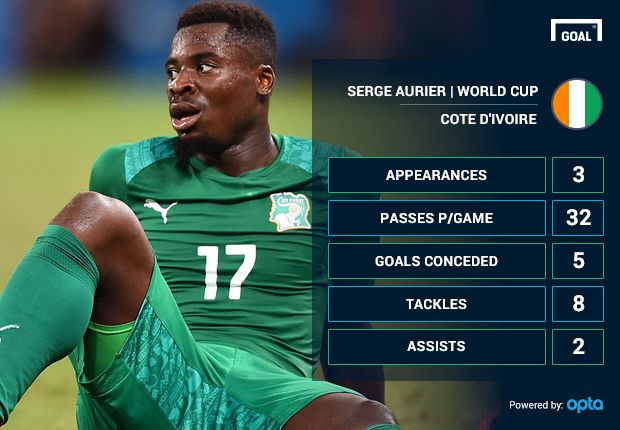 An athletic performer, Aurier is capable of running up and down the right flank for 90 minutes straight and would suit a team who primarily attack down the wings.
With Arsenal showing an interest in acquiring his services, it appears that he will be moving to the Premier League and he would suit the pace of the English game, with his athleticism perhaps his greatest quality.
Manchester United would also be well advised to take a look at the right-back, with Aurier representing something of an upgrade on current custodian Rafael. He shows none of the rashness that has come to typify the Brazilian's spell at Old Trafford and would supplement the threat of Antonio Valencia well.
Similarly, he would link well with Theo Walcott at the Emirates. If his destination is yet to be decided one thing seems sure; he belongs at a better team than Toulouse.
WHAT DOES THE FUTURE HOLD?
Arsenal have made Aurier their top target to replace Sagna, who joined Manchester City earlier this summer.
The Frenchman's departure has left a significant hole in the Gunners' defence and Aurier would suit Arsene Wenger's expansive, possession-orientated style of play.
With the full-back available for around £7 million, his signing would represent superb business for the north Londoners.
However, his agent has gone on record to say that another, unnamed, English club is taking an interest in Aurier and it remains to be seen if Wenger can wrap up the deal. The only certainty seems to be that he will be bidding adieu to Ligue 1 in the near future.