PROFILE
By Mark Doyle in Salvador
On a rainy night in Talinn four years ago,
Salvatore Sirigu
's
Italy
career looked finished before it had really begun.
With Gianluigi Buffon still recovering from a back problem, the Sardinian shot-stopper was selected to start the Euro 2012 qualifier away to Estonia. Just 33 minutes in, disaster struck. Sirigu spilled a free kick from Konstantin Vassiljev, allowing Sergei Zenjov to slot home the rebound to put the hosts 1-0 up.
VIEW FROM ITALY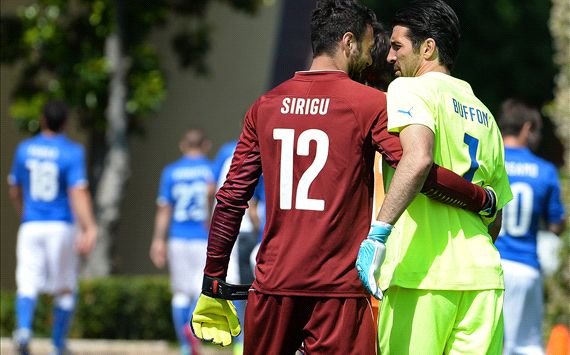 By Renato Maisani | Goal Italy

"Sirigu is one of the best goalkeepers in the world. I've been convinced of that for a long time.

"He has little experience in the national team - with just eight caps - but slowly but surely he has accumulated great experience with a true European heavyweight like PSG.

"He is more than capable of ensuring that Italy do not regret losing Buffon to injury.

"It's clear that he lacks the international experience that Buffon has but Italy have not had a No.2 like this since the days of Francesco Toldo."
Antonio Cassano eventually saved the day, scoring one goal and creating another, for Leonardo Bonucci, but Sirigu was promptly written off by the notoriously brutal Italian press.
Sirigu remained defiant. "To hear idiots define me as a rotten apple annoys me, but that's part of football and I have to get used to it - maybe next time we'll have a laugh over it."
He's certainly smiling now, at least, having been once again asked to stand in for Buffon, this time for Italy's World Cup opener against England in Manaus.
A lot has changed over the past four years. Back then, Sirigu was coming off the back of a solitary stellar season as Palermo's No.1, having displaced Rubinho after a man-of-the-match Serie A debut at Lazio. He was a raw, inexperienced talent.
His natural ability was obvious, though, particularly to those in the trade. After all, it was former Italy goalkeeper-turned coach Walter Zenga who had given him his debut at Palermo, while Azzurri icon Dino Zoff had publicly backed him after the Estonia gaffe. "He is still a great goalkeeper," the World Cup winner stated.
In addition, ex-Juventus goalkeeper Angelo Peruzzi wholeheartedly supported the Bianconeri's rumoured pursuit of the Nuoro native.
"It is right for Sirgu to aspire to being their heir to Buffon," the Champions League winner stated. "Salvatore is a good goalkeeper technically and he is very able."
Sirigu eventually left Palermo, over a pay dispute, but he ended up in Paris – not Turin, joining PSG for a reported €3.5 million in August 2011. It remains one of the finest deals the big-spending Ligue 1 outfit have ever pulled off.
Indeed, it was argued that leaving Italy would damage Sirigu's international aspirations but so consistent has he been in France that he simply could not be overlooked. He has been a regular since Prandelli took charge in 2010 – despite that dreadful evening in Talinn.
Prandelli has never lost faith in him. If anything, it has strengthened. And it's easy to understand why. Sirigu broke Bernand Lama's clean-sheet record for a PSG goalkeeper in Ligue 1 during the 2012-13 season and is now coming off the back of another title-winning campaign that ended with him being named Goalkeeper of the Year.
Sirigu has been content to bide his time as he remains in awe of Buffon. "I never could have imagined that one day I'd be on the training pitch with someone who, for me, is kind of a legend," he once said.
He probably could not have imagined being asked to replace Buffon in Italy's World Cup opener either. But he won't be overawed. Not this time. Four years on, Sirigu is older, wiser, more experienced. He now looks perfectly primed to exorcise the demons of Talinn and prove just why he has for so long been touted as the heir to Buffon's throne.