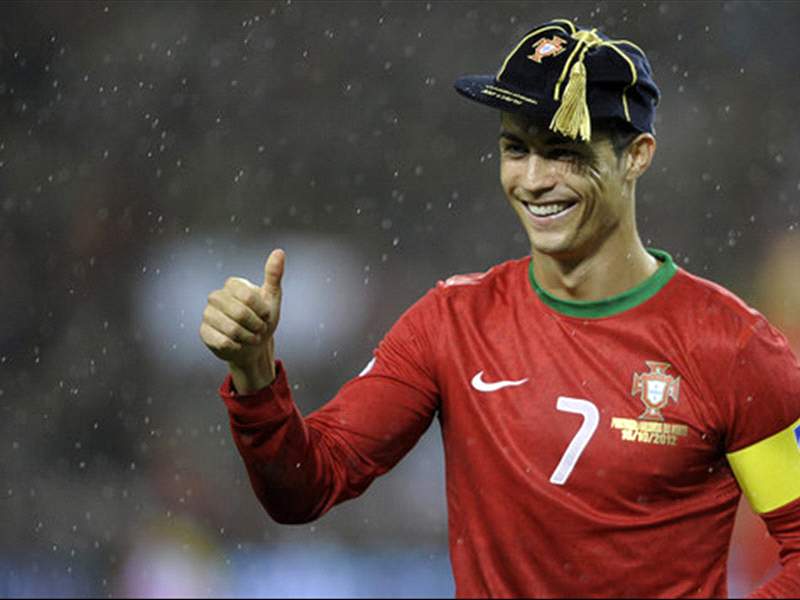 Cristiano Ronaldo
has been honoured by Uefa after racking up 100 games for
Portugal
.
Prior to the 1-1 draw against Northern Ireland in their latest World Cup qualifier, the Portugal captain was awarded a special plaque and cap by Uefa officials.
In his 100 matches, Ronaldo has scored 37 times; his first goal coming in a 2-1 group stage defeat to Greece in Euro 2004.
At 27-years-old, Ronaldo became the third youngest player to achieve the landmark after Germany's Lukas Podolski and Estonia's Kristen Viikmäe.
The Real Madrid star issued a statement on his Facebook page, reflecting on his 100 matches.
"I remember it was on August 20 2003 against Kazakhstan that I first pulled on the Portuguese jersey in a senior international," he remembered.
"It was one of the most memorable moments of my life and began a journey that I have been proud to make. I would like to thank everyone who helped me along the way to reaching this milestone.
"As the teams were coming onto the pitch last night the Portuguese fans at the stadium unfurled a banner that read "100 games, the best player in the world".
Eleven more international goals will see Ronaldo surpass Pauleta as Portugal's all-time leading goalscorer and he needs 28 more caps to beat the appearance record set by Luis Figo.
Portugal are currently five points adrift of Group F leaders Russia in the race for automatic qualification to the World Cup 2014.