COMMENT
By Enis Koylu
If you ask anyone in the world to describe a German, they will unilaterally respond with the same answer: a strong, determined, efficient, even ruthless person who will do anything to get what they want.
And, until recently, the stereotype was no more true than in football. Bayern Munich were a feared machine at club level, and remain one of three clubs to have won three straight European Cups. In the international arena,
die Mannschaft
were something else altogether.
There were losses - famous ones, not least against Czechoslovakia in Euro 1976, but their story was one defined by heroic comebacks, unlikely wins and togetherness.
In the 1954 World Cup, West Germany, a mere five years after partition of the country, were beaten 8-3 by Hungary in their second game of the tournament, and looked to be in danger of suffering the same fate when they met the Magyars in the final a fortnight later. Down by two goals after just eight minutes, the Germans found the strength to come from behind and claim the trophy against all odds.
Twenty years later, die
Mannschaft
once again showed heart and determination to stage a comeback as they defeated the fabled Netherlands team of the early 1970s at the World Cup when everybody expected the
Oranje
to head home as champions.
The 1990s saw Germany sweep up their third World Cup and European Championship in typically gritty fashion, and it seemed impossible that the next two decades would be characterised by a series of near misses. Winning was a science - and one which the Germans had long perfected.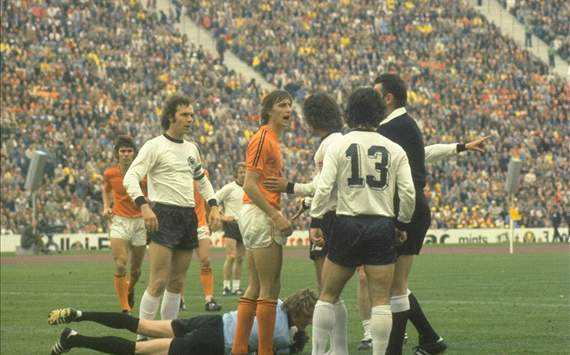 The good old days | Germany are barely recognisable at present
Bayern's Champions League final loss in 1999 was symptomatic of what was to come - snatching defeat when only victory seemed to be a possibility. A year later, the national team's dramatic failure at Euro 2000 prompted a change of philosophy. The methods of old had become outdated, but their departure took away Germany's biggest strength: their mental toughness.
The new generation was ready for action by the time the country hosted the World Cup in 2006 and they initially seemed to be just as good as what had come before. They had flair to demolish teams going forward, and the steel to pull off a penalty shoot-out win over Argentina.
Their progress was halted in dramatic fashion, though. Cheered on by a rampant Westfalenstadion, they crashed out against eventual winners Italy in the semi-final, conceding twice at the death in extra time.
GERMAN EFFICIENCY?
Recent failures on the biggest stage


COMPETITION
TEAM
RESULTS

2006 World Cup
Germany
Semi-finals
Euro 2008
Germany
Finalists
2010 UCL
Bayern
Finalists
2010 World Cup
Germany
Semi-finals
2012 UCL
Bayern
Finalists
Euro 2012
Germany
Semi-finals
After a lively Euro 2008, they went to sleep in the final and were deservedly beaten by Spain, but the 2010 World Cup was something else altogether. Having been the best attacking team at the tournament, they conceded a set-piece goal to
La Roja
in the last four, and were subsequently consigned to third place again.
The seeds of defeat were well and truly sown. After losing the 2010 Champions League final to Inter, Bayern should have won their fifth continental title in 2012, but contrived to lose to a noticeably weaker Chelsea team at home in the final. A month later a stunning collapse saw a sub-par Italy sneak past the national team, punishing Joachim Low's side for their inefficiency in front of goal.
Germany certainly possess the talent to win the 2014 World Cup. With the likes of Mario Gotze, Marco Reus, Mesut Ozil and Thomas Muller, they have the ability to outscore anyone, while Mats Hummels and Manuel Neuer have all the potential to spearhead a famous defence.
But, on the evidence of their qualifying campaign thus far, it's a distant dream. Their finishing was atrocious against the Faroe Islands at home and they threatened to spurn a two-goal advantage against Austria with a lax display.
The collapse against Sweden will undoubtedly go down as the nadir. Germany looked around in wonder as the Scandinavians managed to erase a four-goal deficit with just 28 minutes remaining. This was the last straw: never in their history had they failed to win a match having scored four goals.
The tone of amazement that characterised the squad's post-match comments told a tale of its own. This was no miracle - it was a lack of mentality, something entirely of their own doing. With the match seemingly wrapped up, they switched off.
That Holger Badstuber was outclassed and outmuscled by Zlatan Ibrahimovic is not of any surprise, but the sheer lack of willpower that the whole team displayed in the final half hour was an insult to their country, their history and to their coach.
Brazil 2014 is less than two years away, and it would be a tragedy if Low's tenure were to end without silverware. But, on Tuesday's evidence, a return to the ways of old does not look imminent.
Follow
Enis Koylu on