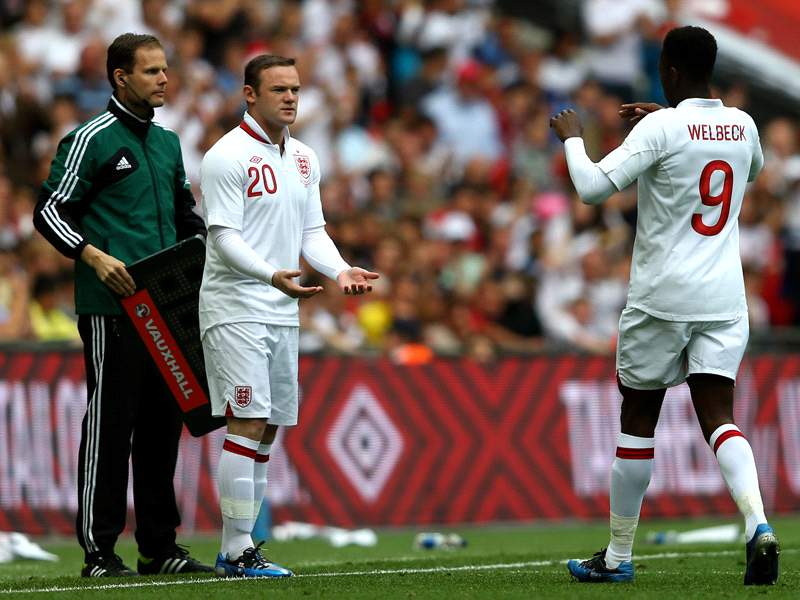 Manchester United forward Danny Welbeck is relishing pairing up again with Wayne Rooney as the Red Devils duo look to continue their sparkling combination after the 5-0 win against San Marino at Wembley on Friday.
The Manchester and Merseyside natives have been impressing at club level but have now successfully transferred their link-up play to the international stage after both scored twice during the comfortable win.
The Daily Mail reports that the 21-year old is eager to show the world how clinical the pairing can be.
"I'm used to playing with Wazza up front at United and am really relishing the chance to play with him for England.
"Once we get into positions in and around the box, we know different styles of combinations to play.
"Now we're all really looking forward to the Poland game. It's going to be difficult but once we get on the pitch, we're going to show our stuff and show everybody what we can do.
"We are top of the group now. That's where we want to be, that's the main aim, and that's where we want to finish as well."
Welbeck also took time to praise the way Rooney took on the captaincy against San Marino.
"As a captain, he's good. He's always talking to you, letting you know what you're doing right, what you're doing wrong," he said.

"He's like that when he's not got the armband as well so it makes no difference really."

Welbeck also insists that England should be pleased with their performance against San Marino.

"It was a game of patience. They came to Wembley and they camped more or less their whole team behind the ball so it's obviously going to be difficult to break them down," he said.

"I think, at times, we could have done a bit better. But they played their hearts out and I think we did well in the end to get five goals."