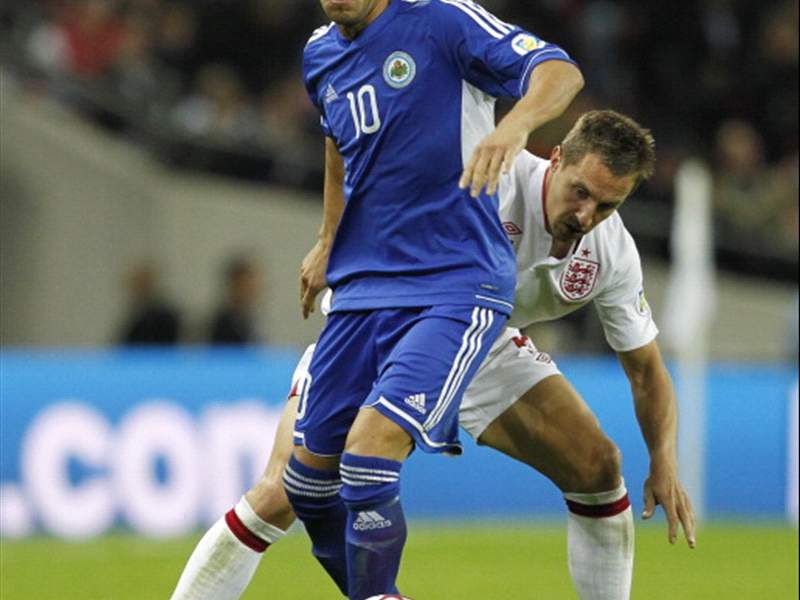 EXCLUSIVE
By Pablo Aro Geraldes
San Marino
striker
Danilo Rinaldi
has revealed he was still "jumping with joy" despite his side's 5-0 hammering by
England
on Friday.
The Argentina-born forward was chosen to start against Roy Hodgson's men and played for 78 minutes as the European minnows were swept aside at Wembley.
But, despite the unflattering nature of the scoreline, Rinaldi insists he was simply delighted to play at such a famous stadium.
"To tell you the truth, despite the result, I'm thrilled!" he told
Goal.com
.
"I said before the match that if we lost 4-0 I was going to be jumping on one leg. Well, we lost 5-0 but I'm still jumping with joy.
"Right from when we got to the hotel, arriving at the stadium. I felt I was part of something really big. Everything was beautiful.
"Training at Wembley the day before the match, every moment I've lived there. When the manager told me I was going to play up front and I was going to wear the number 10 shirt, it was a very moving moment and very special.
"To face England at Wembley is a unique experience. When we came back to San Marino, I couldn't sleep. I ended up staying up until 9am, running on adrenaline. I couldn't get back to Earth."
The 26-year-old went on to say that he expects his side to change their approach against the more modestly ranked Moldova, but admitted the game will not match up to their last outing.
"We had a day off today and on Sunday we are going to start preparing to face Moldova," he added.
"We are surely going to change our tactics to play against them. We want to keep writing this history.
"Nothing compares to Wembley, though. What happened yesterday was unbelievable. I think about it and I still can't quite come to terms with it.
"I even managed to get Frank Lampard's shirt!"