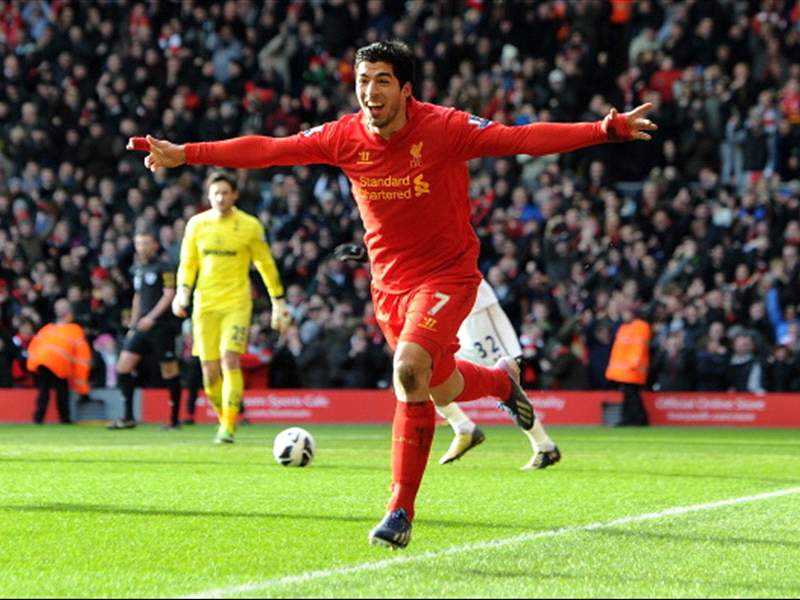 ARSENAL MADE SUAREZ ENQUIRY
Mystery surrounded a flurry of bets in midweek on Luis Suarez heading to Arsenal, with bookmakers hurriedly slashing their odds and one even closing their market.
The Sweeper
understands that the run of bets came after the Gunners made a speculative enquiry to Liverpool about the availability of the Uruguayan.
With the biggest transfer kitty in Arsenal's history available to him this summer, manager Arsene Wenger sanctioned the shock move for Suarez.
But the north London club were knocked back by Liverpool, who issued a 'hands-off' warning as they fight to hold on to a player who has spoken frequently this summer of his interest in a move to Real Madrid.
Wenger plans to use a warchest of up to £100 million to make at least two marquee signings this summer, most likely in the striker and midfield positions.
The Suarez enquiry is believed to have come before
Arsenal made an improved bid of £23.1m for Gonzalo Higuain
, who is closing in on a switch from Real Madrid to Emirates Stadium.
As revealed by
Goal
earlier this week, Wenger was considering an alternative to prime targets Higuain and Wayne Rooney as he pushed for a proven, A-list striker who could be available at a good price and targeted the Liverpool hitman.
The Suarez move is now on the backburner, but the Arsenal boss is pressing ahead with pursuing his interest in top-level targets, with the likes of Marouane Fellaini and Cesc Fabregas understood to still be on his hit-list, as well as Ashley Williams and Julio Cesar.
- Wayne Veysey

MAN CITY PRE-SEASON TOUR COULD BE CANCELLED
The failing health of Nelson Mandela could throw Manchester City's early pre-season plans into doubt.
Manuel Pellegrini is scheduled to take his new charges to South Africa in ten days time to take part in the Nelson Mandela Football Invitational.
But the South African government are already at a high state of readiness should the inspirational leader fail to win his latest fight.
A national state of mourning would exist and numerous events cancelled.
City are set to face Supersport United in Pretoria on July 14th and AmaZulu FC in Durban on the 18th. It's understood the organisers will keep City in the loop.
- Paul Clennam

PARENTS WANT INCE TO STAY IN NORTH-WEST
Tom Ince could be heading for south Wales if two of his principal suitors, Cardiff City and Swansea City, can secure his signing this summer.
But the Blackpool winger is holding out for a return to Liverpool, who have reignited their interest in capturing their former Academy graduate.
Ince's parents, including father Paul, his manager at Bloomfield Road, are believed to be particularly keen on their 21-year-old son remaining in the north-west of England and close to the family's Cheshire home.
Former England international Paul will have a big say in his son's final destination, which he wants to be the right move both personally and professionally.
- Wayne Veysey