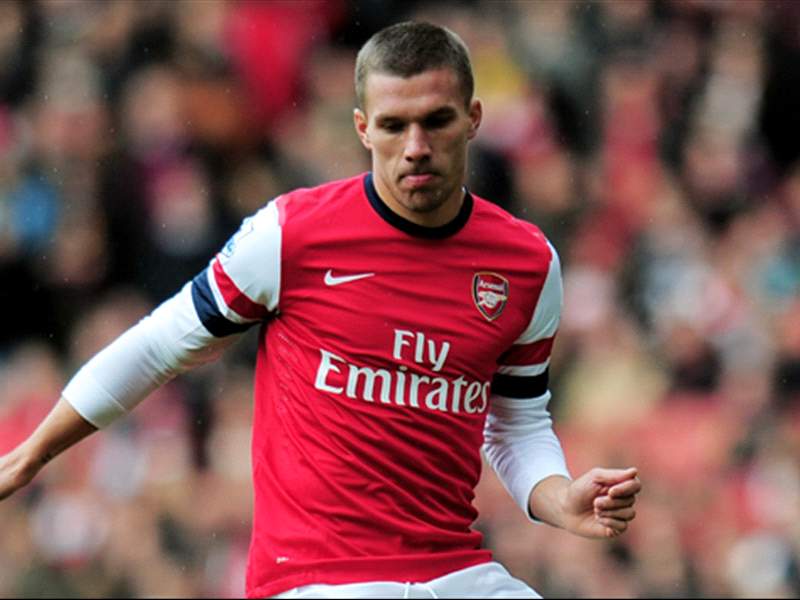 Calf injury keeping Podolski out
Mystery has surrounded the fitness of Lukas Podolski since he was surprisingly eased out of the Arsenal starting XI last month.
The forward has not started a match for his club since the Champions League first leg against Bayern Munich on February 19, and was surprisingly a substitute for the league matches against Aston Villa and Tottenham.
A few eyebrows were raised when he was called up to the Germany squad to face Kazakhstan this week. "Fully recovered from my injury, back on track ready to help the team soon, aiming the 3 points #GoArsenal," tweeted the German.
Goal.com
understands that a calf problem has affected Podolski over the last six weeks, rather than the long-running ankle complaint that led to him being substituted so frequently in the first half of the season.
The German's calf setback was regarded by Arsenal as relatively minor in comparison to the ankle injury, which could require surgery in the summer.
- Wayne Veysey

Gill tips Premier League to bounce back
For the first time in 17 years, the Premier League will not field a single representative in the last eight of this season's Champions League.
But Manchester United chief executive David Gill is confident that the world's richest and most popular league will swiftly bounce back from the sidelines.
Speaking at a recent Premier League shareholders' meeting,
The Sweeper
can reveal that Gill told colleagues the English top flight "had enjoyed 20 years of success and was the envy of all the other leagues who could not catch up with it" because they had not invested in their stadiums or centralised selling of broadcasting rights.
Accordingly, the Premier League can be confident of maintaining its huge global appeal in comparison to rivals like Germany's Bundesliga and Spain's La Liga.
Gill said he "could not foresee any of the European leagues, in the next three years, challenging its (Premier League) supremacy".
The 20 Premier League clubs will vote at the full board meeting next month on whether to rubberstamp plans for a domestic version of Uefa's financial fair play (FFP) rules.
Gill, who will stand down as United chief executive in June to pursue his twin ambition of senior administrative roles in English and European football, has been one of the most vocal advocates of a tweaked system.
At the behind-closed-doors meeting, Gill explained that FFP was a way of preventing the looming TV revenue windfall from simply flowing into the pockets of players and agents.
He argued the Premier League had to change "because the percentage of income paid out to players had grown over recent years", disagreeing there would be a talent drain if FFP was ratified.
Oligarchs and sheikhs will not be entirely thwarted by the new plans, which "would attract different types of owners who would know they could make money out of owning a club".
- Wayne Veysey