---

COMMENT By Ben Hayward in Concepcion

Follow on Twitter
---
Argentina were due a performance like this. Since throwing away a two-goal lead in the second half of their opening group game against Paraguay in this Copa America 17 days ago, Gerardo Martino's men had threatened to take teams apart but had not quite managed it.
The 1-0 win over Uruguay was hard fought, while the victory over Jamaica by the same scoreline should have brought many more goals. Then, in the quarter-final against Colombia on Friday, Argentina did everything but score, ultimately advancing on penalties in Viña del Mar.
"It is unbelievable the trouble I'm having in scoring for the national team," Lionel Messi said after that game, when he was denied by the brilliance of goalkeeper David Ospina and some rough-house defending from the Colombians. And ahead of his side's semi-final meeting with Paraguay, Martino admitted: "It is clear we have a problem with our finishing. We have to improve on that."
They did on Tuesday - and in some style. The first goal came from an unlikely scorer, albeit a familiar provider as Messi whipped a free kick into the box and Marcos Rojo poked home. Te Barcelona forward then set up Javier Pastore with a perfectly weighted pass; the Paris Saint-Germain midfielder did the rest as he slotted home a fine finish from the edge of the box.
Pastore had been encouraged by Martino to get into the area and it was a clever switch of roles between he and Messi which perplexed Paraguay. Leo dropped deep to pull the strings in an unselfish role and Argentina were dominant.
A spell of Paraguay pressure at the end of the half brought a goal from Lucas Barrios and it briefly looked like the
Albirroja
might produce yet another comeback, but Argentina's attacking verve proved too much for Ramon Diaz's side this time.
Tata's team restored their two-goal lead following a majestic move early in the second half involving Pablo Zabaleta, Lucas Biglia, Messi and then Pastore, who drove forward and released Angel Di Maria to convert with a precise angled drive.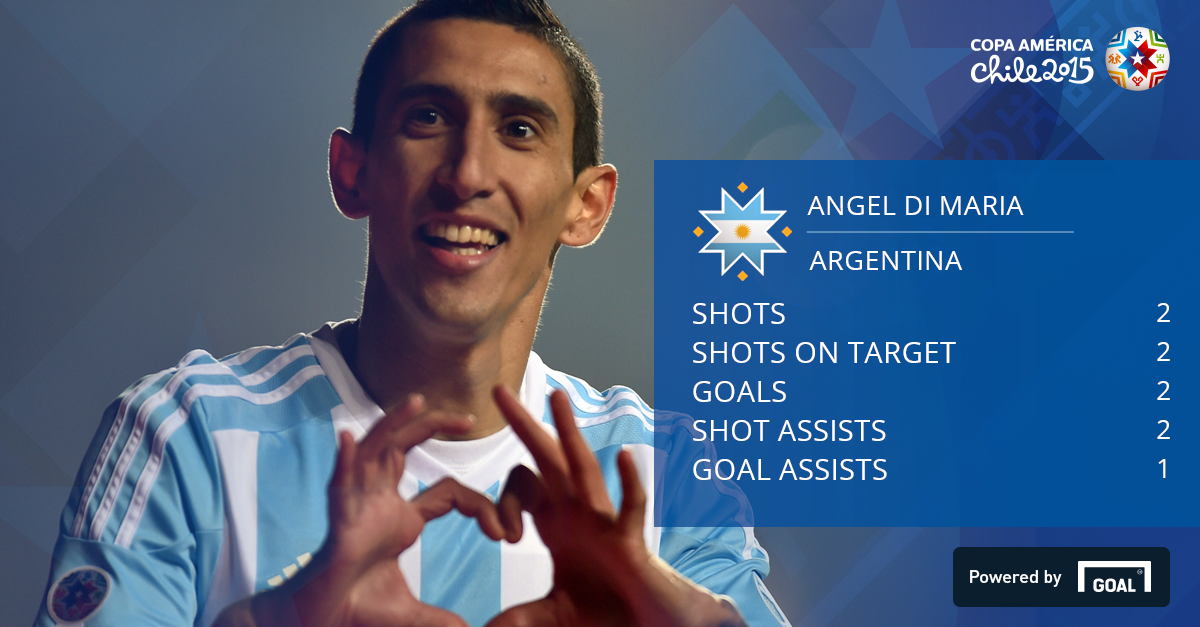 ---

STAT PACK Click here for all the numbers behind Di Maria's fine performance
---
This is what Argentina had been threatening and the way they circulated the ball with speed and skill for the third goal will have pleased Martino. With players like Messi, Di Maria and Pastore in full flow, this team will be very hard to stop.
Paraguay, although surprisingly slack in defence this time, found that out as another magical Messi run set up Pastore, whose shot was saved by Justo Villar but fell to Di Maria for 4-1. And the Manchester United winger set up Sergio Aguero for a header to make it 5-1 with 10 minutes left.
Substitute Gonzalo Higuain later pounced on a loose ball prodded in his direction by Messi to score a sixth for Argentina and Martino's men are clicking into gear just when it matters most in this tournament.
While hosts Chile made hard work of 10-man Peru at home on Monday to make Saturday's showpiece in Santiago, Argentina arrive in sumptuous style after hitting six past one of the most stubborn sides in the competition.
Chile are unlikely to change their playing style against anyone and will attack Argentina like they do everyone else, but after Tuesday's stunning show from the
Albiceleste
, they will be extremely wary of leaving spaces for Messi, Di Maria et al.
Jorge Sampaoli's side will be at home on Saturday, but after their peerless performance in Concepcion, Argentina are very much the team to beat.