COMMENT

By Daniel Edwards in La Plata
It was the result that was never supposed to happen, not on the first day of the tournament and in front of a packed and expectant Estadio Unico. A neat goal from Edivaldo Rojas inducted him into the hall of fame of Brazilian-born players who have made Argentine life a misery, and the hosts barely scraped an equaliser to secure a point which satisfied few in La Plata.
It would be foolish to write the Argentine team off after one poor game, although that will hardly discourage some of the less judicious writers in newspapers tomorrow. After the match the players were unanimous in declaring that "It is the first game, we have to and we will improve". A tired cliché, but true all the same.
As the post-mortem begins, however, there will be one conclusion more troubling than any other. For all the talk and hype surrounding Argentina's star-studded, glittering attacking trident, it was not until Sergio Aguero entered with the win already slipping out of reach that the misfiring forwards started to click.
Despite only making a second-half cameo, 'El Kun' was by far the most impressive player wearing
celeste y blanca
, and delighted the home crowd with his direct running and link-up play with fellow replacement Angel Di Maria. His goal, an outstandingly executed volley, capped one of the few pieces of truly fluid team-play Argentina created all evening, one of the few times Sergio Batista's team resembled the Barcelona side he so wishes to emulate.
The super-sub could now have a legitimate chance of making the starting line-up for Wednesday's match against Colombia. He definitely would deserve it, considering the distinctly sub-par displays that came from tonight's starters.
Lionel Messi, Carlos Tevez and Ezequiel Lavezzi are three of the most talented forwards on the planet, but tonight none of the three showed anything like their full potential. Individually, they showed only sporadic bursts of what they can do, and collectively at times it was painful to see them fumble and blunder in an attempt to create coherent attacking play. 'El Pocho' Lavezzi was by far the worst culprit.
The Napoli man simply did not appear to have the nous and awareness to play in such a fluid forward line, and far too often looked lost in the play that went on around him. With the ball at his feet he was also intensely disappointing. A string of missed chances were his worst crime, but equally vexing were the countless crosses that ended up in the stands. Ezequiel flatters to deceive in Argentine colours; he has the pace, skill and agility to put himself in dangerous positions, but too often squanders his opportunity. In international football, whether you are playing Bolivia or Brazil, this is unpardonable.
His colleagues were a little better, but still struggled to combine effectively.
The roar around the Estadio Unico when Carlos Tevez's distinctive features popped up on the big screen shook the ground to its foundation, but despite some dangerous runs and a few half-chances Carlitos could not inspire a similar explosion during the match. Likewise with Leo, who once more associated well with Ever Banega in midfield but too often was left with three markers and no easy way out.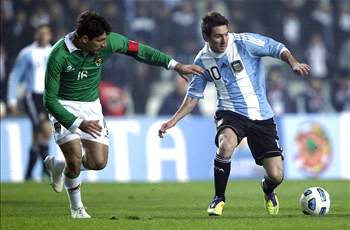 Repelling the Pulga | Messi worked hard but could not break open a tough Bolivian defence
This is equally a compliment to the Bolivian Seleccion, marshalled expertly by Argentine Gustavo Quinteros throughout. The Verde, not exactly blessed with a stellar reputation in the world of football, knew exactly how to close their rivals down and how to contain such an attacking force. It began time and again from the middle of the pitch, thanks to a tireless effort from Jaime Robles and Walter Flores.
Banega and Esteban Cambiasso (in the first half) were squeezed, harried and deprived of time to make the killer pass, leaving Messi to forage deep and try to create. From there the counter was always a threat, and Marcelo Martins will be disappointed that he did not convert a second goal which would have killed the game when he failed to beat Sergio Romero one-on-one.
An excellent performance from goalkeeper Carlos Arias also deserves to be mentioned; as do the creative efforts of young Jhasmani Campos, who is an extremely talented playmaker and without doubt one to watch in the coming weeks and years.
Batista was adamant after the game that he was happy with his tactics, and that one poor performance would not force his hand. Previous matches seem to prove him right, and the 4-3-3 is undoubtedly a system that, in the lack of a traditional enganche or number 10 in the squad, allows them to play a fluid, open game.
The most likely outcome for Wednesday then is that tonight's starters will be given another chance. 'Checho' is a natural conservative and, still-mindful of the rather more hot-headed Diego Maradona and his inconsistent selection policy, would like to see another 90 minutes before making a tough decision.
Argentine fans must only hope then, that by full-time in Santa Fe against Colombia another poor performance has not left their Copa America dreams hanging in the balance. Still, if all else fails, few coaches would be upset to have the €45 million (£40.7m), world's most expensive super-sub waiting to save the day.