By
George Ankers
Enter the dragons

The man put the finishing touches on the pentagram, closing the lines drawn in blood across his floor. Satisfied with his work, he took out his phone and tapped in "08000-666-666". As the ringtone – a tinny version of Rihanna's 'Umbrella' – kicked in, a red and twisted abomination appeared in the centre of the pentagram.
"Hello," it snarled in an inky voice, "I'm Mephistopheles, representing the Devil."
"Hi," said the man, "I'm Craig Bellamy, representing Cardiff City for the purposes of this story. I'd like to make a Faustian pact, please."
TAN-D ANOTHER THING
Cardiff's Premier League rebranding to continue...


July



Vincent Tan officially changes club name to 'Cardiff Dragons'

August



Cricketer Sachin Tendulkar is unveiled on a £250,000-per-week contract to tap into the Indian market

October



Tan petitions to re-table Richard Scudamore's "39th game" idea: "If anything, Richard didn't go far enough"

January



Club name again changed - this time to "Mnchester United" to take advantage of typos in the Google search bar

February

Tan proposes new business plan: "Perhaps we could play 'World of Warcraft' instead of football?"

April

Club confirm plans to build new 70,000-seater stadium-come-multiplex-cinema in Jakarta
"Evening, Craig," smirked Mephistopheles. "Always nice to hear from you. You thinking of getting yourself something nice, then, eh – true happiness? Become a rock star? President?"
"Something like that," replied Bellamy, "I'd like Cardiff to be promoted to the Premier League."
The demonic servant paused, scratched his forked beard and cocked his head. "Are ... are you sure, mate? You do realise this package doesn't get any cheaper, right? We're talking full ownership of your very soul, stripping your entire identity so that even your oldest friends will see only a dead husk."
"Yeah, no problem, M-dawg."
"Seriously? For the same price, I could let you live out the next 50 years in Hawaii with Johnny Depp and a reanimated Marilyn Monroe. But you want to visit Stoke instead, is that what you're telling me?"
"Yeah, I'm dead keen. Premier League, definitely. As a boyhood fan of the club, I've absolutely no interest in the history or pride of Cardiff City, so this seems absolutely ideal."
"Well, the customer is always right, I suppose," mused Mephistopheles, as he waved a spectral paintbrush and Bellamy's shirt turned red. "But no refunds, yeah?"
Photo of the week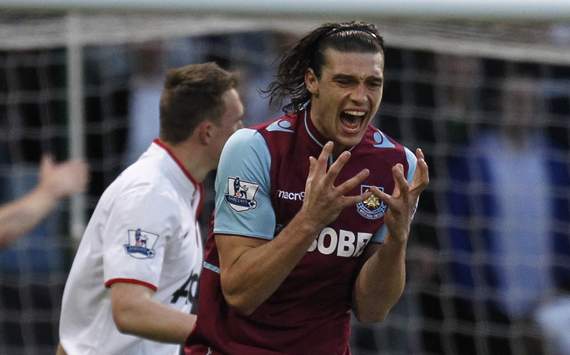 "Is this a dagger I see before me?"

Splishy splashy
Jack Wilshere may have reacted like a dog who had just overheard somebody saying "cats are the greatest" but Kevin Mirallas's silent water-squirting protest at half-time on Tuesday was a laudable act of peace and love.
After controversy at the weekend following Sergio Aguero's unpunished horror-tackle on David Luiz and memories lingering of, say, Joey Barton going postal on Manchester City last season, you might have worried that football is too violent a sport.
With luck, Mirallas can inspire a new generation of players who solve their disputes through playground pranks rather than violence.
WWLTW
can only hope that the defining image of next season will be Lee Cattermole sneaking up behind Juan Mata, holding a sticky note emblazoned with the words "I'M A POOPYHEAD".
Is it a bird? Is it a plane?
Astonishing news out of Brazil this week as Santos brand (sorry, player) Neymar oversaw the debut of the first in a series of comic books based on himself. While the Brazil starlet struts his stuff in the first episode, titled 'A Talented Boy',
WWLTW
imagines a few candidates to join him in print...
| | | |
| --- | --- | --- |
| Super Mario | The Neverending Man | Captain Effort |
| | | |
| Superpower: Having overdosed on 'Crazy Serum' as a baby, Mario Balotelli uses his supernatural control of newspaper headlines and unerring penalty accuracy to fight crime | Superpower: A childhood incident with the Fountain of Youth means that Ryan Giggs grows grey but not old. His powers of immortality do little to help him actually fight crime but his enemies are at least impressed | Superpower: The only 'normal' man in a world full of megatalented mutants, Glenn Whelan strikes fear into his enemies by running around a bit |
| Nemesis: Super Mario's own mad behaviour drives his foster father, Roberto Mancini, to become arch-villain 'The Godfather' | Nemesis: After saving hapless victim Taribo West, the Neverending Man is put on the trail of Count Fraudula, who tries to ruin his reputation with doctored birth certificates | Nemesis: The shadowy agents of Foreigner Corp are everywhere, imperiling Prem City with their fancy tricks and skills. Captain Effort must graft them into submission |
| Catchphrase: "Why always me?" | Catchphrase: "Age is just a number" | Catchphrase: "Just doing my job, ma'am" |
Follow George Ankers on