By
George Ankers
Top dog no more
His omission from the starting line-up in a massive match against Real Madrid – and, worse, the fact that it was proved the right decision – came as the latest sign that Wayne Rooney is no longer top dog at Manchester United.
The England forward is one of the most high-profile players at Old Trafford but has been in the doghouse this season ever since reporting for pre-season duty with a little too much puppy fat.
What we feared this week...


When do we start really worrying about Manchester City players insisting that they can catch United in the title race? Javi Garcia became the latest to deny all available evidence this week, citing "we are City" as his reasoning. WWLTW doesn't know how to make this any clearer, Javi and friends: The title race is deader than a dodo in a blender. Only by accepting that can you be at peace with it.
And it is becoming ever clearer that Rooney may have to leave United in search of a new leash of life, having been demoted from first-choice striker to runt of the litter since the arrival of Robin van Persie.
What are you waiting for, Wayne? Schnauzer chance to bring in a massive payday at a club like Paris Saint-Germain! After all, Sir Alex Ferguson is more likely to kick a boot at your head than throw you a bone.
It all traces back to the time when you begged for a transfer over what you saw as a lack of ambition at United. The club were not making a habit of buying players like Van Persie back then and you were so convinced that you were the dog's [Careful – Ed.].
How you mastiff wished that you had forced through a move then rather than stay and watch yourself become second choice. Odds are that you won't fetch quite as much on the market this summer as you would have then.
Photo of the week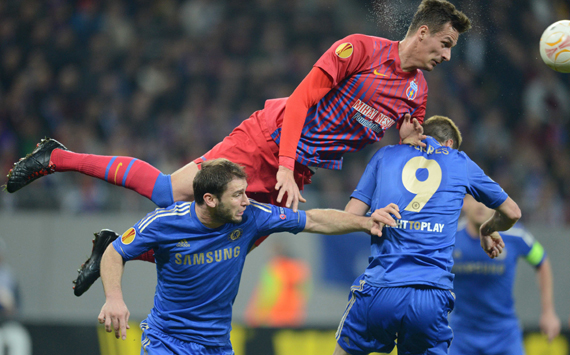 Steaua and Chelsea's attempts to build a human pyramid did not start well

Taxi for marking
In 2010, Gareth Bale destroyed the mighty Inter in the high point of Tottenham's Champions League sojourn, ripping apart the then-exceptional Maicon in a display of pure attacking KABOOM.
In 2013, Inter themselves destroyed the once-mighty Inter in what is likely to be seen by history as a stepping stone in Spurs' journey to serious Europa League contendership, ripping themselves apart with unexceptional marking in a display of pure defensive KABOOM.
What we will learn this weekend...


What happens when an stoppable force meets a movable wall? Reading and Aston Villa set out to play the most well-intentioned but endearingly rubbish match of all time. It should come down to a straight question of 'how many goals can Christian Benteke score before the Royals start playing in the 80th minute?'.
Andre Villas-Boas's men were, of course, very good too. Jan Vertonghen continues to prove himself the best Belgian since Hercule Poirot, using his head almost as effectively, while Gylfi Sigurdsson has finally woken up after what appeared to be a seven-month hangover.
But to watch Christian Chivu "mark" Vertonghen at a corner is to wish upon yourself an eternity watching Anzhi 0-0 Newcastle...
Europoor League
...Speaking of which,
WWLTW
would like to officially petition Uefa for a formal apology after witnessing the latest Europa League atrocities perpetrated in part by Newcastle and Chelsea.
The Magpies' progress in everyone's least favourite tournament was dull enough before the winter but, ever since the Blues dropped down from the Champions League to join them, the two have produced some of the most painful viewing experiences ever committed to a pitch.
Thursday's thrilling double as Newcastle coma-ed their way to a goalless triumph in Moscow, while Chelsea anaemically shot themselves in the foot in Romania was perhaps the worst yet.
Children cried. Adults scratched their eyes out. Household pets ran out in to the road, preferring the welcoming embrace of oncoming traffic to the soporific "sport" on their owners' televisions. In many ways, the two games made a much more convincing argument for Britain to leave the European Union than Nigel Farage would be able to conjure in his wildest dreams.
Follow George Ankers on