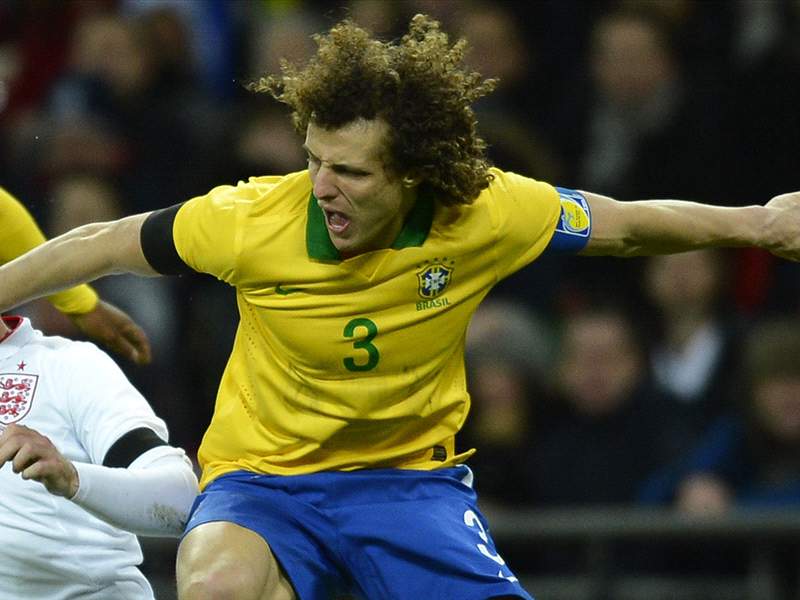 Brazil
defender
David Luiz
believes his country will need to play an "almost perfect" game to beat
Russia
in their international friendly at Stamford Bridge on Monday.
Fabio Capello's team will face the World Cup 2014 hosts following the double postponement of their qualification match against Northern Ireland over the weekend.
And Luiz has admitted that Russia will benefit from the extra rest they have enjoyed after Brazil drew 2-2 with Italy on Thursday.
"I expect it will be a very difficult game, because they are a strong team and they are rested," Luiz told reporters. "They have great players, and I believe Brazil has to play almost a perfect game to win.
"It's always special to play for the national team and wear the shirt, and tomorrow will be another special day - to play for my national team in my home stadium.
"But I don't want to take my focus off the game tomorrow, so that's what I'm thinking about.
"Without having to qualify for the World Cup, we can't get any [Fifa] ranking points. But it's not really important for us.
"Everyone likes to talk about Brazil, because we've always been giving people great results and winning tournaments, so it's natural.
"But Brazil is Brazil, so you can't really say anything about rankings. Who cares? We just care about winning matches and winning titles."
Luiz, along with his Chelsea team-mates Oscar and Ramires, will play on familiar turf in west London, and the defender insists it remains a privilege to play for the Blues despite a difficult season.
"I'm always very happy because I'm doing what I love," he added. "It's a privilege for me to play for Chelsea, and I'm very happy here.
"This season we are not playing at the level people expect of us, but we are still competing for three titles – we can win the Europa League, the FA Cup and we are fighting for a better position in the table. So we can still fight and still make it a good season."
There will be added incentive for Brazil coach Luiz Felipe Scolari, as well, according to the centre-back, after the 64-year-old's largely unhappy spell as Chelsea manager.
"Mr Scolari is an excellent professional, and he has been a coach at many clubs and national teams," Luiz said.
"I'm sure he's happy to come back to Chelsea because, regardless of what happened here, he has good memories, he was happy in his time here.
"I think what he wants now is to put a cherry on the cake by winning tomorrow at the stadium of his old club."