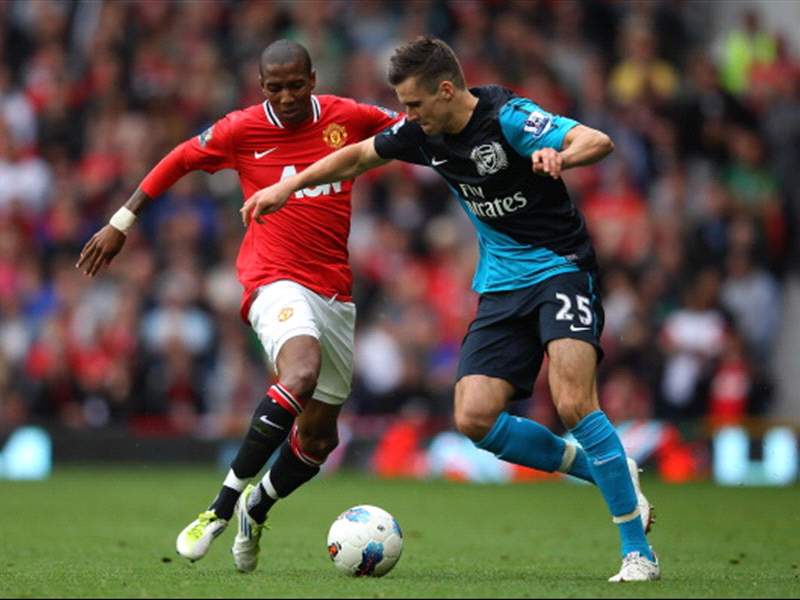 PROFILE
By Tom Marshall-Bailey
"He doesn't deserve to wear the shirt," was my rather frank initial assessment of
Carl Jenkinson
after the Old Trafford debacle last season, after being torn to shreds by
Manchester United's
potent attacking ranks and, in particular,
Ashley Young
.
By the end of only his second competitive appearance for the club, Jenkinson had not only been involved in something of a heated mid-match row with team-mate Theo Walcott, but also received his marching orders.
Not that any player left a particular impression on any Arsenal supporter that day, but Jenkinson's performance was so bad that it had fans ripping their hair out once more about the transfer policy of manager Arsene Wenger.
HODGSON PROUD OF GERRARD The England manager says winning 100 caps is a great achievement

Plucked from Charlton for a rumoured £1 million fee, the young full-back became the next scapegoat for fans to blame when all went wrong at times last year, but this season has seen him dish out the most bitter-tasting of humble pies to his critics.
In Bacary Sagna's prolonged absence, the boyhood Gooner has won the hearts of every corner of the Emirates faithful for his gutsy, honest and consistent displays.
His rapid improvement finally gained the recognition it deserved last week as he was called up to the full England squad by Roy Hodgson as well as rumours emerging that he has penned fresh terms on a new six-year, £25,000-a-week deal with the Gunners.
The turnaround in fortunes for the 20-year-old has been nothing short of a fairytale when all seemed against him during his debut season.
Wenger deserves as much praise as anyone for sticking to his guns and allowing Jenkinson to progress into the first-team picture quicker than was perhaps first imagined, but without some of his former experiences in the game, you have to wonder whether he would have possessed the mental strength to cope.
He made just eight first-team appearances for Charlton but it could well have been his loan spells at Welling United and particularly Eastbourne Borough that ultimately led him from the wilderness of what is now the Blue Square Premier to a potential first cap with the national team.
"I'm delighted for the boy because I know how much it will mean to him," former Borough manager Garry Wilson told Goal.com.
"He obviously represented Finland, at a lower level, but to make that dramatic change, it must be fantastic for him.
"He has established himself, he's one for the future and, no disrespect to Finland but he's now got a chance to play in World Cup finals and latter stages in tournaments."
Jenkinson has always stood out as one of those footballers who genuinely feels lucky to be out on the pitch every weekend doing what he loves best.
His football upbringing through the ranks of Charlton and during his loan spells, you would suspect, has disciplined the Gunners' young prodigy to become the well spoken and polite man, on and off-the-field, that he is today.
Wilson believes the type of character he is shines through on the pitch, helping him to become England's next top young star.
He revealed: "He was a really quiet boy but he fitted in pretty well with the rest of the lads.
"He was quiet but also very intense. Intense in terms of that he was really desperate to do well and I remember when we first sat him down in the office just for a chat with him but he never came back with much.
"He was quite grateful and courteous to thank us for the opportunity to play competitive football because I think he was getting quite frustrated that he wasn't playing regular competitive football."
So, where does the danger lie with this wonderful talent? Well, there is the fear that all this fame could go to his head. Playing academy and reserve football one minute, then two years later finding yourself on a fairly nice pay packet with a top Premier League team, alongside a call-up to play for your country must have come as a shock even to him.
It cannot get much bigger than this. With rumours that Raheem Sterling is demanding a certain amount of money from Liverpool to sign a new deal, Arsenal fans will pray they do not have a similar prima donna-type in their ranks.
Wilson believes it could not be further from the truth in the case of the down-to-earth Jenkinson.
He revealed: "When he came to games, he came with his parents. They came along to an away game on a wet Tuesday or Wednesday night and it was absolutely drenched, the pitch was just a mudheap.
"I asked him to play in midfield but even in those conditions the boy just went out there and gave an absolutely top performance, box-to-box and gave everything he possibly could.
"It would have been easy for him to hide that night and give nothing in that sort of game.
"I think he's got really good friends in his parents and his Dad is quite strict with him. He's got a really steady background so there's no way I could see him getting ahead of himself."
It is this unassuming personality which has and will continue to endear Jenkinson to everyone at the club with every lung-bursting run, every committed tackle and each crucial interception he makes week in, week out.
This new-found belief in his own ability stands him in good stead for further tests ahead, but right now will be a time to reflect on what has been a whirlwind journey.
Follow Tom Marshall-Bailey on