Mark Doyle


Italy Expert

Follow on

COMMENT
Amidst the delirium of
Italy
's stunning
Euro 2012
semi-final success over Germany,
Giorgio Chiellini
stopped to ask himself, "Who would have believed such an incredible ride possible 10 days ago?" The implication was that not even the players thought themselves capable of reaching the tournament decider. However, what has become clear over the past few weeks is that at least four members of the
Azzurri
squad never stopped believing: defender Andrea Barzagli, midfielders Daniele De Rossi and Andrea Pirlo, and captain Gianluigi Buffon.
Their faith has been unsurprising, of course, primarily because all four were a part of the panel that lifted the World Cup in 2006 against the backdrop of the
Calciopoli
scandal; a true triumph over adversity. However, all four have also faced their own trials and tribulations in the intervening years and that they are still here is perhaps even greater testament to their remarkable resilience and courageous character.
Barzagli, the only member of the quartet who did not feature against France in Berlin six years ago, was left languishing in the international wilderness for three years before being recalled to the Italy set-up last October. That he was plying his trade in Germany with Wolfsburg for almost the entire duration of his exile was undoubtedly a contributing factor, but it is also undeniable that there was a feeling that he was not international class, particularly after Euro 2008.
Staggering, then, to think that he is now considered so important to the Italian cause that Cesare Prandelli decided against giving up on the Juventus centre-half when he picked up a calf injury on the eve of Euro 2012 that threatened to rule him out of the entire group stages. Then again, Barzagli was arguably the best defender on show in Serie A last season. He has claimed that he owes everything to the
Bianconeri
for taking a risk on him but, in reality, it is he who deserves all of the credit for belatedly realising his undoubted potential as a world-class centre-half. At 31, he has finally come of age.
ITALY'S FOUR HORSEMEN




ANDREA BARZAGLI



Missed the first two games through injury but has been immaculate at the back since making his return to action against Republic of Ireland at the end of the group stages.

GIANLUIGI BUFFON





Has been as reliable as he has been inspirational, with the highlight of his campaign thus far the penalty save from Ashley Cole in the shoot-out success over England.

DANIELE DE ROSSI






One of the stars of the tournament, De Rossi was majestic at the back in the Azzuri's opening two fixtures and has been just as influential since being restored to midfield.

ANDREA PIRLO






The undoubted player of Euro 2012 so far, Pirlo has disappointed only once, against Ireland. Apart from that uncharacteristically sloppy display, he has been a joy to behold.
The same goes for De Rossi, who came on as substitute in the 2006 World Cup final having missed his country's four previous tournament outings because of a red card for a dreadful elbow on United States' Brian McBride during the group stages. The Roma man spoke recently of that incident as one of the defining moments in his career, claiming it taught him a valuable lesson. That is debatable, though, given he floored Bari's Simone Bentivoglio in remarkably similar circumstances last May and it seemed then that De Rossi had not matured at all. It also seemed as if a player for so long touted as one of the best midfielders in Europe - and understandably so given his dynamism and wide range of skills - had become frustrated with his own lack of progress. Indeed, this time last year it was clear that De Rossi's career had stagnated - badly.
Roma through and through,
Il Capitan Futuro
's reluctance to push through a move away from the Stadio Olimpico was viewed by many as an admirable show of loyalty but an act of professional suicide. Whether his subsequent decision to recommit to the
Giallorossi
will be vindicated remains to the seen, but what has been clear over the past season is that he has rediscovered his focus and drive. Indeed, the way in which he embraced the role of stand-in centre-half during his club's Serie A campaign was truly inspirational and the player's adaptability has played a key role in Italy getting to this point. De Rossi was immense at the heart of a three-man defence in the
Azzurri
's opening two games in Group C, against Spain and Croatia, and was just as influential in the semi-final showdown with Germany, his passion and energy key factors in the 2-1 win.
If De Rossi has been Italy's heart at Euro 2012, Andrea Pirlo has again been the brain and whereas it appeared that De Rossi's career had stagnated last season, it appeared that Pirlo's was virtually over. Hindered by injuries, the
regista
had slipped down the midfield pecking order at AC Milan, who therefore refused to offer Pirlo anything more than a two-year contract. He felt he was worth three and decided to take his business elsewhere, namely Juventus, and Milan have been counting the cost ever since. In handing over one of the game's great playmakers, the
Rossoneri
also effectively handed over the title.
Pirlo, of course, was considered to be at the peak of his powers six years ago, turning in a man-of-the-match winning display in the World Cup final triumph over France. Incredibly, though, one could argue that he has actually been performing at a higher level in Poland and Ukraine. Indeed, that he is now – quite rightly – being talked about as
a potential rival to Cristiano Ronaldo and Lionel Messi
for this year's
Ballon d'Or
says it all. Italy's terrific run has been founded on the strength of the collective but, in many ways, this has been Pirlo's tournament. He has been the symbol of their success and his 'cucchiao' penalty against England is already destined to enter footballing folklore.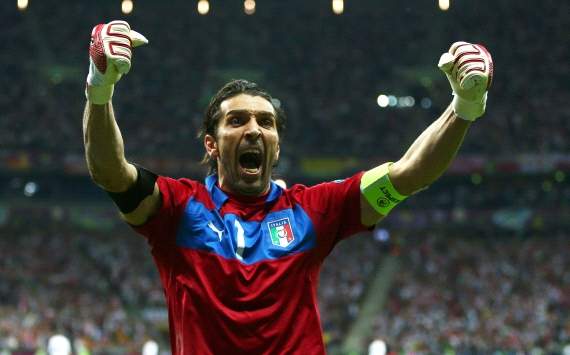 Leading by example | Buffon has been at his best during Italy's run to the final
And while Milan may have lost faith in Pirlo, it actually renewed Buffon's. "When Andrea told me he was coming to Juventus," the goalkeeper explained last season, "my first thought was 'thank goodness'. Then when I saw him play I thought: 'There is a God!' His footballing skills are out of this world."

Buffon, of course, knows a thing or too about defying the odds himself. The Bianconeri goalkeeper has enjoyed a remarkable career up until this point - against Germany on Thursday he broke Dino Zoff's Italy record for games in goal for the Azzurri at major international tournaments - but there were very real fears that he might succumb to the back problems that began to plague him in 2008 and eventually forced him to undergo surgery two years later. Buffon, though, never doubted that he would return to full fitness; that he would reclaim his title as the game's No.1 goalkeeper.

"Too often we are addicted to and left numb by the negativity that surrounds us; too often we are resigned to a fate that others want to assign us," he wrote in a stirring Facebook address on the eve of the meeting with Germany in Poznan.

"Without dreams one is not living, one is surviving. Without dreams you are not the driving force in your life, but you are only a faded figure who has accepted your existence, without alarms, without surprises, without life."

Dreaming ties all mankind together, as Jack Kerouac once wrote, and Buffon and his fellow 2006 World Cup veterans have unified a squad, and indeed a nation, with their stubborn refusal to give up on their goals.