Ronnie Whelan

Euro 2012 Columnist

TRAPATTONI HAS NOT HANDLED THIS PROPERLY

After Ireland's early exit, huge questions will now be asked about Giovanni Trapattoni. He's got a two year contract still but it's up to the FAI to see whether they're going to keep him or not after the Italy game.
Ultimately, he wasn't able to bite the bullet and play with one centre forward from the start. When he did use a third central midfielder, he threw on Paul Green, who wasn't in the first squad. Why bring Darron Gibson if he wasn't going to use him? Why play Simon Cox on the left side of midfield when he has Stephen Hunt?
The Italian has pedigree, he's got a great history and he's been a great manager, but he's not handled it properly. He won't move away from his rigid 4-4-2 because that would be an admission that he got it wrong.
But Trap has got to look at himself. Managers will never explain to the public or the media why they made a decision but it would be nice to know why he brought in Green, why he made Cox go on the left and not James McClean.
He said after the big Croatia game that, psychologically, it wasn't right for McClean to play. Why bring him on against Spain when he's not going to get a kick of the ball?
My worries are the selections, what has been said about psychology and what the manager has done on this trip. It's frustrated and baffled me.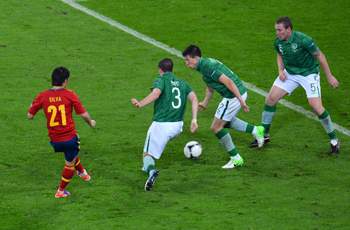 "They've struggled since the third minute of the first game"


SPAIN GAME WAS MEN V BOYS
Some of the players were scared to get on the ball and they made silly mistakes. All of the Spain players had time on the ball while all the Irish players seemed to be struggling all the time.
It was like men versus boys. For Spain there was always four or five men around the ball. They pass, they move it on and we weren't able to do that.
The teams we're meeting now are a step up and we just can't cope with them.
We haven't defended well at all. Expectations have got to them completely. We've conceded goals three minutes after the start and three minutes into the second half against Croatia and Spain.
The players haven't been able to handle the whole occasion. They've struggled since the third minute of the first game.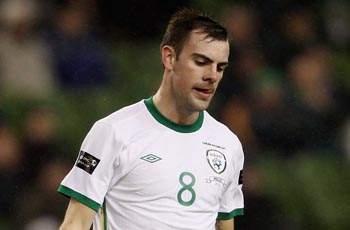 "You need more than endeavour at major tournaments"
WE HAVEN'T GOT THE PLAYERS TO COMPETE
If you go back to Jack Charlton's era we had a lot of quality, but we had a very, very good team ethic as well. And togetherness is what got us as far as we went. But it's gone, for some reason, in the last two games. We were never getting beaten 4-0 and 3-1. This is new and everybody's asking why.
A lot of it is, for me, down to the standard of the players.
Gibson at Everton was our highest-placed player in the Premier League - other than that we haven't got any players in the top teams. We're scrabbling around to get people like Green; he's not even got a club. We just haven't got the players at the moment.
When you get to a major tournament you need a little bit more than just a lot of endeavour. You need a lot of guile, you need to be able to pass it well, move it well, pass it quickly, defend at the top level.
And all those things we haven't done.
A CELEBRATION FOR 'DUFFER'
Damien Duff is a great professional, and has been a really good player for Fulham, Chelsea and Blackburn over the years. He's also made a great contribution to Ireland.
It would be fitting if the players tried to get something for him on his 100th cap against Italy.
Ronnie Whelan scored one of the most iconic goals in Irish football history against the Soviet Union the last time Ireland qualified for the European Championship in 1988. He was instrumental during Liverpool's success in the 1980s, winning four top-flight titles and the European Cup. Whelan won 53 caps for his country and is now a regular pundit with the Irish state broadcaster RTE.