Mark Doyle


Italy Expert

Follow on

ANALYSIS
"Someone should be ashamed and it's not us,"
Italy
goalkeeper
Gianluigi Buffon
fumed, pointing the finger of blame squarely at
Denmark
and
Sweden
. "I'm very bitter. I didn't believe this would happen with people who are proud of their spirit of fair play."
Italian Football Federation president Franco Carraro was just as incensed. "There is no doubt that the way the Denmark versus Sweden game developed shows that the two teams were aiming for a draw," he alleged.
It was in such a climate of acrimony and controversy that the Azzurri's Euro 2004 campaign drew to a close. The anger was unjustified but understandable ...
Italy's tournament opener against the Danes had finished scoreless. They looked poised to claim a priceless 1-0 win over Sweden in their next outing but were again forced to settle for a share of the spoils courtesy of the most wonderful back-flick volley from Zlatan Ibrahimovic.
That result left the Nazionale third in the group, but just two points behind the Danes and the Swedes, both of whom had defeated Bulgaria. Italy therefore went into their final Group C fixture knowing that a victory would ensure their progression to the last eight - provided the Scandinavian rivals did not draw 2-2 or higher in Porto.
The Azzurri were staring elimination in the face when they conceded a contentious penalty to Bulgaria winger Martin Petrov on the stroke of half-time in Guimaraes. However, Simone Perotta levelled matters within two minutes of the restart and when Antonio Cassano popped up with a 94th-minute winner, a nation breathed a sigh of relief.
Still, it is not in the least bit surprising that unintentional irony was the last thing on Italian minds and that things were said in the heat of the moment. The manner of the elimination was excruciating in the extreme.
IN THE EVENT OF A THREE-WAY TIE ...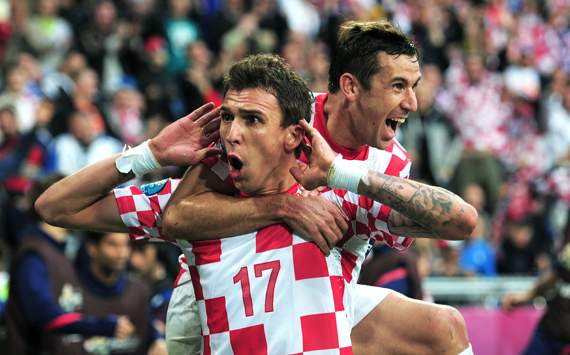 CROATIA V SPAIN
ITALY WIN
QUALIFIERS
0-0
1-1
1-1
1-1
1-1
2-2 or higher
Any Margin
+3 goals
2-0
3-1
4-2, 5-3 ...
Irrelevant
Italy & Spain
Italy & Spain
Spain & Croatia
Spain & Italy*
Spain & Italy
Spain & Croatia

Consequently, the outside chance of suffering the same fate at Euro 2012 must be particularly disconcerting for Buffon, Cassano and their only other remaining team-mate from the 2004 panel, Andrea Pirlo. However, after again opening with back-to-back draws, this time against Spain and Croatia, this is precisely the situation that the trio find themselves in.

Spain and Croatia have both amassed four points from their opening two games and Vicente del Bosque's men top the table on account of their superior goal difference. Italy, meanwhile, sit third, two points adrift of the co-leaders.

As things stand, a win over the already-eliminated Republic of Ireland will definitely see Italy through to the next round, unless of course the Croatia v Spain showdown fails to produce a winner. In such a scenario, things would get complicated.

A 0-0 draw in Gdansk would eliminate Croatia and see Italy progress as group winners on goals scored in the three-way head-to-head table, while a 1-1 draw in Gdansk would mean that all three sides would have identical records against one another, thus bringing results against the Irish into play. The placings would be therefore decided by the teams' overall goal difference.

In that eventuality, Spain would definitely progress as they are currently +4, while the other qualification berth would go to the side with the better overall goal difference. In this scenario, Italy would only be guaranteed a place in they defeated the Irish by three clear goals. Confused, yet?!

The main point is that if Spain's clash with Croatia finishes 2-2 or higher, Italy are out, irrespective of what they do against the Irish. All the Azzurri can do is focus on beating Giovanni Trapattoni's troops in Poznan.
Of course, that Trap was Italy's coach in 2004 only makes things more interesting. Indeed, if Italy are worried about Croatia and Spain conspiring to knock them out, perhaps Slaven Bilic should be just as concerned by the prospect of Trapattoni sending out a weakened team against his compatriots.

However, let's put the conspiracy theories to one side for now. As Sweden's Olof Mellberg pointed out eight years ago, "You always have it in your own hands from the start in these tournaments - and Italy haven't done well enough to go through."

Indeed, if fortune again frowns on the Azzurri, let us hope that they do not start making wild accusations as they did eight years ago, and instead begin their search for those responsible by simply looking into a mirror.