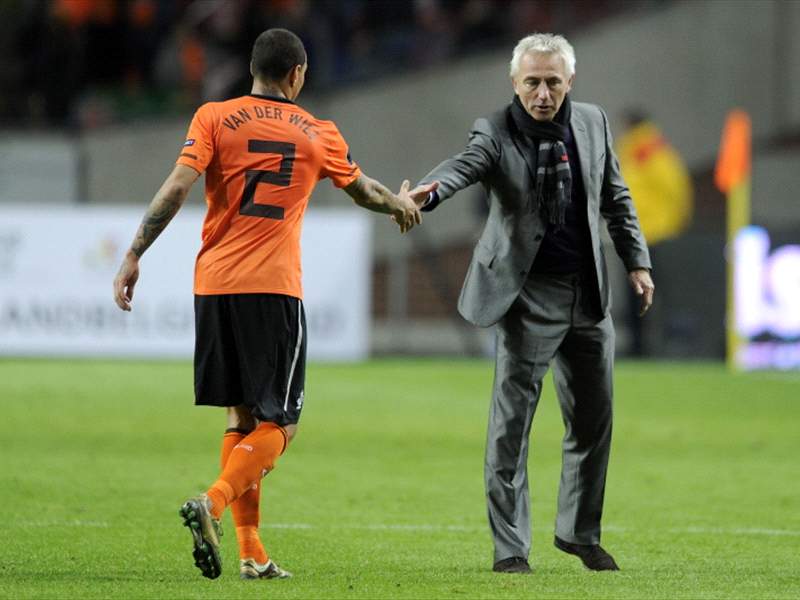 EXCLUSIVE
By Stefan Coerts & Ashish Sharma

Gregory van der Wiel does not know who the opponents will be, but is confident that Netherlands are going the win the Euro 2012 final 2-1.

The full-back admitted that the tournament is full of difficult adversaries, and did not rule out the possibility of a World Cup final rematch against Spain, but is confident that Oranje will be winners this time around.

"It's possible [that Netherlands could face La Roja in the final], but you have a lot of other strong countries," Van der Wiel told Goal.com.

"Not only Spain or Holland, also Germany, England, Portugal, France – all strong countries – so we have to be aware of every team, not only Spain.

"I think Holland will reach the final, but I don't know against who. We're going to win 2-1, though," he smiled.

Van der Wiel believes that the amount of quality players in the squad, coupled with the added experience of going so close to glory in South Africa, will see them over the line.

"We have world-class players in our squad, in all positions, so I think the whole team is strong. Everyone is two years older than during the World Cup, so I think we can perform well," he added.

"People expect a lot from our team, but I think we have a great squad. I think we can play well and try to win the European title.

"What would be a success for Holland? Winning the tournament. That's our goal."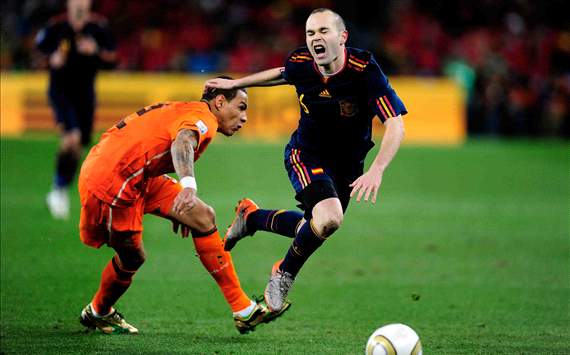 Spanish torment | Van der Wiel believes that Netherlands have learned lessons from 2010
The Ajax man believes that Robin van Persie could play a bigger part in that success than most after enjoying the best season of his career at club level.

The former Feyenoord forward was one of the most prolific attackers to be found in Europe in 2011-12, with 37 goals in all competitions, and the full-back is hopeful that the his international team-mate can carry his club form into Poland and Ukraine.

"Robin van Persie has had the best season of his career. I think he's always had a season like that in him.

"I was watching him years ago and he seemed an incredible player, a world-class player in my eyes, and it's not a surprise for me [that he has had a great season]. He's in great shape, and we've got a lot more players who are in great form."
The defender went on to point out that Oranje have learned from the 2010 World Cup, where they were beaten by Spain in the final, and asserted that criticism of Bert van Marwijk's pragmatic approach is unjust.

"I think we learned a lot from the World Cup. It's sad that we lost 1-0 but we had good chances to win as well. We had no luck that day," he continued.

"I don't mind that people criticised us. I think we played well. We want to play football when we can, but sometimes you need to go out and do something else.

"We made it to the final, so I won't complain. We prefer to play stylish football, but if that's not possible we just have to win, and it doesn't matter how."
"What would be a success for Holland? Winning the tournament. That's our goal"

- Gregory van der Wiel
This summer, Netherlands will face Denmark, Germany and Portugal in the so-called 'group of death', but Van der Wiel is paying little attention to the media hype, claiming that the tough draw will bring the best out in Oranje.

"I think it is good for our team [to be paired with difficult opponents]. We're a good team too, and it's good for us to play against good teams. We have to go out and perform well right from the start and concentrate for the full 100 per cent."

His country take on arch-rivals Germany on June 13 in their second match of the group stage, but the right-back admitted he is unaware as to why the rivalry is so intense.

"I don't know, it goes way back I think. It's just history. You have rivalries everywhere," Van der Wiel added.

"It's something extra [to play against Germany], because they are a big rival. Obviously, you want to win every game, but the one versus Germany is a special one, so you really want to win that.

"I think Germany have a great team. We played against them a couple of months ago and they proved they are a great team. We have to be aware of them."

The Dutchman then put the onus on fellow competitors Portugal, stating that he is not feeling complacent against a team that qualified for the tournament via a play-off.

"Portugal were not very strong in the qualifiers, but everything is different in a tournament. I can't really say anything about Portugal. It's a strong country, and we can expect a strong team," mused the right-back.

"Cristiano Ronaldo's a great player. I played four times against him in the last two years. We know he's a good player so we have to defend well. I know I have to focus 100% to stop him. That's what I'm going to do, and just play my own game.

"Sometimes you have to mark him really tight, and sometimes you give him a bit more space. It all depends on the game, and I just have to defend how I think is the best. We just have to play how we always play and be aware of the danger."

Netherlands last reached the final of the European Championship in 1988, when they beat the Soviet Union 2-0 courtesy of goals from Ruud Gullit and Marco van Basten.