There may not be any world-beaters in Group A, but four teams that consider themselves on par with each other could make this section a tightly-contested battle.
As one of the host nations, Poland will be spurred on by the home support but they will need a positive result in their opening group clash against Greece. Just like the triumphant Euro 2004 campaign, the Greeks find themselves in the same section as the host, and they could well see this as a good omen.
Russia are the highest-ranked nation in this group and they will be hoping to repeat their phenomenal run at Euro 2008. They open their campaign with a tricky test against a Czech Republic side who do not face the same kind of pressure and expectations as the country had to bear in recent past competitions.
With the tournament proper only a month away,
Goal.com
posed a series of questions to our team experts - Ryan Hubbard (Poland), Michael Paterakis (Greece), Max De Haldevang (Russia) and Mark Smith (Czech Republic) - to see how the preparations are unfolding for their respective countries.
| | |
| --- | --- |
| | |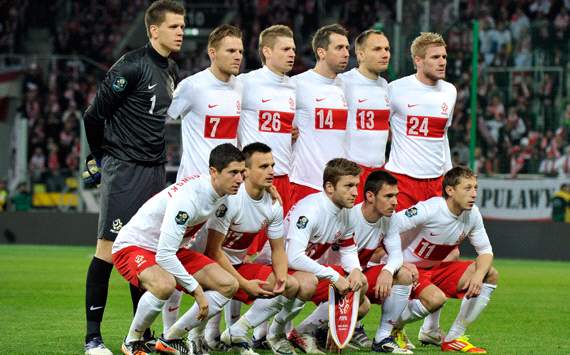 LAST FIVE

PROBABLE FIRST XI

| | | | |
| --- | --- | --- | --- |
| 29 Feb 12 | Poland | 0-0 | Portugal |
| 16 Dec 11 | Poland | 1-0 | BiH |
| 15 Nov 11 | Poland | 2-1 | Hungary |
| 11 Nov 11 | Poland | 0-2 | Italy |
| 11 Oct 11 | Belarus | 0-2 | Poland |

4-2-3-1

Szczesny
Piszczek - Perquis - Wasilewski - Wawrzyniak
Dudka - Polanski
Błaszczykowski - Obraniak - Rybus
Lewandowski
How are Poland preparing for Euro 2012?
Franciszek Smuda named a provisional squad of 26 players on May 2, along with seven extra men who will train with the squad initially and act as reserves in case of injury. The team's first training camp in Turkey (10-16 May) is designed for rest and recuperation, before they head to Austria (16-28 May) for their main training camp and games against Latvia and Slovakia. After two days of rest, the final squad of 23 head to their base in Warsaw and face Andorra in a final friendly.
What is Poland's realistic target for Euro 2012?
KEY PLAYERS | Form Check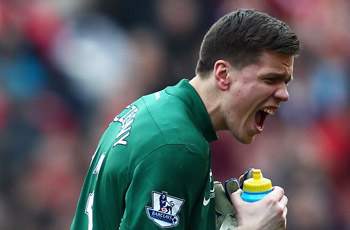 Arsenal fans and Premier League followers will know that Szczesny has been a hugely important player at the Emirates this season, whilst Dortmund trio Blaszczykowski, Lewandowski and Piszczek have all played massive roles is helping the German club retain the Bundesliga title. Bordeaux's Obraniak and Auxerre's Dudka have both been in solid form; but fringe players such as Celtic's Brozek and Tranzonspor's Mierzejewski haven't seen as much game time as they'd have hoped.
As the lowest-ranked nation in the tournament, it's going to be a difficult task to progress from arguably the most competitive group of the four; but as the hosts, there will be added pressure to make it through to the quarter-finals. If they do manage to squeeze through, they will likely meet either Germany or Netherlands - and that would be a far as they go.
What is Poland's toughest group game?
Although Russia are the strongest on paper, both Greece and Czech Republic pose a real threat. Any team could realistically progress from the group, so getting off to a good start against Greece is highly important. The final group game against neighbours Czech Republic in Wroclaw will be interesting. The city isn't far from the Czech border, and there is talk that many Czech fans will make the short journey - it could even end up feeling like an away game for the hosts!
Are there any injury or fitness concerns?
So far there are no major injury concerns to worry about. Defender Damien Perquis picked up a broken arm a few months ago playing for Sochaux, but is expected to return to action before the tournament begins. Werder Bremen full-back Sebastian Boenisch has also been struggling with fitness over the season, but recently made a return to action in the Bundesliga.
Could there be any surprise call-ups for Euro 2012?
Smuda's 26-man squad announcement was fairly conservative; most of the names on the list were as predicted by fans and media. The biggest surprises, though, was the inclusion of Legia Warszawa youngsters Rafal Wolski and Michal Kucharczyk. Both players have been fantastic this season, especially 19-year-old Wolski; but particularly in the case of 21-year-old Kucharczyk, many were unsure as to whether Smuda would include him in his 26. It was thought that the coach would go for experience over youth, but Sławomir Peszko's omission and Ireneusz Jelen's poor form have practically handed the two their places.
What is the biggest issue for the coach to resolve?
Smuda will likely be playing a fast-paced counterattacking game, allowing for some individual creativity rather than a rigid system. He will however be relying on the Dortmund combination of Robert Lewandowski and Jakub Blaszczykowski as his main source of goals, and should one pick up a knock, he will need someone ready to take up the reins. Attacking strength-in-depth is a problem for the coach; and with an out-of-form Pawel Brozek, an unproven-at-international-level Michal Kucharczyk and an Artur Sobiech with limited game time at Hannover, it may be will be an area Smuda will be keen to address.
| | |
| --- | --- |
| | |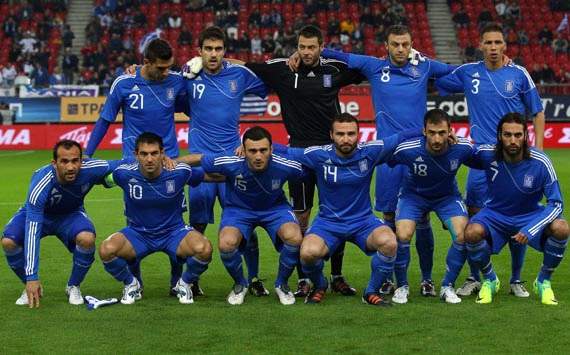 LAST FIVE

PROBABLE FIRST XI

| | | | |
| --- | --- | --- | --- |
| 29 Feb 12 | Greece | 0-0 | Belgium |
| 15 Dec 11 | Greece | 1-3 | Romania |
| 11 Nov 11 | Greece | 1-1 | Russia |
| 11 Oct 11 | Georgia | 1-2 | Greece |
| 07 Oct 11 | Greece | 2-0 | Croatia |

4-3-2-1

Karnezis
Torosidis - Sokratis - A. Papadopoulos - Holebas
K. Papadopoulos - Katsouranis - Karagounis
Salpingidis - Samaras
Gekas
How are Greece preparing for the tournament?
Coach Fernando Santos is still waiting for the Greek Super League play-offs to end before naming - on May 20 - his initial selection of 25 players for the pre-Euro 2012 training camp that will take place in the Austrian town of Kitzbuhel. The Greek squad will depart on May 22 and will stay there until June 1. In Kitzbuhel, or to be exact in nearby Kufstein, the Galanolefki (the blue and whites) will play friendlies with Slovenia (May 26) and Armenia (May 31). Santos will announce Greece's final squad on May 29. Upon returning to Athens, the players will take the next two days off and on June 3 the squad will fly out to Warsaw, where they will be based during the tournament.
What is Greece's realistic target for the tournament?
KEY PLAYERS | Form Check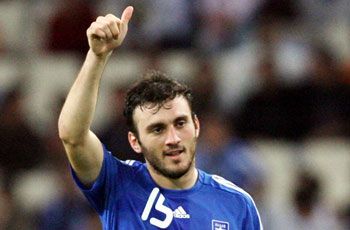 Torosidis led Olympiacos to a domestic double and has found his form after a hectic start to the term. Hot prospect Kyriakos Papadopoulos completed another fine season with Schalke, while Sokratis was lucky to find in Werder Bremen (on a loan spell from Milan) a club to give him first-team chances. There are concerns that stalwart Karagounis, who lost his place in Panathinaikos' starting XI, is not the workhorse he used to be. In attack, Samaras added a league title with Celtic to his resume, but his lacklustre scoring form remains a problem.
Not qualifying from the group stage will be considered a failure, yet the Greek FA have not set specific targets. Santos said in an interview that he would love to face off against his native Portugal if Greece make it to the quarter-finals. Greek aspirations will grow, though, if the team manage to stun co-hosts Poland in the opening match of the tournament. Many have their fingers crossed for a repeat of the Euro 2004 feat, when in the opening match, Otto Rehhagel's "pirates" defeated hosts Portugal.
What is Greece's toughest game in the group?
The opener against Poland will most certainly be the trickiest. Should Greece lose, their chances of even qualifying to the next stage will be greatly reduced. On the other hand, a victory - apart from the three points - will guarantee Santos' side a huge psychological boost.
Are there any injury or fitness concerns?
Not a single player from those used in the qualifying campaign and the most recent friendlies has been ruled out. Samsunspor striker Fanis Gekas picked up an injury last March and missed the final matchdays of the Turkish league, but since then he has returned to fitness, albeit lacking match form.
Are there any surprise picks who could go to the Euros?
In contrast to Otto Rehhagel, who was heavily criticised for showing endless faith in the players of his Euro 2004 squad, Santos has opened the gates of the team to scores of talented players from a number of Greek clubs, and not just those in the top tiers. But the biggest surprise may not be the call-up of a youngster, but rather that of Nikos Liberopoulos. The 36-year-old AEK forward has clearly shown that he does not have the stamina needed for the tournament, but he was included in the squad for Greece's last friendly, against Belgium.
What is the biggest issue for the coach to resolve?
Greece's attacking abilities were never famous, but with Santos the team have greatly improved in this area. However, he has to do more than just hope Fanis Gekas's return to the side (he had retired from international football in 2010 due to a dispute with Santos, but he apologised and was reinstated) will solve the problem. Kostas Mitroglou of Atromitos has had another great season in the Greek league, proving yet again that he is the most reliable forward in the country. Ηowever, he has so far been overlooked by Santos.
| | |
| --- | --- |
| | |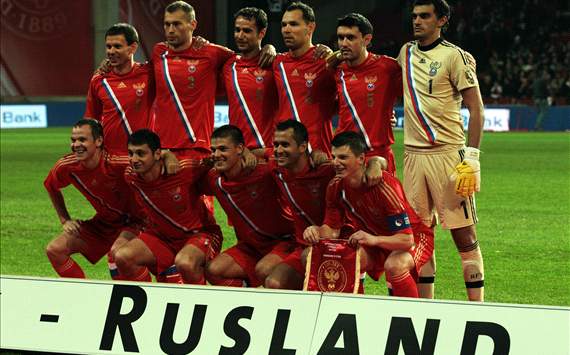 LAST FIVE

PROBABLE FIRST XI

| | | | |
| --- | --- | --- | --- |
| 29 Feb 12 | Denmark | 0-2 | Russia |
| 11 Nov 11 | Greece | 1-1 | Russia |
| 11 Oct 11 | Russia | 6-0 | Andorra |
| 07 Oct 11 | Slovakia | 0-1 | Russia |
| 06 Sep 11 | Russia | 0-0 | Ireland |

4-3-3

Akinfeev;
Anyukov - A Berezutsky - Burlak - Zhirkov
Shirokov - Semshov - Zyryanov
Dzagoev - Kerzhakov - Arshavin
How are Russia preparing for the tournament?
Russia's first friendly will be on May 25 against World Cup semi-finalists Uruguay in Moscow, then they will travel to a training camp in Geneva on the 28th, where they will finalise plans and play two friendlies; against Lithuania on May 29 and Italy on June 1. They will then travel to Warsaw three days later and will remain based there, with their training ground to be set up at the Municipal Stadium Sulejowek.
What is Russia's realistic target for the tournament?
KEY PLAYERS | Form Check
Arshavin has begun to find form with a late glut of goals and assists despite a rocky start to his loan spell at Zenit, while fellow striker and club team-mate Kerzhakov is leading the scoring in the Russian Premier League. Keeper Akinfeev has returned from injury with a number of excellent displays, which will be a weight off Advocaat's shoulders. Berezutsky and Ignashevich are touch and go but expected to make the start of the tournament, although it's not clear whether they'll have opportunity for match practice beforehand.
Russian opinions sway between pessimism after a stuttering qualification campaign and a vague hope that the team will match their 2008 campaign under Guus Hiddink and reach the semi-finals. Various senior players, including captain Andrei Arshavin, have recently been touting their belief that they will be able to replicate this result and, indeed, go one or two steps further. In reality, though, Russia should be aiming to get out of the group stages unscathed and see what their draw and form look like from there.
What is Russia's toughest game in the group?
No games stand out as especially easy or difficult in a group without a star team but post-Soviet tensions will likely flare against both the Czech Republic and Poland, who will provide a tough challenge at home. Russia played away against Greece in a friendly in November and were for large parts the better side in a 1-1 draw, which will give them confidence for the match-up against the 2004 champions on neutral ground.
Are there any injury or fitness concerns?
The possible absence of CSKA defenders Sergei Ignashevich and Vasily Berezutsky has put a large hole in central defence and Russia will also be sweating over their highly-rated Alan Dzagoev and his toe-fracture injury. The midfielder is expected to return to fitness in mid-May but may struggle for opportunities to find match form before the finals.
Are there any surprise picks who could go to the Euros?
Advocaat is widely expected to bring the same group of players to Ukraine and Poland that he used to qualify for the tournament. He has received criticism in the Russian press for not even having been in the country to watch players' form at the close of the season and pundits have taken this as further reason to believe that there will be no surprise picks. If he is to spring a shock, someone like 22-year-old Taras Burlak, who has played one friendly for Russia and has had a strong season at Lokomotiv Moscow, may be used to bolster the back line. Artur Yusupov, also 22, would be an exciting choice in midfield if Advocaat does the unthinkable and turns against the old guard that he stuck by at Zenit and continues to even now.
What is the biggest issue for the coach to resolve?
Advocaat needs to galvanise and instill confidence in the players and, above all, convince them that his heart is in the job. This may be difficult having turned down a contract extension to take him beyond Euro 2012 in a long-running saga. He also spent the end of the season in his native Netherlands, where he is rumoured to be joining PSV when his Russia contract finishes. The injuries to defenders will also be important to combat, with most of the top Russian clubs looking vulnerable or inconsistent in that area.
| | |
| --- | --- |
| | |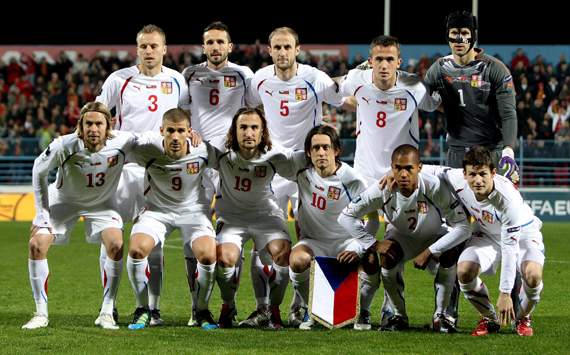 LAST FIVE

PROBABLE FIRST XI

| | | | |
| --- | --- | --- | --- |
| 29 Feb 12 | Ireland | 1-1 | Czech Rep. |
| 15 Nov 11 | Montenegro | 0-1 | Czech Rep. |
| 11 Nov 11 | Czech Rep. | 2-0 | Montenegro |
| 11 Oct 11 | Lithuania | 1-4 | Czech Rep. |
| 07 Oct 11 | Czech Rep. | 0-2 | Spain |

4-2-3-1

Cech
Selassie - Hubnik - Sivok - Kadlec
Plasil - Jiracek
Rezek - Rosicky - Pilar
Baros
How are Czech Republic preparing for the tournament?
The squad of 23 is set to be announced on May 14 by coach Michal Bilek. The team will then travel to Graz, Austria for a training camp where they will play Israel in a friendly match on May 26. The facilities in Graz are exceptional and it's commonplace to see top European clubs here during pre-season. After the Israel match, the team head back to Prague where they will face Hungary on May 31 in their final warm-up game. The coaching staff and players will travel to their base in Poland by luxury five-star train. "The train just feels safest. Unlike planes and buses, on the train I'm completely at rest," said general manager Vladimir Smicer.
What is Czech Republic's realistic target for the tournament?
KEY PLAYERS | Form Check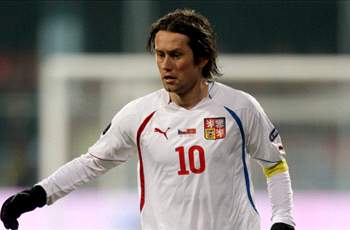 Rosicky is coming into form at the right time. 'Little Mozart' was named April's Player of the Month for Arsenal and was instrumental in beating Montenegro in the play-offs. Cech is also playing out of his skin, almost single-handedly navigating Chelsea to the Champions League final with a heroic 180 minutes against Barcelona. Baros still remains a point of concern for the Czechs, eight goals in 26 games for Galatasary is not good enough. He was also the focal point of fan frustrations during qualifying, yet Bílek seems certain to stand by the 30-year-old striker.
Without doubt, the target is to reach the quarter-finals, and failure to qualify from the group stages would be a major disappointment. Avoiding the heavyweights like Spain, Germany and Netherlands has been a blessing for the Czechs but facing weaker opposition brings its own issues by raising the expectation level. The last eight would see a likely match-up against the Germans or the Dutch, so with the pressure off, the players might fancy their chances of causing an upset.
What is Czech Republic's toughest game in the group?
With not much to choose between all four teams in the group, the final game with Poland will be decisive, but needing a result against the Poles in their backyard will be the Czechs' biggest task. But their away performances in qualifying have been encouraging, they narrowly lost in Spain 2-1 after taking the lead. They avoided defeat in Scotland, and they followed that up with a 1-0 victory in Montenegro in the play-offs. As such, Bílek's men can take heart from these pressure games, but tournament football is a different kettle of fish and it remains to be seen how the coach can motivate and inspire when the pressure is really on.
Are there any injury or fitness concerns?
Preparations have been good for the Czech Republic; the medical staff has had the luxury of very little to do. The usual porcelain frame of Tomas Rosicky has remained intact and is playing some of the best football of his career. CSKA striker Tomas Necid has bags of potential but prolonged spells on the sidelines due to injury has seen him drop down the pecking order. His last cap came in June 2011 and it looks likely he will miss out on the final 23.
Are there any surprise picks who could go to the Euros?
Ladislav Krejci should be the Czechs' wildcard. The Sparta Prague winger has had an excellent spring campaign - his dazzling footwork, pace and ability to create something out of nothing should see him on the train to Poland. The 19-year-old has yet to represent the senior side, but his form in the Czech League has been sensational at times. He has to go to Poland-Ukraine.
What is the biggest issue for the coach to resolve?
It will be interesting to see how Bílek handles a defeat on the big stage: will he have the man-management skills to motivate and pick the team up? The Milan Baros dilemma is another obstacle. While the striker's experience could prove invaluable; his lack of form could prove detrimental.