French football administrator Henri Delaunay's 1920's vision for a European international competition reached fruition with the final of the first tournament in 1960. Delaunay himself had died in 1955, but the trophy being contested was named in his honour - the Henri Delaunay Cup - and the competition (organised by a committee whose secretary was Henri's son Pierre) was christened the European Nations Cup.
Given the tournament's heritage, it was perhaps fitting that France became its first hosts - although the host country was only decided after the identities of the final four were known – because initially the four-match Euro finals only involved the surviving quartet. The two venues were the Stade Velodrome in Marseille, and the Parc des Princes, Paris.
The inaugural Championship was contested over 22 months between 1958 and 1960. Only 17 Uefa members took part (half of those eligible), absentees including the British nations, Italy and West Germany.
IN THE NEWS IN 1960...

* The US presidential election debates are televised for the first time

* The first kidney transplant is performed successfully

* Alfred Hitchcock's Psycho is released in cinemas

* Harper Lee's book To Kill A Mockingbird is first published

* France tests its first atomic bomb

With 17 entrants, a preliminary qualifier was necessary to create a round of 16, with the two participants decided by drawing of lots. Czechoslovakia duly eliminated the Republic of Ireland 4-2 on aggregate.
The first Euro match proper saw the USSR beat Hungary 3-1 before 100,000 in Moscow, a portent for when the tournament reached its climax.
Some high-scoring ties saw France beat Greece 8-2 on aggregate, Spain defeat Poland 7-2 and Czechoslovakia overcome Denmark 7-3. Romania, Portugal, Austria and Yugoslavia also progressed.
Politics reared its ugly head when the quarter-final draw paired fascist Franco's Spain with communist Kruschev's USSR. Spain refused to travel to the USSR, while the Soviets were denied entry into Spain by Franco. So Spain withdrew, giving the USSR a bye into the semi-finals.
In the three quarter-finals that were played, France, Yugoslavia and Czechoslovakia all triumphed.
TOP SCORERS


Milan Galic
Francois Cuette
Valentin Ivanov
Drazan Jerkovic
Viktor Ponedelnik
Nation
Yugoslavia
France
USSR
Yugoslavia
USSR

Goals
2
2
2
2
2

So the final four included three Eastern Bloc countries plus France, who were chosen as hosts. The final tournament comprised two semi-finals, a play-off for third place and the final itself, all on a one-off, sudden death basis.
The Soviets comfortably beat the Czechoslovaks in Marseille in their semi-final, dominating the game and winning 3–0 with two goals from Valentin Ivanov and one from Viktor Ponedelnik. The other match produced a nine-goal thriller in Paris from which Yugoslavia emerged triumphant, twice recovering from a two-goal deficit to defeat the tournament hosts 5-4.
It might have been different had France not been deprived by injuries of their two outstanding players from the 1958 World Cup – midfield star Raymond Kopa and striker Just Fontaine, who scored 30 goals in a mere 21 internationals but had recently sustained the first of two broken legs that prematurely ended his career.
Their narrow defeat left the French demoralised and they lost the game for third place 0-2 to Czechoslovakia, for whom Vlastimil Bubnik and Ladislav Pavlovic were on target in Marseille.
THE FINAL
USSR 2-1 Yugoslavia (aet)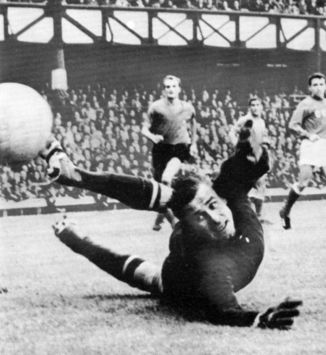 The inventive Yugoslavs, orchestrated by Dragoslav Sekularac and Bora Kostic, initially dominated the final with some astute play, but opened the scoring on 43 minutes more through fluke than flair, a Drazen Jerkovic cross being deflected in by Milan Galic.
Legendary Russian goalkeeper Lev Yashin pulled off several outstanding saves to stem the Yugoslav tide, but his opposite number, Blagoje Vidinic, was less assured, and dropped Valentin Bubukin's shot from distance to enable Georgian Slava Kalistratovich Metreveli to equalise four minutes after the break.
Ivanov squandered a clear chance to win it for the USSR late on, and in extra-time Jerkovic was guilty of a glaring miss for Yugoslavia.
But up popped Ponedelnik to head home a cross for the winner with seven minutes of extra-time remaining, clinching the USSR's only football title.
By scoring in ten consecutive internationals the Serbian Galic had equalled a world record; he went on to win Olympic gold in Rome three months later, along with most of his team-mates.
Five players each scored two goals in the final stages, one of them being match-winner Viktor Ponedelnik, one of the best strikers of the Soviet era, with a record of 20 (or 21) goals in 29 internationals.
He said of his historic winning header: "There are matches and goals which are really special, sort of a climax of a player's sporting life. That was the star moment of my life."
Now 74 and a grandfather of four, Ponedelnik retired in 1966 after an appendectomy, then worked as a coach, sports journalist, editor of a sports publication, and advisor to the President of the Russian Federation.
Arguably the moment of the tournament was when Igor Netto became the first winning captain to hold aloft the Henri Delaunay trophy. The victorious Soviet side were fit, athletic, uncompromising and determined to win. Synonymous with dour strength, they proved worthy winners, taking the new competition more seriously than others. They had been cast as the bogeymen against the more creative Yugoslavs, but winning the tournament was a propaganda coup for the Kremlin.
MATCH OF THE TOURNAMENT
France 4-5 Yugoslavia

In what became an epic, see-sawing goal-fest, Galic opened the scoring for Yugoslavia on 11 minutes, only for Jean Vincent to equalise a minute later. Francois Heutte then gave France the lead shortly before half-time, and Maryan Wisnieski made it 3-1 in the 53rd minute.
Ante Zanetic pulled one back within two minutes, but Heutte grabbed his second and France's fourth after 62 minutes to make it 4-2. The Yugoslavs then breached an error-prone French defence three times in five stunning minutes.
Slipping their markers, Tomislav Knez (75) and Drazen Jerkovic (78 and 79) settled this thriller 5-4 in Yugoslavia's favour.