EXCLUSIVE
By Sergio Stanco
Italy
coach
Cesare Prandelli
has praised the progress the
England
national team has made under the management of
Fabio Capello
.
England secured qualification for Euro 2012 with an unconvincing 2-2 draw against Montenegro and Capello has come in for criticism during his tenure, but his compatriot believes the former Real Madrid boss has improved the squad.
In an exclusive and extensive interview with
Goal.com
, Prandelli also admitted concerns over the lack of playing time handed to Mario Balotelli at the start of the Premier League season, but praised the striker and his continued development under Roberto Mancini.
Goal.com: Thinking of your Juventus, many of those players have done great things in retirement (Platini, Zoff, Gentile, Tardelli, Bettega, etc.) What was special about that group?Cesare Prandelli:
There was some great technical aptitude and strong personality in the group but above all there was a reference point in Giovanni Trapattoni; he always knew how to teach football and transmit the right motivation for the players to give their maximum and reach their objective. Don't forget the environmental aspect; playing at Juventus was already something special.
England are coached by Fabio Capello, Ireland by Trapattoni and Japan by Alberto Zaccheroni. What is your opinion on the three men and their work? And if you were offered the role of another national team in the future, would you take it, and if so where?
As I have mentioned Trap when he was at Juve, it is no coincidence that he is doing great things with Ireland. Capello has had the bonus of being able to shape the team with a different perspective, and has already built successful and lasting cycles not only in Milan, but also at Madrid, Juventus and in Rome, where the environment is very difficult and you're under pressure outside of your usual boundaries.
Alberto Zaccheroni is a coach who fears nothing, transferring his footballing knowledge to his teams, and his knowledge cannot be called into question. The Asian Cup win was an excellent achievement for Japan and the beginning of a new and important phase in terms of his tactical ability. As regards a possible future with another national team, to be honest I've not thought of that yet. I have a long and difficult task to complete with the Italian national team, finishing with the 2014 World Cup.
Which will be the most difficult teams to face at Euro 2012?
Without a doubt, Spain, Germany and the Netherlands are a cut above the rest. They demonstrated that with the results they gained in the qualifiers, and particularly in the way they achieved them. These teams have reached their full maturity and they can back up the good things they have shown so far.
History and experience tell us that you must arrive at the Euros well prepared, both technically and mentally, and you must not take anything for granted. Behind those three there are sides that are slowly growing and finding a new dimension such as Italy and England. It will be a very competitive tournament.
What do you think of Fabio Capello's England?
They are a team who, with Fabio at the helm, have gained more knowledge in terms of tactics, have shown more care in their preparation, and developed a different way to interpret games while respecting the well defined characteristics of British football. It is, in my opinion, the result of the work put in by the coach over the last few years.
Are you concerned that Mario Balotelli is playing so few games for Manchester City?
Certainly, yes, as would be any national coach who needs to have their players available and ready at various times in the season. The regularity of games improves a player's quality of performances. That said, I will not question the choices a coach has to make for his team. The boy is growing, including in his technical aptitude, and it is a credit to him and the people around him in everyday life. I am sure he will win a spot in the City team.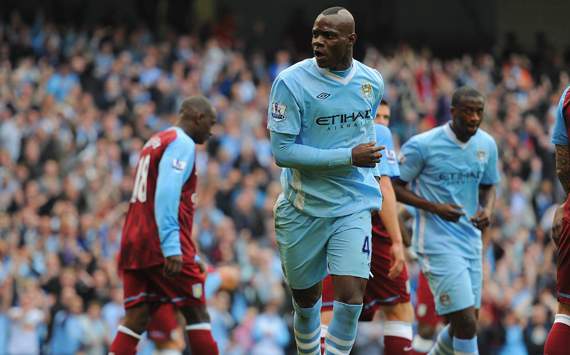 Concerned | Prandelli wants Balotelli to be playing for City every week
What do you think of the fact that many Italians have applauded the 'clearing of the air' between Balzaretti and Pazzini for the good of the national team when things like this have not been the case in the past?
Within any team you get very specific and shared dynamics. Personally I have the habit of talking very clearly with the boys, in terms of any case in which the coach has to make certain choices over a project or a shared goal. The competition for places in the team is a natural consequence of top-level sport, and those who are not a part of this reality know that they must put it into action.
Alessandro Nesta is demonstrating that he remains one of Italy's best defenders: will you attempt to persuade him to reverse his retirement decision? Many argue that the lack of a strong centre-back alongside Giorgio Chiellini is Italy's main weakness… do you agree?
Alessandro has made his decision and we must all respect it. As for the defence, it seems clear from the first 15 months of work that amongst our most important figures were those showing we conceded only two goals in qualifying for Euro 2012. We are lucky that we are able to rely on quality people besides Chiellini, such as Ranocchia, Bonucci, Astori and with Balzaretti having returned to important levels.
Italy is rebuilding with its youngsters as happened in Germany a few years ago: can Germany be an example? What would you copy from the German model?
Germany is a perfect example of how to set a correct programme, and one from which we can extract important ideas to improve our model. I don't like to copy, rather I love to confront the differing realities and understand their point of view. Every model and every country has its own specific characteristics which must always be respected.
Considering the presence of Zlatan Ibrahimovic, Alexandre Pato and Robinho at AC Milan, would you have preferred that Antonio Cassano had chosen another team to play for to allow for more games ahead of Euro 2012?
The only thing that interests me is that each Italy player is playing regularly. The rest is up to them in terms of making a judgement in their own interest.
How disappointing is it to you as national coach to see Inter starting the season with 14 foreigners? Is this a worry for Italy's hopes of progression?
There is an important aspect for our footballing movement and our players, in that certain choices limit the opportunity to gain international experience. Inter, who are at the same time showing signs of a changing trend in their youth section in particular, are a high-profile team who compete regularly for the big Uefa competitions. It is important that this must have important repercussions on Italian football in a more marked manner. It is not only a problem in Italy, but I believe we should do more on an international level to limit the trend and find the best solutions for everyone.
Are you concerned by the lack of talented young defenders in Italy? They were once Italy's biggest positive…
I don't see a lack of talent in Italian football, I see instead the need to make choices based on projects. The project set up by the FIGC after the 2010 World Cup and following the Euro U-21 elimination, with the arrival of Arrigo Sacchi to guide the Italian youth sections, is starting to bear fruit. The next step will further enhance the basic technical work, as a generation like Cannavaro, Maldini, Nesta and Zambrotta to name just a few, is born thanks to important work on a technical basis and on extended and competent scouting.
Federico Varano and Lorenzo Tassi are talents of which many in Italy are saying great things. What can you as the national coach, or the FIGC as an organisation, do to help these boys develop?
Simply put them in the best conditions in which they can mature quietly in a system of functional competitions to aid their growth. In spite of its need to be updated, the Italian football system continues to produce players and coaches of quality.

De Laurentiis often makes news for his dedication to innovation in the world of football and for us, overseas he is a slightly naive personality, as Mourinho would say. Do you like him? Are his visions bizarre or innnovative?
The president De Laurentiis is a pragmatic man, of the highest levels of management, we are talking about one of the leading producers of cinema in the world, who has embarked on this path in football, alien to him until that moment, in a methodical manner.
The journey so far has proven to be virtuouso, both on technical and financial levels and there are all the preconditions for Napoli to reach the top levels of European football soon. It doesn't seem to me to be a bizarre vision of football and, with the results he has obtained in recent seasons, he was right.



With Fabio, England have gained more knowledge in terms of tactics, shown more care in their preparation & developed a different way to interpret games while still respecting British football's characteristics.






- Cesare Prandelli

Do you agree that it would benefit the Azzurri if the young Italian players get the chance to prove their worth at club level at a young age like happens in Spain for example?
Of course, unfortunately there's very often the need to get results on the short term and that prevails over having patience with youngsters. There are some interesting developments at the moment though, not only in Serie A, but also in Serie B. The clubs are starting to realise that giving young players the chance can have significant benefits, while at the same time they can play an important role in improving the Italian football system.
Is your football philosophy and the way you've modelled your Italy squad inspired by Spain's national team? You recently beat them in a friendly, but are Spain still the team to beat in official competitions?
Each national team has a certain style of play based on the characteristics of their players and the team's history. Copying another team's style doesn't make any sense. Spain have led the way; they have achieved good results by playing good football and paying respect to the technical aspects of the game and the individual characteristics of their players. Like I already said, every team has its own interpretation of the game. At the moment, Spain and Germany are without doubt the teams to beat.
Which foreign national team player would do well in your side? Maybe Xavi would see the philosophy you are imparting?
It would be trivial to answer Messi or Rooney or Cristiano Ronaldo. We are lucky to have Andrea Pirlo and Gigi Buffon. Xavi is a great interpreter of the type of football towards which I feel affinity but I would not swap any one of my lads.
Recently we saw Milan play old fashioned football in the home of Barcelona, who play like Spain. Your Italy, instead, confronted Spain more openly. What is the best strategy for facing teams like Barca and Spain, defensive and counterattacking or challenging them?
Look for results through a gameplan based on the characteristics of the men you have at your disposal. At Barca, Milan played out a close contest scoring on the counterattack at Barcelona after a few moments of the game, and repeating that at the end with a set-piece to rescue a result shows they didn't go there hoping for a result; rather, an offensive attitude and great concentration.
The Copa America showed that giants like Argentina and Brazil are no betteer than you. Do you believe that Italy have already become aware of the fact that they could play against anyone or do they need more time?
We are still in the intial stage of our progress. Certainly, positive results help. Sincerely, to conquer the European qualifiers unbeaten and with a points record, in the only group which featured three participating teams from the 2010 World Cup, is a motivation for the lads and for them it is a measure of the work and progress made in less than 15 months. There is still a lot to do but I am satisfied. I never thought we would reach this point so quickly.
What is the most interesting thing you have seen up to now in the new Serie A season?
There is a widespread change on a technical level. There are interesting ideas that will yield fruit in the medium term in terms of quality and as a spectacle. Juventus and Napoli seem to me to play with clear ideas and in the right way to be able to be contenders to win titles and compete with the two Milan teams, who will ovecome this initial phase and return to have their say. Pay attention to Udinese too, they are a well-oiled team who have demonstrated that they possess a system of play which defies interpretation and with Lazio and Roma there is extraordinary potential.