COMMENT
By
Alex Dimond
at Wembley
A
4-0
win certainly doesn't avenge
that
4-1 defeat, but at least it puts
England
back on the right track.
The now infamous game against Germany in South Africa may yet be confirmed as the defining moment in Fabio Capello's reign, but with an emphatic victory against Bulgaria in front of a hardly-packed Wembley crowd on Friday, the Italian at least made the first step towards earning himself a shot at redemption.
The irony will be lost on no-one, however, that England's first three points in their pursuit of qualification for the 2012 European Championships were won by two players Capello was reluctant to include for events in South Africa.
Even long after the tournament, his decisions in a fateful World Cup are being exposed for the misguided caution they contained.
Jermain Defoe, with a professionally taken hat-trick, has surely now cemented his place in a first XI that he finally weaved his way into only after Capello hit the panic button this summer.
Adam Johnson, on the other hand, wasn't even taken to South Africa, despite a stellar six months at club level and a left foot few others can rival. He only needed 15 minutes to score his first goal for the Three Lions — a milestone that visibly delighted him.
It is that passion that England need to re-find after a difficult schooling over the past few months, and it seems to be the younger, or at least junior, members of the squad that are providing it.
Joe Hart — Capello's third-choice goalkeeper in South Africa but, just over two months later, now looking like the No.1 the country has been crying out for since David Seaman's retirement — was imperious in goal, making three vital saves at important points in the game to keep his side in the ascendancy.
James Milner added industry on the left, and linked in wonderfully with Wayne Rooney and the brilliant Ashley Cole throughout much of the match.
Phil Jagielka looked solid at the back and, before his horror injury that was the one sour note of the night, Michael Dawson didn't look entirely out of place either. But even after his departure, Gary Cahill came on and looked composed in such company.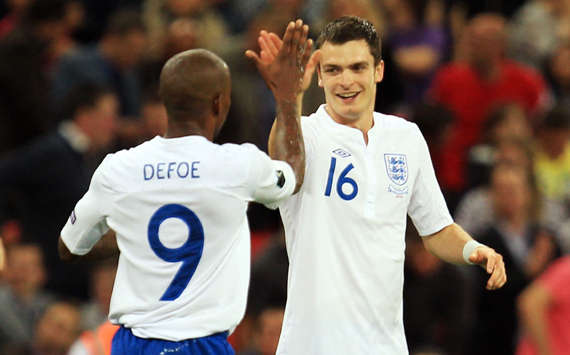 Four to the score | Defoe and Johnson made their case for continued inclusion
Perhaps the injuries to key players that preceeded such opportunities really were the blessing in disguise many thought they could be for England.
It would be folly to think the likes of John Terry, Rio Ferdinand and Frank Lampard are surplus to requirements now after just one promising performance without them, but at the very least Capello now has a variety of different options that he should not be scared to deploy.
If the World Cup taught him anything, it is that he cannot be afraid to choose the best players
for the system
, rather than simply the best players. And, if Friday's game is anything to go by, it seems some of his charges are keen to keep reminding him of that.
Theo Walcott, the man unceremoniously cut from the squad shortly before the plane took off at the beginning of July, was another returned to the starting line-up and - although still clearly not the finished article - demonstrated that he has the pace and incision to cause untold problems to the lesser lights of international football at least as he continually beat Zhirko Milanov for pace and trickery.
Such performances are all cause for certain optimism, but this is just the first step. It remains to be seen whether Friday's changes were purely injury-enforced, or symptomatic of change in thinking going forward.
The 4-4-2, which even Fifa's technical report of the World Cup acknowledged had become obsolete, was still stubbornly in evidence, even if Rooney did roam deep enough to convince some it might actually have been a 4-4-1-1.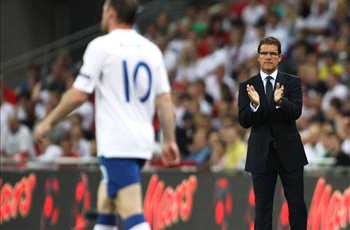 That will still surely have to be overhauled if England are to trouble the best sides on the continent in two years' time, with a move to a variation on the increasingly standard 4-2-3-1 surely on the cards.
For that, a modern holding midfielder still needs to be found — Jack Rodwell of Everton has his supporters, but considering his inexperience that is just another indicator of the lack of specialised resources in some areas Capello is working with — and the most effective positions for the likes of Milner, Walcott and Johnson still need to be nailed down.
But Capello has never been one to come straight out with wholesale changes, throughout his career from AC Milan to Real Madrid he has often worked steadily in increments. Even slow progress is at least progress, however, and at least he seems determined to prove to his (increasingly vocal) detractors that he is still one of the game's leading tacticians.
Expect more tweaks to be made to the system, and the personnel, as the campaign continues.
For now, at least Rooney and Defoe seem to have worked out a useful system together, the United man as the roaming creator with the diminutive Spurs man the clinical finisher.
One game does not a campaign make, but both did look very promising as a pairing, despite Rooney in particular evidently not being at his sharpest.
But, of perhaps most significance, three points and a 4-0 opening success cannot be sniffed at by a side that, lest we forget, couldn't even qualify for the same tournament four years ago.
Now attention will turn to Switzerland and, so fans must hope, the second step towards recovery. There will be many more to go.